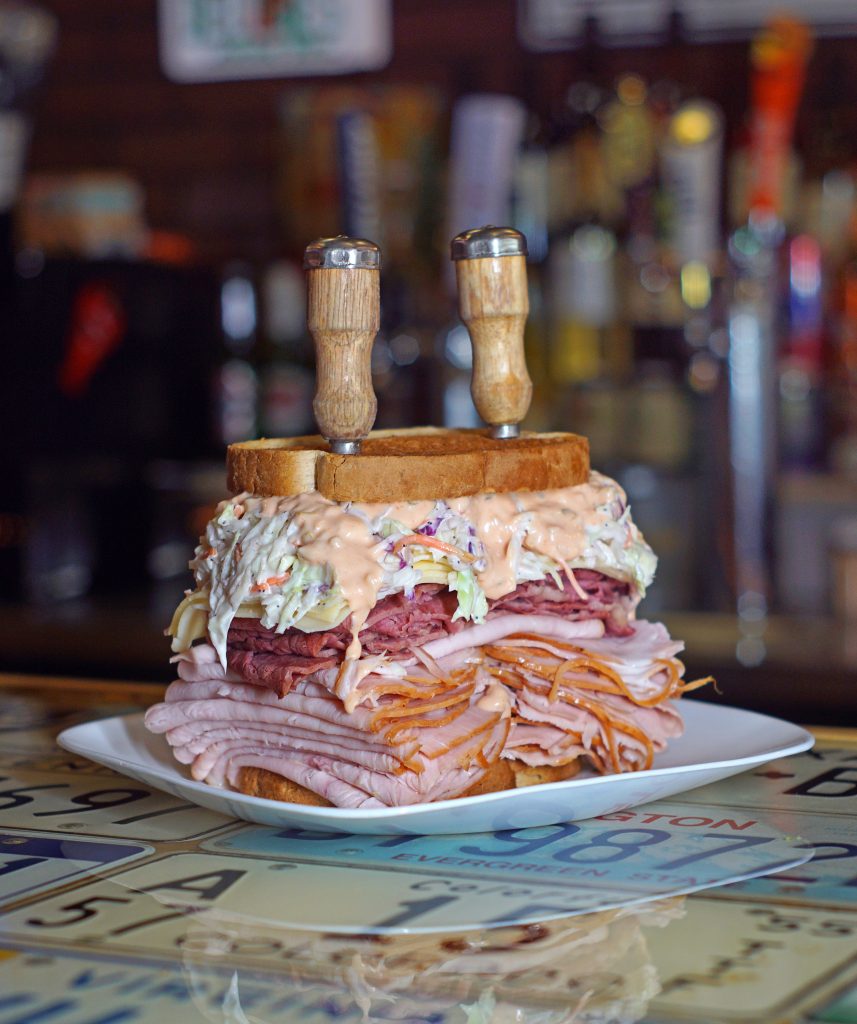 Fully Loaded
Turnpike Mike's Bistro and Pub is home to the thickest sandwich anywhere.
By: R. Jill Fink, MFA, Food Editor
Fortune smiled on the Ocala area when Turnpike Mike's Bistro & Pub, the brainchild of Michael and Christina Batte, grew up from a lonely little food truck on the side of Highway 200 to a full-blown, brick and mortar eatery. Billed as an "American" style restaurant, this place is famous for its gargantuan hot or cold sandwiches, amazing hot dogs, delicious homemade soups and salads, and unique sides that will please even the pickiest of palates.
As soon as you enter the space, you realize you're not at any run-of-the-mill diner or pub. Decorated with dozens of license plates and road signs from all over our gorgeous nation, the bistro and its friendly staff welcome you as if you were family. The menu offers quite an array of choices, some of which are vegetarian and gluten-free.
We tried several of the specialty hot dogs Mike turns out, including the Coney Island. This foot-long, quarter-pound wonder was covered in a fantastic homemade chili and diced, raw onion. "The Ripper," a deep-fried hot dog, was crispy yet juicy. The Carolina dog, topped in bacon and covered in homemade coleslaw, was a true winner with the combination of savory dog, smoky bacon and sweet, crunchy slaw. Their Chicago dog was perfectly crafted with all the right ingredients: A mean green pickle relish, fresh tomato slices, onion, pickle, sport peppers and celery salt on a fresh poppy seed roll. All hot dogs on their menu are authentic Schickhaus or Boar's Head brand, from New Jersey, with natural casings and are above and beyond a "regular" dog.
Mike proudly brought out several sandwiches for us to try, and there's no mystery as to why this is such a happy place to have a meal. The Jersey Joe, made with turkey, corned beef, Swiss cheese, homemade Russian dressing and their famous homemade slaw, all piled super-high on thick-cut rye, was a marvel to behold. We also tried The Rockefeller, which weighed in at a little over 3.5 pounds. It might have difficulty fitting into the carry-on tester at any airport. One of their cold sandwich choices, it was loaded with delectable Virginia ham, Genoa salami, pepperoni and sliced provolone cheese.
One of their hot sandwiches, The Tuscany, was unbelievably tasty. Mike uses all white meat chicken breast, breaded and fried, but layers it with breaded eggplant slices then piles on melted mozzarella and homemade marinara. Served on a garlicky, toasty roll, this sandwich takes orders from no one. My personal favorite, if I were forced to choose, would probably be the Arthur Avenue, one of their cold subs. It has all of the best deli meats and Italian toppings…sopressata, mortadella, Genoa salami, hot capicola, prosciutto, provolone and mozzarella topped with roasted red peppers marinated in extra virgin olive oil and garlic.
Their one-of-a-kind sides include Christina's own recipe of Italian Pasta Salad, chock-full of cubed pepperoni and cherry tomatoes, rigatoni and cheese. Try the potato salad, Guinness Black & Tan Onion Rings or the Wheels-n-Peels, discs of perfectly deep-fried potatoes which come plain or "loaded." Their "Pizza Style" Wheels-n-Peels come topped with pepperoni, sauce and mozzarella. You can also get them as Disco style, topped with brown gravy and American cheese or "Chili Cheese" style smothered in their homemade Coney Island chili along with a sizeable river of melted cheese sauce.
Any sandwich can be dressed with your choice of lettuce, tomato, onion, banana pepper, jalapeno, hot cherry peppers, marinated peppers, hot relish, mayo, mustard and oil & vinegar. It's not all sandwiches and dogs, though; Turnpike Mike's creates wonderful dinners with homemade meatballs, meatloaf, chicken or eggplant parmesan and pasta dishes.
The Holland Funnel Fries are a must-try if you have just one speck of room left for dessert. Crispy on the outside and pillowy goodness on the inside, they're dusted with powdered sugar and served with a dreamy chocolate or caramel dipping sauce. Weekly specials of soups and desserts are available Lots of specialty beers and wine are available, along with wine coolers and locally brewed beverage choices from Infinite Ale Works. No matter what you choose, everything is made with true passion for good food and love for their valued customers.
Turnpike Mike's is located at 7500 SW State Road 200, Ocala, right in front of the Walmart shopping center near the intersection of Highway 484. Save time by calling ahead at (352) 237-8460 to place your order or get delivery through BiteSquad. Bring your appetite and lots of friends! Om