For a refined yet comfortable dining experience in the midst of Floridian grandeur off the water, look no further than West 82 Bar & Grill at the Plantation on Crystal River, overlooking scenic Kings Bay.
Story: David Moore
Head west to Crystal River and enjoy a great dining experience at West 82 Bar & Grill at the Plantation on Crystal River.
You can plan a weekend getaway at the resort and take advantage of boating tours, kayaking, scalloping, golf and the spa, or just visit for a great lunch or dinner.
As you enter inside, you will notice the fire in the restaurant's fireplace, just past the bar area. That definitely gives it a laid-back, resort kind of feel. It's a great place to enjoy a drink or some conversation as you wait for a table.
The dining area has the look and feel of a great Florida room, with tasteful furnishings and a wall of windows overlooking the pool area and Kings Bay. You can start things off with a bottle of wine or perhaps a Mango Martini, or take advantage of the daily drink specials like half-priced margaritas on Mondays.
My wife, Beth, and I sat down to a great window seat and great service by our server Sarah. She was friendly and knowledgeable about all West 82 had to offer. Executive Chef Eric Smith greeted our table, as he does with many of the diners, telling us about the fresh offerings and making recommendations.
With this being Florida scallop season, he was quick to recommend all dishes that included scallops. The Shrimp 'n' Grits is one of the most popular dishes, but he said he could swap the shrimp for scallops if we wanted. I like having options like that.
With so many guests of the Plantation Inn going scalloping, the restaurant will even cook your scallops for you. How is that for great service? They will prepare scallops or your caught fish to your liking for only $11.95, which includes two sides from the restaurant and your choice of soup or salad.
We started with the Jumbo Lump Crab Cakes for our appetizer and they were meaty and delicious. There are no fillers here. Crunchy on the outside, soft on the inside, and served with guacamole and chipotle sauces, which made them even better.
Don't miss the bread. The ciabatta dinner rolls are absolutely wonderful, baked with roasted garlic and thyme-infused oil. "Those rolls are specially made for me out of a bakery from New York," Smith said. "It took me about 11 months to find them after tasting all kinds of breads. We have the best signature dinner roll in town, that's for sure."
For our entrees, we went with Chef Eric's suggestions. Beth had the Seafood Mornay Pasta – shrimp scallops, lobster, pancetta and linguini tossed with a delicious Mornay cream sauce. What a flavorful combination. We both enjoyed this dish. I can see why it's the chef's favorite.
I had to try the Signature Shrimp 'n' Grits, big Gulf shrimp smothered with andouille sausage, peppers, onions, baby spinach and "pot licker" gravy over stone-ground cheese grits. The sausage and gravy gave this dish a bit of a spicy kick, which I liked. And the grits were perfect too, making this an excellent choice.
Beth had the spinach salad as her side dish, served with craisins, walnuts and feta cheese. We loved it. But I chose the She Crab soup for my side and so should you. It was oh-so-tasty and full of crabmeat. Smith said he is working to develop a sauce from this recipe to serve over pasta. I can only imagine.
For dessert we went with the classic Florida Key Lime Pie and the Chocolate Banana Bread Pudding, served warm with bourbon creme anglaise. The pie was cool and light, perfect for a summer's night. But I also liked the banana chocolate flavor combination of the bread pudding, which was made even better with the optional scoop of vanilla ice cream.
The beautiful view, the great service and the freshest seafood prepared to our liking had us thinking about a return trip, perhaps a weekend getaway. I'm sure it would do the same for you.
Meet the Chef
Eric Smith, executive chef at Plantation on Crystal River, oversees the resort's four restaurant locations.
Before starting here in March 2012, he was executive chef for Norwegian Cruise Lines in Hawaii for five years. Prior to that, he was chef de cuisine at the Blue Door restaurant at the Delano Hotel, a very high end and swanky hotel in South Beach, frequented by celebrities.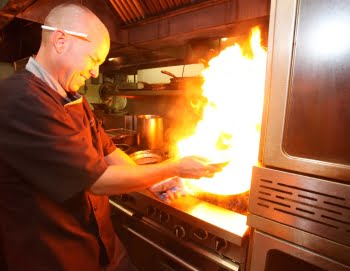 American Bistro with Southern Fusion is how he describes the food offering at West 82 Bar & Grill. That's Southern Fusion as in Shrimp 'n' Grits and its famous Mac 'n' Cheese, which are two of the restaurant's most popular dishes. That Mac 'n' Cheese is made with cavatappi pasta topped with four cheeses, caramelized onions, broccoli, a touch of sherry, herbs and bread crumbs. But that's not all. You can add your choice of shrimp, lobster or chicken to make it a meal.
All of the seafood offered on the menu here is fresh from the Gulf Coast. "I enjoy being able to produce what is locally caught and prepared in this area to put on the table for our guests to eat," he said.
In fact, its "You Catch, We Cook" offering helps set West 82 apart from other restaurants in the area, he said. Whether you have caught scallops or fish, Smith and his kitchen staff will prepare them any way you like at the restaurant. During scallop season, scallops are listed as the Daily Catch and Chef's Choice.
"I like going to the table and giving them ideas for scallops," he said. "I find out how they want it and we prepare it that way. This lets my line cooks be creative and think out of the box from what they do on a regular basis."
Smith raves about his kitchen staff of 13. "I have great line cooks that I depend on tremendously and a sous chef, Patrick Kelly, who is outstanding," he said.
While the restaurants are part of the resort, they are always open to the public. And Smith said it's also a great spot for lunch or its Sunday Brunch.
"We can have you in and out in an hour," he said of the lunch offerings. "And we have special menus to accommodate large office groups."