New Year. New Zone. New You.
Many people make New Year's resolutions to go to the gym and get fit. But one local gym—Zone Health and Fitness—is making a resolution of their own. Owner Ben Marciano is leading the way.
"I felt it was important to refocus our efforts in truly creating the best member experience," says Marciano. "I want each member to feel welcomed and a part of the [Zone] family, that every person [who] walks through the door accomplish[es] the results they desire."
Fully rededicating their efforts to helping members achieve their fitness goals means taking stock of what they've already got, figuring out how they can make it even better, and sorting through the proverbial suggestion box.
Zone's namesake exercise and healthy living services—called "zones"—provide a wide array of options to push members in reaching and even exceeding their goals. But there's always room for improvement.
There's also plenty of opportunity to try new zones. This is an innovative way that members can work out, learn how to be healthier, and most importantly, stay motivated. The change in atmosphere during a workout helps members constantly refocus and drive themselves to success. Zone also has plans to bolster both their community within the gym and their relationship with community. For Zone Health and Fitness, it is about helping the community grow strong inside and out.
GYM WITH A MISSION
Zone Health and Fitness opened its doors in 2014 with the mission of bringing their unique fitness strategy to the people of Marion County. Marciano already had plenty of leadership experience within the local fitness world, including time served as the Executive Director of the Frank Deluca YMCA.
Traci Bracey worked alongside Marciano as the District Executive Director overseeing two locations, Ocala and Taveres, in Lake County. For her, joining the Zone team as the Regional General Manager for both Zone East and Zone West was an inspired decision.
"I worked under Ben for quite a while at the YMCA, and I loved his drive, his heart, and his will. I knew he would be successful no mater what he does," said Bracey. "We have the same belief system in that we truly want to make a difference in people's lives."
One main difference the Zone offers is their various different zones, or fitness areas, that can be tackled as a sort of leveling-up system. This truly sets the Zone apart from other facilities. Members have many zones designed specifically for different athletic abilities and interest to choose from. Group Exercise Zone, new edition XGT Zone, the cult-followed CrossFit Zone, Free-Weight Zone, and more. The Spa Zone is available for massages from a licensed therapist, hydromassage, steam room, sauna, and whirlpool. In addition, the Zone utilizes social media as an educational arena to teach both members and perspective members about fitness, community, industry events, and more.
Members can also find personal motivation in challenging themselves to kick things up a notch.
"One can go to Express [Zone], then cardio equipment, then group exercises, transitioning to personalized group training programs like XGT, and move up to the highest level, CrossFit," explains Bracey. "It was exciting to me to see the different range of things available to members to achieve their goals in a fitness-family environment."
Family is another element encompassed by Zone's unique method for a healthy lifestyle. Not only are the trainers and other staff members a family, members become part of that family when they join. Even the kids are part of the family with Zone's educational based childcare center called The Blast Zone.
It's vital for any new business to build a solid foundation to survive.  For gyms, that means building a solid base by gym memberships.
In just four years, Zone has achieved remarkable success in growth through rising membership sales built upon a strong, supportive internal community. This achievement allowed them to open a second location in Market Street at Heath Brook, which just celebrated its first birthday.
It is now time, according to Marciano, to redirect the attention back toward the fundamentals of service—making sure gym members are satisfied by reaching the goals they set when they first signed up for their membership.
RESHAPING THE ZONES
This back-to-basics mentality is the driving force behind improving and creating zones. Oiling the machine of the level-up zone system and making a clear path for members is just one way Zone will improve the gym-going experience.
"We walk members through a continuum from point A to point Z," says Marciano. "The goal is to have members know exactly what they are doing every time they enter Zone to work out."
A great starting point—the Express Zone. A quick, coach-assisted circuit that can help build a foundation or a way to work out for people on a lunch break. This semi-private room is a great place for beginners or people who have been out of the gym for a while. This unique set up is one of Zone's signature twists on a motivated, healthy lifestyle, making the Express Zone a place many members can feel good about themselves.
Zone strives to serve and impress members, making sure everything in the gym is up to par. In December, the gym rolled out new models of member-favored equipment such as a new StairMaster. Their suggestion box contained one pivotal point—new plates on the free weights. So, Christmas came early for Zone members—and trainers alike—when fresh weight plates arrived for cleanest deadlifts in Marion County.
Though 2019 will see a continuation of updates like these. Marciano and the Zone team have many new industry-leading perks up their sleeves.
Zone is adding an innovative and interactive group Zone called the XGT Program, the only one of its kind in the state of Florida. This program pairs members with similar physical abilities and goals during a group workout class. With focuses on strength training, cardio and flexibility, members challenge one another to push their limits in a safe, supportive environment.
To further help "the Zone family" reach success, Zone is unveiling a brand-new app to motivate members in their fitness and health journeys. With improved communication between members, Zone brand swag, and motivational accountability as incentives, the addition of an app will skyrocket the gym-going experience.
Evidence shows that eating healthy makes up a large portion of getting fit. One of the newest services Zone offers is Fresh Meals, a partner program providing individualized meal programs for interested members.
These pre-made meals are made for specific dietary needs including vegan/vegetarian or keto, and can target specific member goals such as weight-loss, building muscle, or combating chronic illness. It's further customizable with choices of one meal each day or all your meals for each week. As an extra bonus they are shipped directly to your home.
"The [Fresh Meals] process is very simple. Members log into the site and purchase meals. We find that the more meals a member purchases, the better control they have over their diet. It takes the guess work out of what to eat and doesn't leave room for extra snacking," said Bracey.
Not only is Zone focused on how to use calories, but they're also invested in getting members the best, most useful calories to boost workouts and push them further toward their goals.
FITNESS FOR EVERYBODY
It is vital to Marciano and his team that each and every member feels supported, encouraged, and that they build relationships with established accountability systems to help keep them on track.
"That is done inside and outside the gym — through communication by phone calls and text messages with their trainers," said Marciano.
If members feel connected to their trainers and befriend other gym members, they are more likely to develop a fitness lifestyle, and regular gym training becomes a way of life.
In fact, forging strong, personal connections with members is one of the most successful ways trainers and staff help.
Assistant Manager Destiny Espinosa was overweight when she started her journey at Zone. But through hard work, determination, and motivation from the Zone family, she applied the training regimen suggested to her and reached her goals.
"When I started working out, I was over 200 lbs. I have since reached my goal and maintained the weight I want," she says.
Finding members who start where she started and offering them assistance in reaching their goals is what gives her the most satisfaction in her job.
"I enjoy helping others, as others helped me," says Espinosa. "Its all part of the journey we are on together."
It's stories like Espinosa's and of the members she's helped that embrace Zone's most cherished ideal—Fitness for EveryBody. This play on words rings true in every step of Zone's growth, especially as they march into 2019.
Zone has several staff members specially trained to service members with special needs or physical limitations and elderly members. One of them is Chris Mendoza, a personal trainer and exercise therapist. His goal is to get those members with physical limitations healthy and able to enjoy life.
"I have seen people use their arms and legs again when they were told it wasn't possible," says Mendoza. "People feed themselves for the first time in 30 years, people walk for the first time in 10 years."
Mendoza's background is in physical therapy. At 21, he worked at Ocala Regional, a trauma hospital. Mendoza is certified in physical therapy, corrective exercise, Kinesiology, exercise therapy, senior fitness, core conditioning, neuromuscular stretching, and Silver Sneakers, a group for senior-specific exercise classes.
Mendoza once walked in the shoes of his some of his members, people who have lost all physical capabilities like bending over or getting down on or up from the floor. As young as he is, Mendoza identifies with older generations who have those struggles due to age.
"I have a learning disability and developed a passion for rehab after I suffered an injury at age 17," said Mendoza. "Rehab helped me fix my body; I know what it is like to deal with injuries and depression. After my injury, I was down for three years."
Mendoza is part of Zone's work with seniors and people suffering from physical and mental issues, including those who suffer from depression due to disadvantages from their weight.
"My goal as a professional is to show people that, no matter where they are in life, physically or mentally, there is something that can be done to improve their physical and mental health," says Mendoza. "To help those with physical limitations learn that they have full control of their recovery."
Marciano, Mendoza and the rest of the Zone team have already made strides to make their gym and the member experience as inclusive as possible. Just over a year ago, Zone launched Rock Steady, a boxing program built to combat the progression of Parkinson's disease. It keeps the mind active while engaging important eye-hand-coordination, balance and more.
"The ability to encompass [a variety of workouts] under one roof means that we really do have something for everyone," Bracey exclaims.
Marciano agrees. "The goal is for [everyone] to feel part of something."
STRONG BODY, STRONG COMMUNITY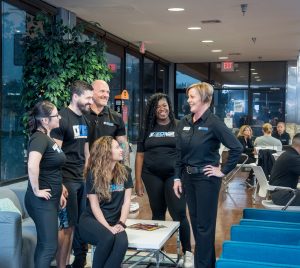 In addition to including everybody in their fitness journey, Zone's mission is to shape lives and strengthen communities, because "when one is well, our world grows stronger."
Bracey also values the staff camaraderie with in Zone's two locations.
"I love that I can help the staff develop," said Bracey. "My role is really to work with the staff to help them reach their personal goals, whether that means moving up in the Zone, or getting better at providing the service they specialize in, such as personal training or exercise therapy."
When Espinosa applied for a job at Zone, she was going through several transitions in her life and was uncertain of scheduling considerations as a single mother. She felt reassured because Zone really is about family. She accepted the job at the front desk and by her first week, she was already working full-time hours. Over time, transitioned through several positions leading the way to her current position as Assistant Manager.
"I am so appreciative to Zone for every opportunity," said Espinosa. "It is a family-run business that supports all employees, so that they achieve what they did not even dare dream big enough to achieve."
"Our staff help shape the lives of our members, the members in turn go out and shape the lives of others," says Marciano. "We take giving back seriously."
In 2018, Zone extended the bulk of their giving to organizations that are child focused, such as United Way, the Boys & Girls Club, Kimberly Center, the Arnett House and more. It's not just the business that gives, the employees join in the mission to help others.
"We are very proud of what we have done over the past four years, having helped numerous organizations in our community," said Marciano. "Part of our mission is the better we do as a business, the more we can give to make Marion County better."
(BODY) BUILDING FOR THE FUTURE
Since opening their doors in 2014, Zone has learned a lot about its members. According to Marciano, members must truly feel connected as part of a family and be actively encouraged by other members and training staff. Not only do members' spirits soar, but so do their results. Zone's new focus is on building the best staff and programs to keep encouraging people and helping them see results.
The learning will continue as they roll out new ideas and zones to help people reach their health and fitness goals. It is of the utmost importance that every staff and gym member feel welcomed and supported when they walk through the door so that the supportive culture is maintained, in 2019 and beyond.
"There is an indescribable feeling we get when a member not only reaches their goal, but exceeds it. Sometimes this means no more medication, an ideal wedding day, or even simply personal achievement," says Marciano. "As cliché as it sounds, we really do love and care about the well-being of our members."
Locations
Zone Health and Fitness
524 S Pine Ave
352.509.3133
Zone Health and Fitness
Market Street at Heath Brook
4414 SW College Rd #1012
352.414.4433
Member Testimonials
I was privileged to talk with several members of Zone who shared with me how Zone changed their life.
"My training activity has been nil for a number of years. I had knee replacement surgery in January 2018, followed by foot surgery at the end of February 2018. I was fairly incapacitated for a while. I ran into Ben and told him I need to go to the gym but I was concerned with reinjuring what the surgeries had corrected. He said he had a trainer that specializes in helping people like you that have special needs. A few days later I signed up and joined. He hooked me up with Chris Mendoza. I trained with Chris three days a week. Initially, I was in bad shape. He suggested a 5-minute warm up on a step climber. At one minute it was over. That gave Chris a good indication where to start. He worked on strengthening my lower body, taking into account my physical recovery and age. Now, I can work out on my own. My goal was to be able to do my daily activities like I had done before my surgeries, like yardwork, my work shop. I am back doing those things, so I am back to enjoying my free time." ~ Gerald Ergle
"I started at Zone back on September 12, 2018, just shy of three months. That same day, I was diagnosed with diabetes. I knew one of the best ways to take control of this illness was exercise and a healthy lifestyle. I went directly to Zone after I left the doctor's office. I met Chyanne, who sat down with me and explained the various gym programs, then walked me around to see the equipment. What I did not expect, was that she introduced me to people and other staff. I shared my diagnosis, and everyone was supportive and informative on solutions. It was obviously a very emotional day for me, after all, I was only 39, and finding out I had this illness was very stressful. I started training that day, and have gone every day since then.  I have had a great experience. When I started, I was 165 lbs, and I am only 5' tall. My goal was to be down to 138 by December 31. I am sure I will reach that goal because I am down to 141. Also, my glucose is down to only 109, which for diabetics, that is very good. The trainers and nutritionists were helpful and offered great advice. I love it there. I call it my 'home away from home.' I bring my 8-year-old son, Justin, to the Blast Zone for kids. Many parents don't work out because they have nowhere to leave their children, or cannot afford expensive daycare. Zone provides all of that in the cost of membership. Justin participates in the junior XGT program, He loves it." ~ Janet Sanchez (interviewed on Dec 12, 2018)
"My goal was to get in shape and feel healthy again after recently having a child. Childcare services at Zone are a blessing. I arrive early in the morning and I know my baby is in premium level care while I do my workout. I began with regular daily workouts, then I heard about CrossFit, which came highly recommended. I decided to give it a try, and immediately I was hooked. I love the community, the comradery, and the results I've seen daily. I dedicated myself 5 days a week to CrossFit. I set my goal at loosing 5lbs not knowing much about how the program worked but surpassed that! I lost 20 lbs. and gained a ton in confidence. I am a better mother and woman because of it. It is amazing! I owe it all to Zone." ~ Stephanie Burns
"I have always worked out, and have been a member of Zone since they opened, but began to slow down. My workouts became routine and time was limited as I fit in my workouts during lunch breaks. Ben recommended I try a group program called CrossFit. I didn't think I would like it. I tried it and found a group with my same schedule. I bonded with them, and have been going regularly ever since. This started 15 months ago and has definitely changed my life for the better. I have lost over 25 lbs. of fat and gained over 15 lbs. of muscle. People who have not seen me in while don't even recognize me, then marvel at the change. My cardiovascular health has also improved. I had some health issues a few years ago. In 2012, I had a heart attack, coming from years of living an unhealthy lifestyle. My cardiologist recommended I do something for my heart. That is a muscle too. CrossFit, in addition to weight training is a cardio workout. That, combined with the nutritional advise proved by my CrossFit training group, doctors and healthcare specialists, changed how I live, which changed my quality of life. I am a mental health counselor and can attest to the therapeutic value physical fitness has on the human psyche. We are a family, and we are united by our goals." ~ Davieoyn Hopson
New Programs for Maximum Results
Curious about Zone's new programs Zone? Bring in this article to one of Zone's two locations for a FREE 5 Day Pass.
Brand New Zone App
"The app has dramatically improved communication with members," said Traci Bracey, District Manager. The app rewards members for using the facility, allowing them to earn prizes while tracking their workouts. They can check in with the app and log their workouts. Rewards include water bottles, Zone bracelets, Zone sweatshirts, personal training sessions, and even a month of free membership. Members can play the long game and let their points build up to earn the larger rewards.
XGT Program (Extreme Group Training)
Zone is the only gym in the state of Florida that offers this XGT program. This small group training combines weights, cardio, and mobility training for members who are paired up with other members with similar abilities. Training together is a fun, exciting, and energizing experience at Zone. Bring a friend or make a new one.
Nutrition
Members work hard at the gym, but their at-home nutrition might not be meeting standards to help them achieve their goals. The Zone partnered with Fresh Meals, a company that provides customizable, healthy home-delivered meals. Members now have access to Zone-approved diet plans that keep them on track and away from the snacks.
Additional Unique Programs
New Survey: Ever 90 days, participate in surveys via e-mail to constantly improve Zone.
Connection Specialists: Assists members to connect to the Zone that best fits their abilities and goals.
Acunique Scanner: Allows coaches to accurately measure body fat, lean muscle mass, and more to give an accurate picture of health. Measures what the scale cannot, showing you results faster than standard tracking. Om