With new ownership, Mark's Prime boasts subtle enhancements while maintaining its classic flavor.
When Mark's Prime changed ownership hands recently, there may have been a fear among local patrons that Ocala's most elegant steakhouse was going to be transformed into something unrecognizable, a departure from that which built its unique reputation as a restaurant anchor of the downtown scene for over the past 20 years.
"You don't reinvent the wheel when the car is running well," said new general manager Michael Mink. That means maintaining the Mark's Prime commitment to serving the best prime steaks in the area and simply adding to the enjoyment of the fine dining experience.
"The way we view it, we're stewards of an important part of Ocala's downtown restaurant landscape," said Don Gulling, part of an ownership group of locals that consists of his wife Michelle, Nate and Abby Stockman, Navroz and Azim Saju, and Deb Cone. "Our mission is to keep this place an elite luxury steakhouse and continuing its legacy of the past. One reason I'm involved is because I love this place – I love the people here and I love the food here."
The quality of the beef – Mark's Prime always has and always will use only prime cuts of beef – and the expert preparation by Chef Randal and his team will maintain its high-end modus operandi, but subtle changes are improving the overall dining experience.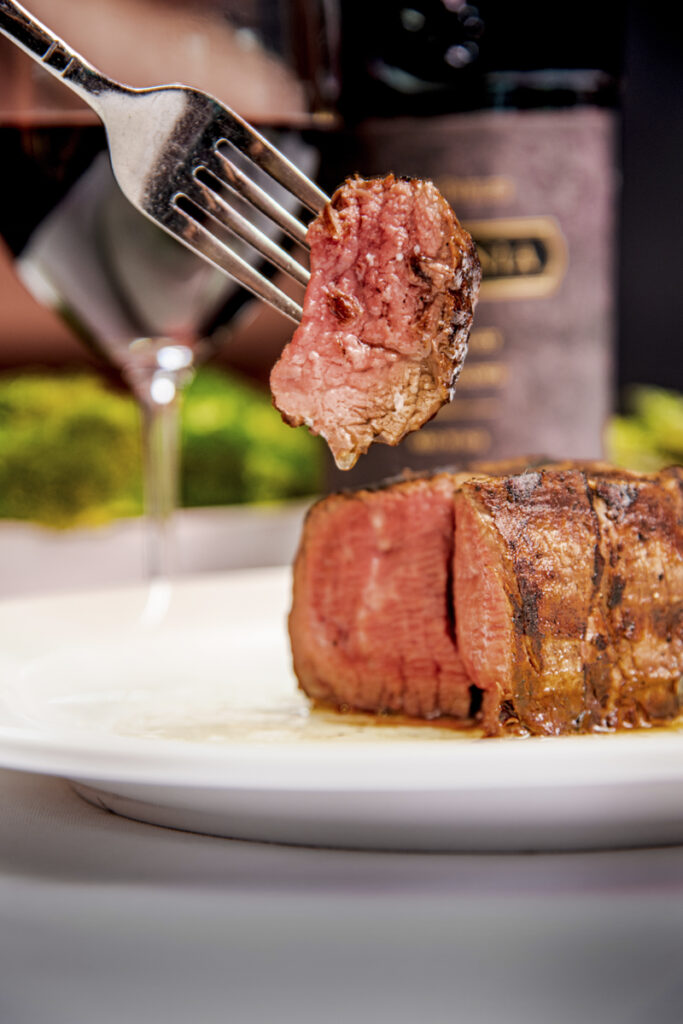 "The way you cook food and the way you present these dishes really matters to guests because they're not here just for the meal, they're here for the experience," Gulling said. "The flavor's still fantastic, the ingredients are still similar, but the presentation is at a much higher level in my opinion."
It's not just aesthetics, however. A greater commitment has been placed on utilizing more local ingredients, and that has had its greatest effect on the seafood served at Mark's Prime. Instead of relying on the typical ocean fare served at all other restaurants, patrons at Mark's Prime are being treated to locally caught varieties that satisfy the discerning palate. Case in point being the recent fish special, in which one can normally count on Chilean Sea Bass like clockwork, but at Mark's Prime tripletail was served to great reviews.
"It's decadent like a Chilean Sea Bass, but the texture is much more like snapper," Mink said. "We're focused on using maybe lesser-known fish and lesser-known proteins that we think when people taste them they will be some of the best things they never had before."
There's also the wine experience, which Mark's Prime has taken to the next level. In the past, patrons at Mark's Prime have been treated mainly to California wine selections, but Mink and his team are bringing in a worldly variety to satisfy a local clientele which is much more global than in years past.
"Marks has always had a very domestic-heavy wine list that does have a lot of trophies on it," said Mink, an oenophile such that he is quite the sommelier for restaurant patrons. "But we've brought in a very diverse wine list with some nice, older bordeauxes, burgundies, Italian Brunellos; more pinot noirs and chardonnays. We're going to have the trophies still, but we're painting a much broader picture. We're going to make a worldly wine menu that has more options on it."
The exciting changes taking place regarding fish and wine options are one thing, but inevitably Mark's Prime will be judged on its service and its steak, the former being polished to friendly precision and the latter bolstering upon its already solid reputation. As far as the service is concerned, Mink is sold on the premise that those who walk through the door are not necessarily clients or patrons, but guests in their home. As guests, one is not merely treated to a meal, but an experience that comes in the form of an elegant atmosphere, friendly and knowledgeable wait staff, highest quality food and presentation.
In the end, though, it comes down mainly to the quality of the steaks, which Mink and Gulling are both certain is at a level untouched by any other local steakhouse. Steaks are butchered in-house and only the highest-quality beef makes it to the table. Chef Randal White even admits that "we do turn down steaks of our own that we won't serve… we have certain weight limits we have to hit so our quality level is pretty high."
When the best prime beef is served, seasoning need only be subtle and Chef Randal takes that approach. He is proud to note that he relies solely on olive oil, kosher salt, and Tellicherry black pepper. Like the changes at Mark's Prime, the seasoning is subtle because that is all that is needed to enhance what is already great.
"Many of our guests, they ask, 'what is the seasoning?' and they are surprised when we tell them," Gulling said. "The key is the wood fired grill. That imparts a flavor and a seasoning to the steak you can't get any other way."
New ownership and management of a restaurant often creates a buzz about drastic changes in store. At Mark's Prime, which has built a reputation on elegance and high-quality selections, the subtle approach has been the best approach. Enhancing what is great and fine-tuning the rest is maintaining its status as the anchor of the downtown restaurant scene.
"Changing isn't 'fixing,' it's 'enhancing,'" according to Gulling. "Subtle changes are all that are needed for a place like this that has a legacy."