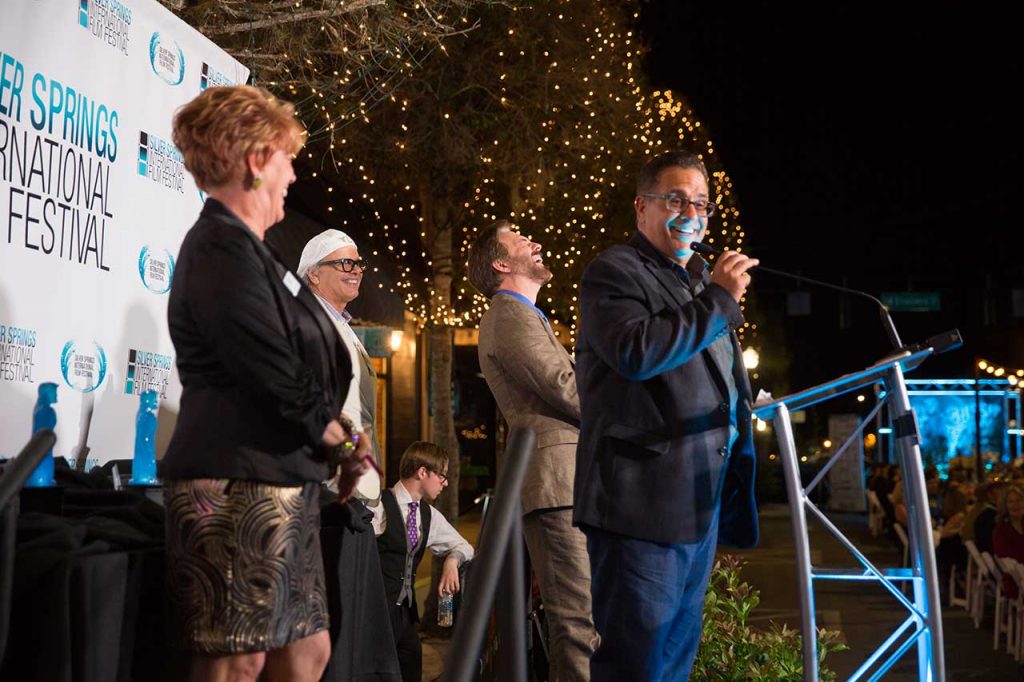 written by Amber Tompkins
Photography by Ralph Demilio
A brilliant idea is born
The Ocala Film Foundation is a 501(c)(3) non-profit organization that recognizes and upholds Education as its major mission – with economic development as a close second. Founder of the Marion Cultural Alliance, Ocala Film Foundation and Chairman of the Horse Fever project, Laurie Zink has always been passionate about the arts and how they can stimulate economic growth in Ocala. Zink, along with many others, saw great potential in Marion County's youth population. It may or may not come as a surprise to some, but our county alone contributes more artistic talent to the film and media industry than any other county in the state of Florida. This, in conjunction with our rich history in filmography that began in 1911, makes Ocala a highly desirable place to produce a film. The idea for the Foundation came about because Zink had always encouraged and supported her daughter's artistic endeavors but also wanted to be able to foster these talents in other students as well. It was through the Ocala Civic Theatre Zink became acquainted with current festival director, Greg Thompson. Thompson was guest directing a production at the time. He had been active in the arts community for over 25 years and, while he does not live in Ocala, he felt the same zest for Marion County arts as did Zink and saw great potential in the way of developing a film festival. Zink and Thompson witnessed other communities greatly benefitting by hosting their own festivals and both knew local students could use a local festival as an outlet to exercise their own artistic talents while building valuable relationships that would help to launch their careers and improve their skills as artists.
"It is the fact underwater photography was started and perfected here that makes Central Florida a great place to shoot," Thompson explained. "Silver Springs has always been and continues to be the world's greatest water stage." It is the largest basin of its type and has unique mineral deposits that make for reflective walls and unsurpassed crystal clear water. These factors equate to exquisite underwater filming conditions – something that is attractive to filmmakers who visit or discover Ocala because of the festival. To maintain the integrity and beauty of Silver Springs, a portion of festival monies raised goes back to preserving them. Not only is the Foundation benefiting from our beautiful springs, they are passionate about being eco-friendly and helping to maintain them."It's not just the rich history of filmography that makes Ocala the perfect city to host [a festival]," Zink tells OM, "it's our contained downtown area and historic theatre as well." When you look at big named festivals, those are factors they all have in common. Zink and Thompson knew from the get-go it was a recipe for success – Ocala needed its own film festival and they were going to be the ones to make it happen. Between Zink's gumption and Thompson's experience, the two began laying the groundwork for the first Silver Springs International Film Festival in 2014. It was their hope to expose Marion County students to some major players in the industry, as well as bring growth and exposure to our beloved city.There are a lot of people who dream up ideas and say, "We should (do this or that)," letting those ideas fall flat. However, the day Laurie Zink and Greg Thompson met, words sprang into action and the Silver Springs International Film Festival went from being a "We should" notion to a "Let's do it!" action. While Zink will admit they didn't fully realize what they were getting themselves into, all of the hard work and man hours were completely worth it. The festival was a success from inception. If it were not for Thompson's connections and experience with film festivals, SSIFF would not be where it is today. In fact, it is his influence and guidance that has singlehandedly helped lead the festival to such successes. SSIFF is looked at as a model for other film festivals around the world.  "If we keep doing this with the same intention and rate of progression," says Zink, "we will continue to make serious headway," – a great thing for Ocala. For years now, Ocala has been working to revitalize its downtown area and encourage more tourism and commerce. Tourism is a main economic driver and professionals in the industry understand it goes hand in hand with hosting a film festival. For those of us who know and love Ocala, we know it only takes one visit here for someone to fall for the quaint charm of our tight-knit, beautiful and artistic community. Because filmmakers from all over the world submit their films to be shown at the festival, Ocala is getting beaucoup exposure. When the participating filmmakers come to town, they boost the local economy by eating numerous meals at local restaurants, staying multiple nights in hotels and doing a great deal of local shopping. Businesses in and around the downtown area will attest to this – when the festival is in town, business is booming.
Community Impact
Orchestrating the festival and all that it encompasses is a year round process that is currently being done by selfless volunteers who all share one common trait – a passion for the arts. Countless hours of work and planning go into each festival. There is much more to it than a night of movies and popcorn. The weeklong festival consists of daily Meet the Filmmaker coffees, multiple workshops and seminars that include a cast of renown players from the industry such as the Manhattan Film Institute's founder Tony Spiridakis who is more widely known as a director, writer, actor, producer and playwright; James Walker, world renowned writer, producer and director; and representatives from the prestigious Torchlight program at the Florida State University. These events are held at local businesses and are free for guests to attend. Venues that have hosted in the past include Trilogy At Ocala Preserve, The Appleton Museum, Central Florida College, Pi On Broadway, Stella's Modern Pantry and more. Guest attendance stimulates business and increases exposure, making it a win-win. If it wasn't for the hard work and dedication of Laurie Zink, the Silver Springs International Film Festival wouldn't be a reality and people from all over the globe might not even have Ocala on their radar. Zink is proud to say, "We're bringing the world to our community," and she has every right to be proud. This festival literally attracts people from all over the world. Other festival planners want to know the secret to the rapid success of the SSIFF. Zink recalls being "overwhelmed by the positive response." Just to paint a picture of the magnitude of this event which has taken place for 3 years now, in 2014 alone, 11 filmmakers from around the world participated in the 3-day event. In 2015, that number jumped to 53 filmmakers and lasted 5 days. Last year, the festival became a 7-day event and featured works from 77 different international filmmakers. The Foundation has put many programs into place that encourage and allow young burgeoning artists to explore their talents. The Dream2Screen program offers classroom grants that help support Marion County school media programs. These grants have brought major media growth to our student population. Lake Weir High School for example, has been able to start a morning show with a grant they won in 2014. David Guest's students at Forest High School have been able to learn the ins-and-outs of making a documentary. They've won a grant the past 2 years and it has afforded them the ability to purchase camera equipment and put together an amazing documentary called "Safe Haven: The Story of Paradise Park." Their 18-minute documentary focuses on the segregation that took place right here in our community, decades ago. When these students learned about Paradise Park from Dr. Cynthia Graham at the Silver River Museum, they were appalled – partly because they could not imagine segregation like that in our community today, but also because they had never heard about it! They asked themselves, "Why aren't Marion County students learning about this part of local History?" So they decided to do something about it. David Guest's students wrote the grants themselves and took great pride in their submissions. "The documentary took nine months to produce, but has been a wonderful learning experience for the students," Guest told OM. "This festival brings real world experience to our students and when they get to meet real actors, producers and directors at the festival and workshops they see we really aren't as "Slocala" as people say." David Guest also acts as the liaison between Marion County digital arts students and the festival. In addition to classroom grants, individual scholarships are offered annually. These scholarships have helped many students in our county who otherwise might not have had the opportunity to expand their knowledge of the industry. "The Ocala Film Foundation and Silver Springs International Film Festival is connecting people with opportunities," Zink told OM. The Foundation also grants a Fresh Squeezed Award in the form of a $10,000 cash prize for the best made film in Florida – both feature films and shorts. Last year a student from the FSU film school was named a winner and continues to be very supportive of the Ocala Film Foundation and what it's working towards. In fact, their next film is already in preproduction here in Central Florida. With every success story, community support becomes stronger and the economy grows a little more, not to mention the pride each participant takes in their work. "For the people who are just starting out, a little bit of cash turns into a whole lot of effort," explains Thompson.The most recent endeavor developed by the Foundation was this year's Jump/Cut Film Challenge. The 5-day long event consisted of 2 full days of workshops where mentors were flown in from all over the country to provide guidance to those participating. One mentor in particular, Todd Thompson, who worked at the Yellow Shoes Creative Group at Disney for over 20 years was impressed by Ocala's "commitment to the arts and the emphasis people put on creativity here." The remaining 72 hours of the challenge was for teams to make a film using parameters they were given. These parameters included a character name, job, prop, local landmark, a spoken line and film genre. It was truly amazing to see what all of the different groups came up with – each taking their own spin, using the same requirements and time allowance. Arguably the most valuable relationship formed by the Foundation has been the one established with the Manhattan Film Institute, an elite boutique film school in New York. MFI has been gracious enough to partner with the Dream2Screen program and is committed to matching the dollar amount of the student-won scholarship, if the student qualifies and wishes to attend MFI. This has made attending the distinguished school a reality for many people in our community, people who otherwise might not have been able to attend. One success story in particular hits very close to home for OM.

Chris

Wims

, the current Director of Media for Ocala Magazine, started out as a scholarship winner who attended MFI as an acting student. He was thrilled to recently learn they want him to return as a director.

Wims

wholeheartedly attributes his success to the Foundation and the doors it has opened for him. The relationships built by the Foundation are invaluable and Marion County has greatly benefited from them. Festival director Greg Thompson believes these scholarships and grants are really changing things for our county. He also let OM in on a little secret – a Florida filmmaker approached him because of the Silver Springs International Film Festival in hopes he would agree to produce a high quality film with a $2 million budget, right here in our backyard! "This could make a big splash," says Thompson, "and I am beyond flattered and incredibly honored to be asked to participate." And while he can't divulge any more details at this time, Ocala should be very anxious and excited to find out more.
So what's next?
The program founders have worked tirelessly to create a successful festival model built on a sturdy Foundation. Everything about it greatly benefits our community, but only so much can be done with strictly volunteering and fundraising alone. "We can't keep planning this thing on a wing and a prayer," explains Zink. "The city and county both love what we've done but we need more support." In other words, if Ocala wants to continue to benefit from the attention and revenue the SSIFF brings, we had better figure out a way to help fund it. People can't keep working, tirelessly for nothing. And while funding is an integral part of making the festival a success, "What we need is more than just money," urges Thompson. "We need a commitment from the community. It's so doable. This could be astounding!"So many industry leaders have said they've never seen anything like this before. The key to the success of this festival has been the leadership of the Foundation. They have looked at how to strategically bring attention to Ocala, and it has worked. But one cannot put enough emphasis on the support they actively, critically need – and it is going to have to come from city and county officials. OM