Written by Kelli Fuqua Hart, Editor-in-chief
Photography by
Chris
Wims
, Director of Media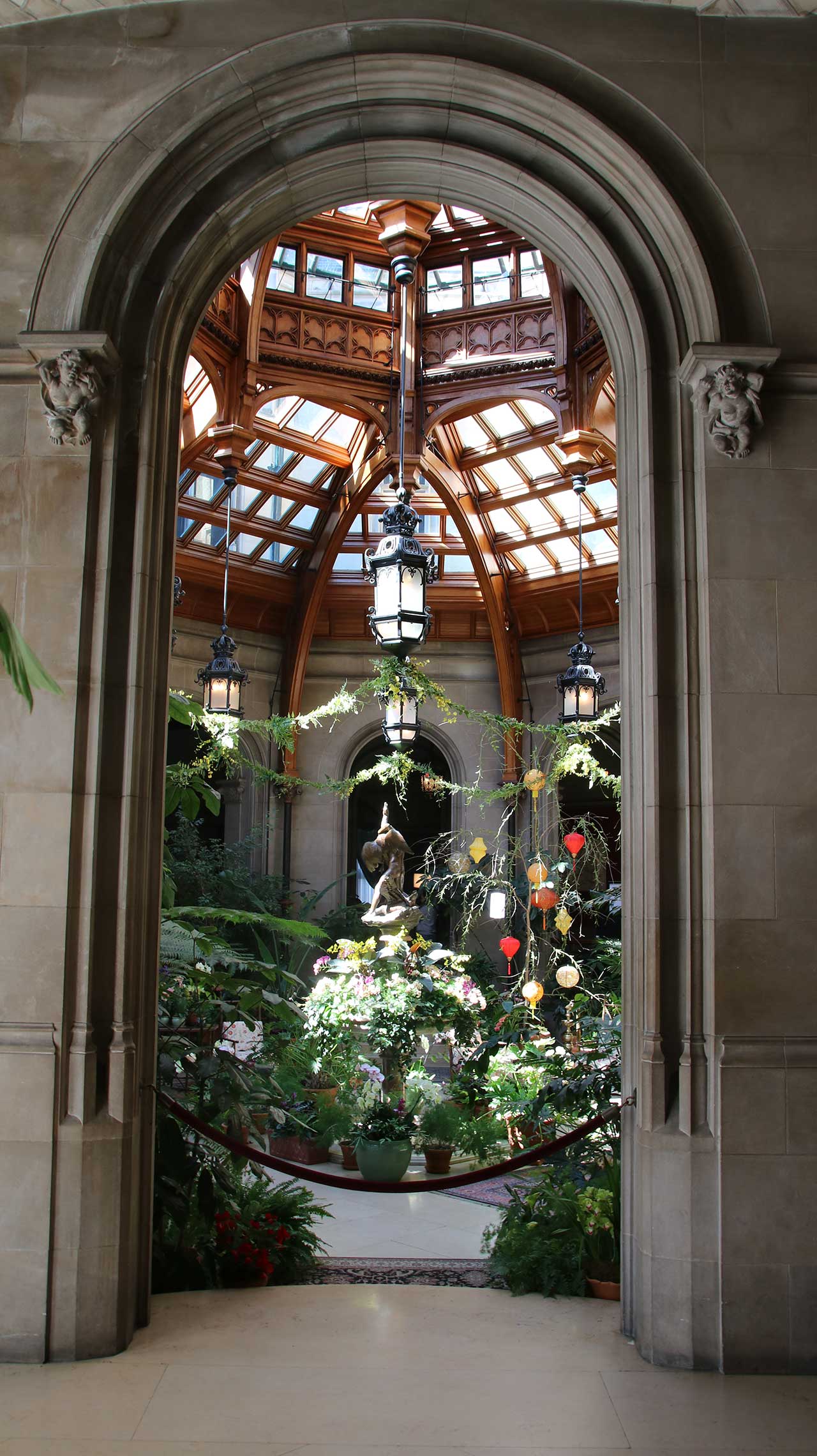 Biltmore
Much like I fell in love with its mountainous skyline and blooming dogwoods, George Vanderbilt too was immediately mesmerized by Asheville's majestic views and change of seasons. In 1889, after visiting his mother, Vanderbilt began building what is now called Asheville's crown jewel, Biltmore, "A retreat reminiscent of the grand castles and estates of France and Britain."America's largest private home, Vanderbilt's estate has over 4-acres of floor space and 250 rooms, all originally set inside 125,000-acres of wildlife and scenic pathways. Today, the family home is filled with original collections of art, heirloom furniture and over 20,000 rare books both read and cataloged by Mr. Vanderbilt himself. A quick Google search will yield you page after page of information pertaining to Mr. Vanderbilt's prized home but, what you might not read about are the intricate details hidden throughout the iconic manor's four floors. Over 60 stonemasons worked to produce over 32,000 bricks each day. Thousands of furnishings dating back to the 15th century were bought during extensive overseas purchasing excursions – items to include tapestries, prints, linens, carpets and decorative elements. The main floor contains Italian marble, stone archways, sculptured wood and multifaceted glasswork. Many of the rooms' ceilings are hand-stenciled – a common European practice that Vanderbilt admired. Walnut paneling, ornate mantles, golden walls and ornate tiles are found throughout the home, as well as thousands of dollars' worth of fresh cut flowers, arranged perfectly in ornamented vases. The sound of a melodious harp bounces off of the marble columns and breezes up the winding staircase as I make my way through the spacious bedroom chambers and sitting rooms. An indoor bowling alley, state-of-the-art gymnasium, indoor pool and smoking room are just a part of what you will experience along the tour – all leaving you in awe. The 30,000-acres of grounds surrounding Biltmore House include formal and informal gardens, designed by renowned American landscape architect Frederick Law Olmsted. From the Italian Garden with its reflecting pools and aquatic life to the Walled Garden surrounded by 75,000 blooming spring tulips and a native butterfly sanctuary, the picturesque scene Vanderbilt planted for his guests forever blooms. Visitors can spend an entire day touring the depths of the estate, meandering through ornamental gardens, indulging in fine cuisine and exploring the Biltmore Estate Winery. Tucked away in the Blue Ridge Mountains, the historic winery offers complimentary tastings, a wine bar, winemaking tours and delicious food in a gorgeous setting. Named America's Most Visited Winery, the Biltmore Winery provides guests an underground stroll through the cellar towards a tasting room where they enjoy a variety of wines and shopping opportunity. A multitude of events are offered each month, making it a new experience every time you visit. The historic, awe-inspiring Biltmore is one of the many reasons the city in which it resides is called Romantic Asheville.
River Arts District
Between 1880 and 1900, Asheville's population grew from 500 residents to 10,000. This booming little town thrived for nearly three decades before the Great Depression moved in. Businesses shut down and production ceased. Large buildings and warehouses were vacated, putting the town in debt – $56 million to be exact – and laborers at a loss. Rather than renouncing its debt, Asheville committed to paying off the Depression-era bonds in full, despite the 40-plus years it would take. In fact, "Asheville is believed to be the only American city not to have defaulted on its bonds," according to John Miguel Almaguer, owner of Asheville Art Studio Tours. However, during the almost 50 years Asheville lied dormant, little new construction was performed and many buildings became increasingly dilapidated. It wasn't until around 1985 this sector of town – known today as the River Arts District or RAD – was reignited. Once a neglected ghost town, this district finally had life breathed back into it when a group of local artists moved their studios and galleries here, calling it home. Porge and Lewis Buck were the first artists to invest in the RAD, buying an old building in 1987 they named Warehouse Studios. Two years later, Pattiy Torno purchased what is now CURVE Studios and Garden – "the first live/work studio space in the district," according to www.AshevilleRAD.com. By the early 1990s, more and more artists flooded the RAD and in 1994, these same artists hosted the inaugural Studio Stroll. Today, just shy of a 30-year milestone, Asheville's RAD is home to over 220 working artists within 21 unique buildings. Some of the art guests will enjoy includes basketry, bookbinding, clay, textiles, glass, interior design, lighting, music, painting, mixed media, sculpting, wood, glass and more. Several eateries and breweries have landed in the mix, providing artists and spectators alike a chance to dine, socialize and bask in the culture of the RAD. As part of the Asheville Art Studio Tours, you will engage with artists, watch them work and hear their stories. One of the most mesmerizing stops along the tour is the North Carolina Glass Center which offers demos and hands-on workshops. This non-profit studio's mission is one of dedication to education, exploration and artist collaboration. Executive Director Kari Rinn, alongside Operations Manager Kathryn Adams and Studio Manager Hayden Wilson, operate with a high respect for tradition, responsibility and sustainability for energy, innovation and focus on the discipline as a whole. Visitors and students will be in awe of the masterpieces displayed throughout the spacious gallery, as well as the ability to create their own beads, vases and other pieces of ornamental glass. Open 7 days a week, North Carolina Glass Center offers a Hot, Coldworking and Flameworking Shop. Students work one on one with glass artists, getting undivided attention while creating a work of art that will last a lifetime. With over 20 in-house artists, the North Carolina Glass Center has become a staple in the RAD and a fan-favorite along the Asheville Art Studio Tour. Artist Stephen St. Claire comes to Asheville by way of Los Angeles. The owner of St. Claire Art, another stop along the guided art tour, Stephen has developed an oil painting technique he calls Dialuminism or light passing through. This one-of-a-kind technique involves embedding metal leafing onto a three dimensional, oil-painted canvas that Stephen ultimately seals with layer upon layer of solar resistant resin. When light hits the canvas, some of it gets swallowed in the shadows, while other facets of light reflect off of the silver leafing hidden within. Gallery-goers stand in awe of the results, often moving left to right to see how the light plays on the surface of the canvas. From abstracts to landscapes, Stephen St. Claire is well versed in his craft, having won numerous awards for his work – many of those international. His studio is immensely welcoming, filled with natural sunlight and colorful, intriguing works of art. Stephen creates his art in the lobby of his space so guests can watch him as he becomes engulfed in his craft. Stephen is like most of the artists in the RAD, making himself accessible to his guests and other artists alike. What once served as the National Biscuit Company, the 5,000-square foot, century-old Lift Studios is one spot you do not want to miss along your stroll of the RAD. Artist Daniel McClendon, owner of Lift Studios, has one remarkable story. He graduated from Western Michigan University with his Bachelors of Fine Arts. Having focused his studies on realism, Daniel soon found himself living in Asheville, painting full time. The idea of making a living while doing one's passion sounds like a dream realized for most. For Daniel, however, it became a dark and confusing void. "I was creating was I was good at," explains Daniel, "not what I was meant for." His work felt insincere and "fraudulent." For several months, he'd go to his studio, his wife Michelle convinced he was happily working – painting – when, in reality, he was at a total stand-still. "How do you tell your wife you've given up painting?" Daniel asked in rhetoric. "You don't!" he chuckled. It was an internal struggle he battled until one very early March morning. Unexpectedly, Daniel had an epiphany that broke his hiatus and had him back in front of the easel. On the back of the last page of a Doubletree Hotel scratch pad, he jotted down his vision. "Find good scientific/accurate/simple source material of animals. Think about use of black. Emphasis on layers and process." The list of ideas went on. On the back side of the same paper, Daniel sketched a buffalo and made a few other notes about layers, oil paint and facts. Today, this integral note hangs framed, pressed between glass, in The Lift Studios. Now, and authentically, Daniel creates primal compositions that reference highly abstract animal forms. He begins with a white canvas and then loosely applies large strokes of black paint that ultimately decide which animal will be born on canvas. His pieces are powerful, dynamic, colorful and exert an energy that stirs throughout the hallways and corridors of Daniel's exquisite studio. Set diagonally from The Lift Studios is Studio A – a co-op of artists with varying talents. From handmade lamps and paper to scrap metal jewelry and woodblock prints, this creative space offers a uniqueness unlike any other stop along the tour. One artist who calls Studio A home is Andrea Kulish, owner of Pink Dog Creative. Andrea is diverse in her talents making lamps with handmade paper shades as well as teaching pysanky workshops – a class that introduces students to the art of Ukrainian egg decoration. Looking much like folk art, Ukrainian pysanky is executed using a wax resist method and dyes to create colorful, intricately detailed eggs that Andrea sells. Watching Andrea work was mesmerizing. Her steady hand and attention to detail encapsulates spectators. She begins the process with a real egg, writing out her design in hot wax using a special stylus called a pysachok or kistka. Imagine first a white egg. Andrea executes near perfect lines, swirls, dots or the likes on areas she wishes to remain white. She then submerges the egg in a colored dye of her liking. Once dry, she adds more wax lines or details to areas she wishes to remain colored. Again, she submerges her egg. As more wax is added, the layers of colors are preserved. After Andrea has skillfully finished each detail of her egg, she uses a lit candle to carefully melt away the wax, exposing a multitude of colors and designs. Her art is authentic and her passion, unsurpassed. Although it is a tiny shoppe, there is a huge amount of talent filling the joyful space.
Dining
Part of beautiful Asheville's culture is the attention to fine dining – fine in the sense most of its eateries and restaurants focus on farm-fresh ingredients and healthy recipes. One venue in particular, housed on North Market Street, is Sovereign Remedies – owned by Charlie Hodge and his partner Sunil Patel. "Somewhere between warm and regal, [Sovereign Remedies] is filled with visual treasures of vintage service-ware, rich black and gold curtains, and locally built furniture and fixtures by Iron Maiden Studios," says Hodge. Tall, picture windows allow natural lighting to enter the space as it hugs the foliage that is tucked into SR's many nooks and crannies. In addition to SR's massive, fully-stocked bar, patrons can gather in an urban-style atmosphere, enjoying culinary creations that are 100-percent farmed or foraged. From artisinal cheese and meat boards to crispy pig ears and stinging nettle tagliatelle, the menu items at SR are one-of-a-kind – made with the freshest of ingredients. The mission behind SR is that of organic, locally-sourced, sustainable foods. Charlie and Sunil mix with patrons, a true testament to their amazing customer service – a theme among Asheville's restaurateurs. Once a Gulf service station, Asheville's Ghan Shan Station welcomed us in and presented us with a chef's tasting that was beyond expectation. The fully converted space is adorned with mementos from the original Gulf station, meshed with trendy fixtures, updated bar and local artwork. Chef's first presentation began with a coconut squash soup – a creamy, flavorful starter of winter squash, coconut milk, chili oil, chive and black sesame. Next a progression of delicacies arrived to include a mushroom yuba salad, dan dan brussel sprouts, whipped tofu, house made dumpling and Koji marinated beef. To sweeten the deal, a Szechuan Root Beer Float followed the six courses. Between each tasting, we were taught what each recipe included, how the ingredients are farmed and which wines were best paired to enhance flavor. With an open-view kitchen, patrons are able to see their meals being prepared by Gan Shan chefs and an open-seating area allows guests to see every aspect of the space. The concept might remind you of the RAD, where older buildings are reborn as new businesses. Before a long day touring Asheville's Biltmore or hiking through the Blue Ridge Mountains, make sure you indulge in a hearty, southern-style breakfast at Early Girl Eatery. Falling in line with many other local restaurants, Early Girl Eatery offers made from scratch dishes using local, organic ingredients. Imagine my surprise, finding out I was sitting at the same table actress Andie MacDowell once sat at while enjoying eggs over easy! Although I did not order Andie's favorite dish, I did enjoy the freshest, most delicious banana nut bread I've ever had the pleasure of tasting. Owners John and Julie Stehling are active owners, offering patrons and newbies alike a true dose of southern hospitality. According to their website, "John does the cooking while Julie does the talking." Having been featured in publications such as The New York Times, USA Today, National Geographic Traveler, Southern Living and now Ocala Magazine, Julie has many reasons to talk – about both what's on the menu and the many diners who claim Early Girl Eatery is the best breakfast in town. Dining in downtown Asheville is an experience. Walking city streets to your venue, you will be met with fantastic street art, musicians and highly decorated boutique storefronts. When choosing the perfect place to have dinner during your visit to Asheville, there is really no wrong selection. However, a few places do stand out among the rest. Chef John Fleer was named one of the Rising Stars of the 21st Century by the James Beard Foundation and is a four-time finalist for the James Beard Best Chef in the Southeast award. "His unique foothills cuisine he helped establish at Tennessee's Blackberry Farm wanders the link between refined and rugged, fancy and familiar," according to Landis Taylor, Asheville Public Relations Specialist. With a menu that changes daily, Rhubarb makes for the perfect venue to celebrate some of life's most special moments. Growing up, most of us shared moments and created memories while sharing a meal together at the dining table. This is the same feel and concept Rhubarb has built its mission around. Chef Fleer wants Rhubarb to be the go-to place to meet, celebrate, propose or reconnect. It made for the perfect stopping place to reminisce on the day's events and wonderful first-time moments made in Asheville. The Mongolian Barbecued Lamb Ribs were a perfect selection from the snacks and shares menu, followed by a Grilled Ashley Farms Half-Chicken and a smooth glass of white wine. From Glazed Duck Confit and Octopus a la Plancha to Charmoula Grilled Bear Creek Farm Bavette – all fresh and made to order – the menu at Rhubarb pleases any palate. However, if you are looking for a quaint venue located in the heart of downtown Asheville, near Fine Arts Cinema, Diana Worthham Theater and many fine art galleries, look no further than The Blackbird.Blackbird owners Jesson and Cristina Gil pride themselves on serving locally farmed ingredients, fresh catches and creative specialties – coined modern southern with a nod to tradition. While enjoying a crisp white wine, I watched locals walk past the venue's massive windows, many walking hand in hand or being led by their pooch. (Sidenote: Asheville is big on dogs and most every venue in the city welcomes dogs of all breeds.) I had the perfect view of sparkling patio lights, boutique window displays and giggling people enjoying Asheville's Amazing Pubcycle tour. Soon after being greeted by both Jesson and his wife, welcoming us to The Blackbird, a spread of delicious charcuterie and house crackers kicked off what would ultimately be my favorite meal while in Asheville. Allergic to shellfish, I required a twist to Blackbird's Grilled Seafood Risotto – of which Chef Michael Reppert happily obliged, replacing the seared scallops with a mouth-watering stack of seasoned, grilled asparagus. Each bite of my fresh catch was flaky and melted like butter on my tongue. From the Blood Orange Tuna Tartare and Wellington to his Cold Smoked Heritage Pork Chop Schnitzel, Chef Reppert has designed a menu that will have you calling The Blackbird your favorite stop in Asheville.
Relaxation
Good Morning America named Asheville among the Ten Most Beautiful Places in America. Citizen Times named Asheville the Number 1 Coolest City in America. Last year, Conde Nast Traveler voted Asheville among the Friendliest Cities in the U.S. But in 2014, TravelandLeisure.com named it the Quirkiest Town in America – perhaps I stumbled on one of the reasons why?After an 8-hour car ride from Ocala to Asheville, getting a foot soak sounded like an absolute marvelous idea. Imagine being nestled into a soft chair or loveseat, inside a dimly lit room where cell phones and noise are restricted. Now imagine having a warm wrap placed at the nape of your neck while a soft-spoken technician delicately places your foot into a copper pot filled with hot water, oils and spices. A gentle hand begins to massage your neck and you feel the worries and stresses of the day lift and flee from your body. It's a retreat from life's madness that is offered at Asheville's Wake Foot Sanctuary. Wake is not what's quirky about Asheville. In fact, Wake may be one of the best, most necessary and overlooked concepts in all of business. What I found quirky is the fact Asheville has numerous – like one on every corner – foot-focused businesses. From massage and soaks to podiatrists and reflexology, Asheville is very adamant about foot care. And for a girl who spends plenty of time on her feet – usually bare – I had no complaints! Another venue that offers foot treatments, along with skin care, massage and other body treatments is the Spa at Omni Grove Park Inn. This luxurious escape offers a 43,000-square foot spa with amenities to include mineral pools, an inhalation room, eucalyptus-infused steam room, relaxation lounges, outdoor fireplaces overlooking the Blue Ridge Mountains and more. From scalp refreshers infused with exotic botanicals to honey wraps and aura imaging, the Spa at Omni Grove is an oasis where visitors can escape the hustle and bustle of life, all while wrapped in a plush robe, sipping the finest herbal teas on the market.
Recreation
Beer enthusiasts will love Asheville's Wedge Brewing Company, now brewing it up at two Asheville locations. According to www.WedgeBrewing.com, "Malt, hops and adjunct ingredients are of the highest quality and each beer is given the time it needs."The newest location on Foundy Street, once the largest leather tannery in the country, opened this year and offers patrons the finest, most consistent of brews as well as a tasting room. Located in the River Arts District, Wedge Brewing Co. stands out with its graffiti-covered exterior and outdoor patio. Neighboring buildings are covered roof to footer with colorful, dynamic street art, making this location within the RAD a must-stop, must-see destination when visiting Asheville. There is even a collaborative skate park project behind the brewery – Foundation Skatepark – which was built by and totally funded by local skaters. Open daily, Wedge Brewing Co. is quickly gaining momentum, becoming a hub for locals and travelers alike. Other interesting offers you will want to consider when visiting Asheville include the local

Friday

night drum circles, a stroll through Grovewood Village shops and museums, a hike along the Catawba Falls trails, peddling through town on a pedal-powered, BYOB Pubcycle, Thomas Wolfe Memorial and Ghost and Vampire Tours.
Lodging
After setting out to explore all of what Asheville has to offer, you will want to find a place to sleep peacefully that offers luxurious amenities and is located close to downtown. Asheville's Hotel Indigo makes checking in, parking and dining incredibly simple. Like most all of Asheville's dining establishments, the hotel's oneFIFTYone Bar & Kitchen offers a strictly farm-to-table menu and serves brews from local breweries. A supporter of the arts, you will find original works of local artists displayed throughout the hotel's hallways and lobby. The rooms offer sightly views of the Blue Ridge Mountains and, if you are as lucky as was I, you will wake up to a fleet of gorgeous hot air balloons hovering in the distance. Don't leave your pooch at home. Hotel Indigo welcomes your pet and makes even those accommodations a cinch. Greeted with a smile each time we left and returned, the Hotel Indigo staff practices unsurpassable customer service. OM
Asheville Visitors Bureau