An exotic dining experience awaits you at Amrit Palace Indian Restaurant in Ocala
Story: David Moore
Photos: Chris Redd
Are you up for a culinary adventure, where your taste buds are sure to be tantalized? Then consider an evening out at Amrit Palace Indian Restaurant in Ocala.
With its extensive menu, including a large vegetarian section, you are sure to find many things to your liking, maybe even a new favorite. And don't worry about the spice factor, as your meal will be prepared to your personal taste – mild, medium or hot.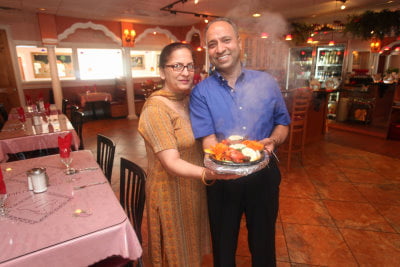 My wife, Beth, and I dined at Amrit on a recent weekday evening and the place stayed busy. It's a beautiful restaurant, inside and out, decorated with arches and white columns throughout. Family owned and operated by Satnam and Niranjan Singh, the restaurant has been in Ocala for 16 years, including the past three years at 3415 SW College Road.
Our server Bobby was our tour guide into Indian cuisine, leading us to a wonderful dining experience. When we told him we were new to Indian cuisine, he was great about explaining things on the menu and offering suggestions. This kind of service is standard at Amrit as I overheard other servers doing the same. He asked us how hot – as in spicy hot – we liked things on a scale of 1–10. These helped him in suggesting dishes for us and placing our order.
If you like chips and salsa, you'll love the papadam and onion relish that is served to all diners. The papadam is a thin bean wafer that goes perfectly with the tasty onion relish, comprised of chopped onions, tomato paste, vinegar and other spices. We were off to a great start.
For appetizers, Bobby suggested the Amrit Palace Indian Special Variety Tray, which is a great introduction. The vegetable and meat samosas are crisp patties of potatoes or meat and green peas and spices. We liked them both. I loved the bhujia, tasty veggie fritters with onion, green peppers, potatoes and spinach. It also came with a trio of pakora, or fried snacks of potato, cheese and chicken.
We loved trying these flavorful dishes, made even better with dipping sauces. The mint chutney and the tamarind chutney were perfect for appetizers, Bobby said, but he also brought out the mango chutney and the cucumber rayta, a cool homemade yogurt sauce with cucumbers and spices.
I think the tamarind chutney was my favorite. If you're trying some of the spicy hot fare, Bobby said the cucumber rayta is perfect for cooling things down.
For dinner, we had the Mixed Tandoori Platter, an assortment of chicken, lamb chops, shrimp, chicken kebabs and minced lamb kebabs, all cooked in a charcoal oven. This tray was served to us sizzling, which adds a little excitement to your meal. We loved trying these with each of the sauces.
The Chicken Tikka Masala is one of the most popular dishes, Bobby said. Boneless chicken pieces are cooked with cream, fresh tomato sauce, onion, green pepper and Indian spices. I can see why it is a favorite. It was delicious.
It really was a culinary adventure, as we did not know what to expect with each new bite. It was exciting to try new dish after new dish, served family style.
We also enjoyed the Rogan Josh, lamb pieces cooked with yogurt, tomatoes, onion, ginger, garlic and spice flavor curry sauce. Think lamb stew with tomatoes.  And you are sure to love the Navrattan Shaki Korma, fresh veggies cooked with spiced sauce and garnished with nut and cream sauce. I believe that cream sauce would taste great on anything.
The pillaw rice was a perfect complement to this meal. It is fried rice sauteed in almonds, cashews, green peas and raisins, served with fried onion strips. We also liked the garlic nan, leavened bread baked in tandoor with butter, and the onion kulcha, a specialty of North India. It is nan bread stuffed with onion and spice.
Despite such a great meal, I knew I must try some authentic Indian desserts. The homemade mango ice cream was a delight, as was the kulfi, homemade ice cream with almonds, pistachios and rosewater. This reminded me of butter pecan ice cream. And we had to try the rasmalai, homemade Indian cheese served in a sweet cream sauce. Think cheesecake with a sweet sauce and you'll get the idea.
Next time, I want to try more of the seafood like Lobster Curry or the Shrimp Masala. The Amrit Palace Dinner for two is also very popular, featuring soup, the variety appetizer, your choice of two entrees, plus dessert. Meals start at $11.95 and go up from there.
You can enjoy lunch at Amrit Palace from 11 a.m. to 2:30 p.m. The restaurant also offers take-out and catering, which allows you to share the tastes of India at home, at your office or for your small or large special event. Once you enjoy a culinary adventure like the one offered at Amrit Palace, you are sure to want to share it with others.
Amrit Palace Indian Restaurant
3415 SW College Road
(352) 873-8500
Meet the Owners
Satnam and Niranjan Singh are the owners and operators at Amrit Palace Indian Restaurant. They both can be seen going from table to table, talking to all their guests. They want to make sure that your dining experience is a good one.
Satnam has served as chef for many years, carrying on the tradition of his father with whom he started the restaurant in 1981 in Miami. On the restaurant website at amritpalace.com, you can see photos from his Miami days, including a photo of Satnam with the actor Philip Michael Thomas, of "Miami Vice" fame.
As owner, Satnam serves in all capacities, but you'll still find him in the kitchen making sure everything is just right. He is a stickler for details and wants to make sure each dish is prepared and presented the way it is supposed to be.
He still uses his father's recipes in creating all of the dishes at Amrit, from the breads to the ice cream, and all the assorted appetizers and entrees in between. He strives to give diners authentic Indian cuisine. And while he has other chefs that he has trained working in the kitchen now, he still enjoys cooking duties, too.
Try this recipe compliments of Amrit Palace!