Written by Kelli Fuqua Hart, Editor-in-chief
Photography by Chris Wims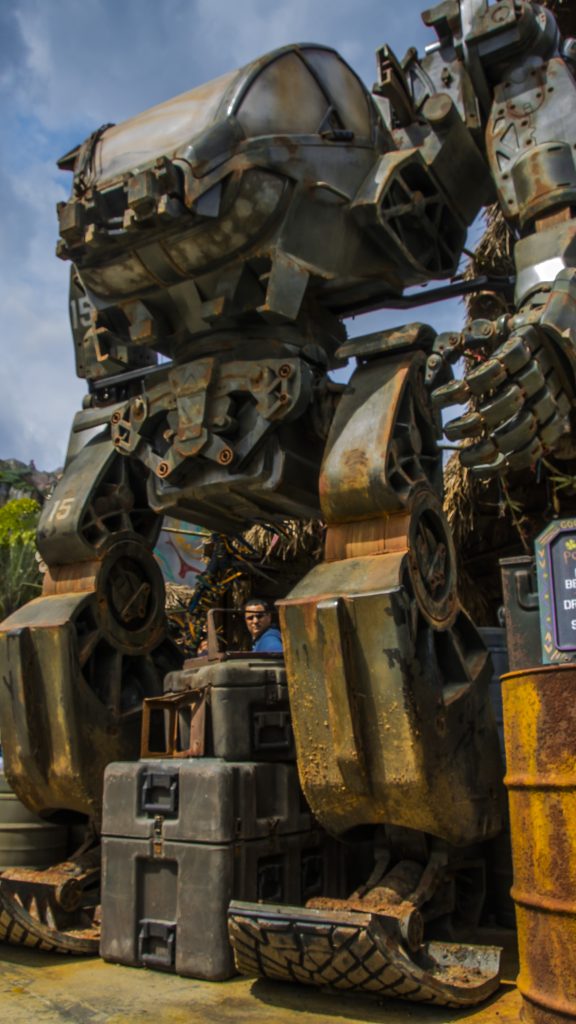 After five years, nine months and 22 days, veteran Jake Sully wakes from cryosleep to link to his Avatar and explore Pandora under the supervision of Dr. Grace Augustine. Anyone who saw this film recalls that moment, where Jake experiences bouts of wonder, curiosity and anticipation. This new, exciting world with all of its astonishing landscape and unparalleled ecosystem was finally a part of Jake's reality.
Today, the World of Pandora can be a part of your reality – a place where you will be captivated by zooplantae (or planimals) that engage you through touch. One plant in particular is the Flaska Reclinata – a massive pod-like flora that glows fiery orange and pinks and sprays a mist of cool spores across the landscape when rubbed by a visiting human.
By day, you will be mesmerized by patches of worm-like plant life, gigantic vine-covered pods, neon ferns, tentacle-toting life forms, cascading waterfalls and flowing rivers, vibrant blankets of lime-green moss and the distant echoes of alien fauna playing deep inside a plush forest of natural foliage.
Visitors will explore 11-acres of remarkable detail that extends across and above the Valley of Mo'ara – home to the Na'vi and their lush flora. Human visitors trek under and up winding, vine-entangled paths through the Hallelujah Mountains where Flights of Passage on the backs on wild banshees ensue. Over 45-meters in height, these uniquely designed mountains appear to be suspended in air, the same way you recall seeing them on the Silver Screen. Every inch of alien rock is swarmed with woven vines, trickling waterfalls, extraterrestrial pods and breath-taking lifeforms.
Every intricate detail of Disney's Pandora was thought of and drafted by a team of highly skilled and dedicated creatives who brought Canadian filmmaker, director, producer, screenwriter, innovator and inventor James Cameron's vision to life.
"I was 19-years old and I had a dream – literally a dream," recalls Cameron, during Pandora's dedication ceremony on May 24th in Orlando, Florida, "of a bioluminescent forest with glowing trees and little spinning, glowing lizards. I woke up very excited and I sketched it and I painted it and I remember those images." Years later, Cameron began writing the script for Avatar and ultimately, as the world knows, his story of a glowing world came to life on screen. "Here we are years later," exclaims Cameron, standing in the center of Na'vi terrain, "where literally, a dream has come true all around us."
Cameron is known for other blockbuster films to include Aliens, The Terminator, True Lies and the 1997 hit Titanic. His storytelling often reveals defeat of the impossible, defying the odds or simply challenging the norm. Avatar is a culmination of all three. Walt Disney famously said, "It's kind of fun to do the impossible."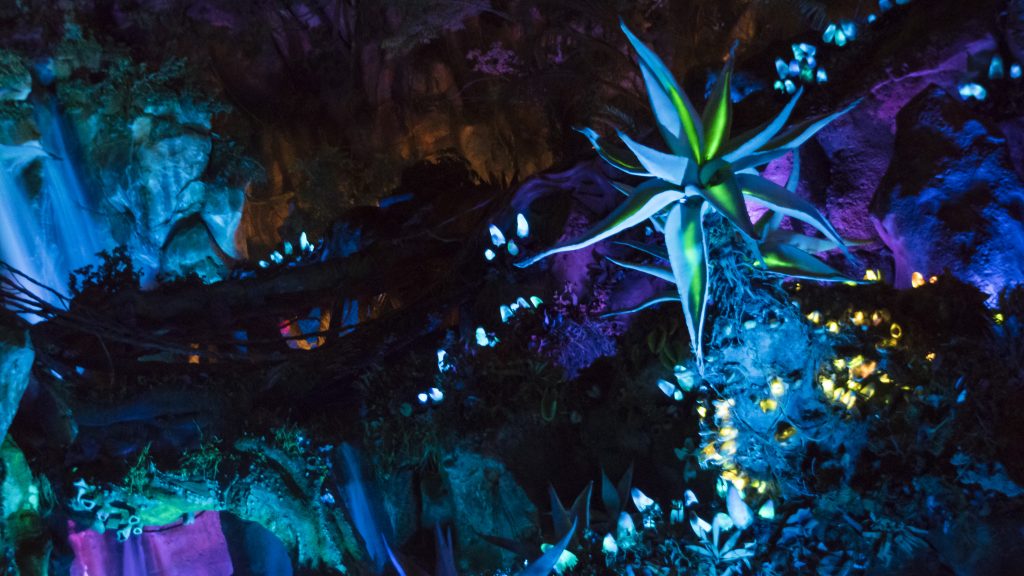 Disney CEO Bob Iger agrees saying, "It's [Walt's] sentiment that captures the soul of our company, perfecting the optimistic spirit that truly drives everything we do."
Iger addressed an anxious crowd of media reps, just before dedicating Pandora and inviting guests to explore the park, by saying, "Jim [Cameron] does the impossible again and again and again, merging wonderful storytelling with mind-blowing technology to create experiences no one has seen before – Avatar was definitely one of them." Iger went on to describe Pandora as "exotic, captivating and breathtakingly beautiful" – and that's simply an understatement.
James Cameron and his Avatar cast – Zoe Saldana, Sam Worthington, Sigourney Weaver, Stephen Lang, Joel David Moore, Laz Alonso and C.C.H. Pounder – wandered the park, experiencing a world they've only ever known to be a movie set. Imagine Cameron's delight soaring over Pandora on the back of a wild ikran, across rugged terrain and through the deepest parts of a totem garden – all parts of a 43-year old vision he has now witnessed as part of a 3D simulated flight in Pandora. This 4-minute ride has visitors soaring through treetops, plunging between caverns, barely escaping stampeding land beasts and ocean giants, surfing through gargantuan waves and encountering the majesty of Eywa, the Pandoran nature deity.
During the flight, riders will feel the spray of the ocean as their avatar barely misses being struck by a massive whale-like creature and will inhale a variety of scents ranging from flora-induced perfume smells to earthy grass-type smells that occur as your avatar jets through Pandora's forest.
Cameron graciously thanked 20th Century Fox Chairman/CEO Stacey Snider, Film Vice Chairman Emma Watts, Senior Executive Vice President Victoria Rossellini, film producer Jon Landau and Joe Rohde, Veteran Executive at Walt Disney Imagineering – just some of the folks who make rides like the Flight of Passage possible. His proclaimed favorite simulators were numbers 8 and 9 (one of which happens to be the very seat I experienced my own Flight of Passage in – sitting where James Cameron sat before me – no big deal!)
C. C. H. Pounder, Avatar's Mo'at, shopped for loved ones inside Pandora's Windtraders and even stopped for photos with Ocala Magazine's Director of Social Media – warning him, semi-jokingly, against interrupting a woman while she shops. Sam Worthington, who plays Jake Sully, enjoyed Pandora with his family, joking with cast-mates Zoe Saldana and Joel David Moore from time to time. Worthington, his wife Lara, and their children were seen enjoying Pandora's other interactive experience – the Na'vi River Journey.
This slow-moving, bioluminescent boat ride features animatronics like never seen before. The Shaman of Songs' smooth movements are so lifelike you'll have to take a closer look to decide if it's perhaps not a real Na'vi after all. The glowing rivers of Pandora give riders a chance to sit, soak up the AC and be captivated by the glowing, moving sights and sounds of this unfamiliar planet. The Na'vi River Journey is a sampling of what Pandora will transform into at nightfall.
Each species of alien flora takes on a new light – literally – under the moon. Crevices along suspended mountains glow like ember. Unexplored paths beneath human feet glow in the dark. Waterfalls are illuminated. Biochemical emissions from alien lifeforms set Pandora aglow and the attraction presents human visitors an entirely new experience.
Disney's Pandora: The World of Avatar is now open to the public, inside the already popular Animal Kingdom Park, and its mythical creatures extend a warm, radiant welcome to all who wish to explore it. Strap on your most comfortable walking shoes and be prepared to snap a ton of colorful, vibrant selfies. The Na'vi hope to kìyevame – see you soon – and know you will be frrfeien – happy to visit.
For more information on Disney's Pandora, please visit disneyworld.disney.go.com/destinations/animal-kingdom/pandora-world-of-avatar or call (407) 939.5277. OM