Fresh from the farm to your table, Scrambles Cafe is the people's choice for breakfast, lunch and now dinner!
Story: Kelli Fuqua Hart
Photos: Chris Redd
Met with a warm welcome and a hug, Allison Nile at Scrambles Cafe made myself and my guests feel right at home as we sat down for dinner. Dinner? Yes! 
Best known for their award-winning breakfast, Scrambles Cafe has made sitting down to a delicious, home-made meal in the evening possible as a part of their new Supper Club. Allison, along with her co-owner and husband Steve, concurred with their patrons when they received numerous requests to serve dinner. 
Now, from 5-9pm, Tuesday through Saturday, customers can indulge in the made-from-scratch recipes they have called a "favorite" for over 13 years. 
From the "Supper Club Comfort Classics" menu, hungry guests can choose from seared and simmered Pork Chop Pierre to a crispy, crunchy but not fried Buttermilk Baked Chicken.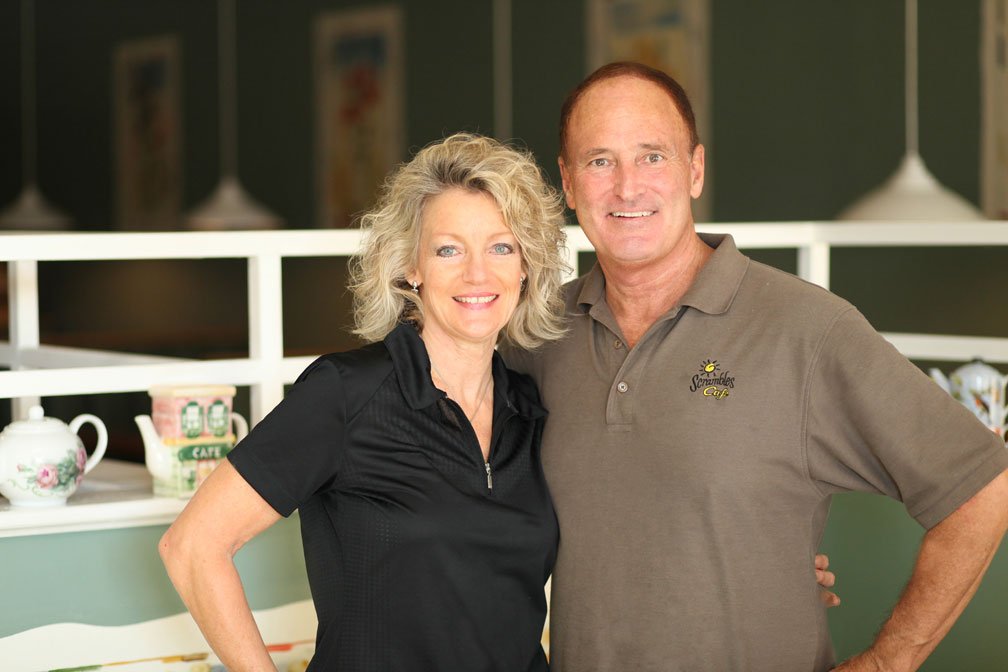 As we sipped on our tall glasses of true southern sweet ice tea, a colorful, aromatic platter of Spicy Tomato and Basil Bruschetta was presented to us by one of Scrambles' courteous wait staff. Pleased by the attractiveness of roasted garlic grilled French bread crostini covered in fresh Roma, oven-dried market fresh tomatoes and locally-grown, finely chopped basil and olive oils, we didn't waste any time sampling. Delighted by the fresh mix of ingredients, we were hooked.
As a part of their "Farm to Table" initiative, the Niles are committed to buying almost 100% of their ingredients fresh from local farmers and markets. Their efforts did not go unnoticed. Fresh, crisp Romaine adorned with plump, vibrant tomatoes, cucumbers, carrots and sweet onions adorned our table and set the tone for a delicious meal. From the "Through the Garden" menu, customers can enjoy a healthy, fresh, organic salad topped with handmade dressings, herb vinaigrettes and zesty cheese selections. 
As Krispy Kreme is known for their melt-in-your-mouth glazed desserts, Scrambles Cafe has put themselves on the baker's map with their secret, passed-down-from-a-friend Caribbean Cornbread recipe. Imagine a moist, buttery cornbread like grandma used to make but with a few secret ingredients to include fresh pineapple and finely grated cheese. The combination of the warm, melted butter and the sweet bursts of pineapple lend to guest's amazement and demand for these treats even at breakfast.
Having dubbed himself the "Culinary Maestro," Steve Nile has put months of fine tuning in to each of his signature dishes. He prides himself on the fine detail that goes in to preparation, portions and presentation. Additionally, he offers all of these gourmet quality dishes at an affordable price. 
My company ordered a delicious dish that came with a beautiful story. Scrambles' Legendary "Chicken Ocala" was the first meal Steve made for Allison when they first started dating. Originally called "Chicken Mommy," the once memorable dish was shared with their diners and eventually renamed. Made using a tender breast of chicken, that's dusted with fresh Parmesan cheese and bread crumbs and then sautéed to a crispy, golden finish, Chicken Ocala has earned its spot on the list of favorites – ourselves included.
Kid friendly, family focused and health conscious, the Niles set the precedence for what true, homestyle cooking is made from – heart, hard-work and a commitment to their customer. From intimate dinners in their pleasant, welcoming dining room to corporate lunches and catered spreads, Scramble's Cafe is your answer to wholesome, quality food served up with a side of customer service and a smile.