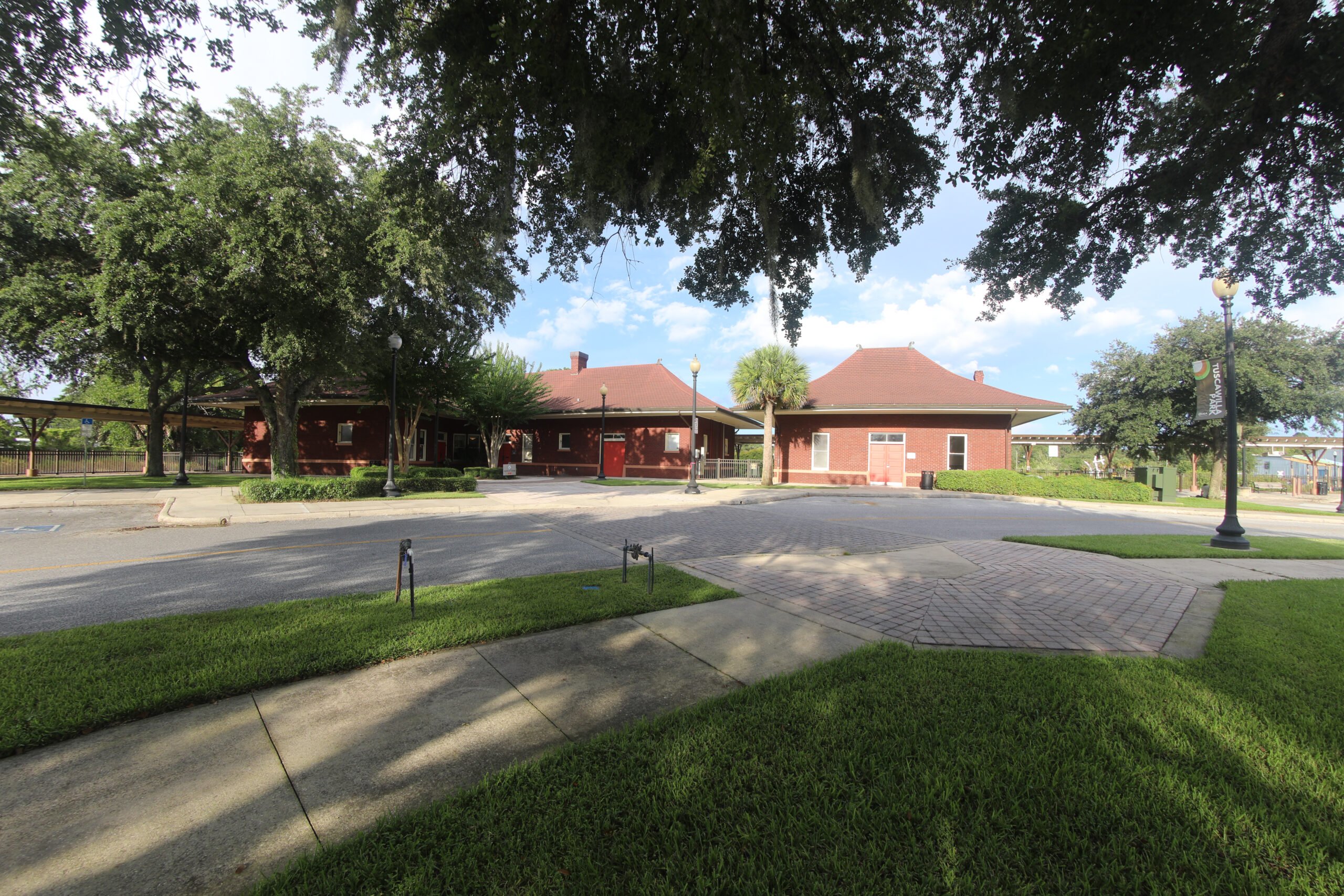 The Magnolia Art Xchange is another step in solidifying a genuine arts district in Ocala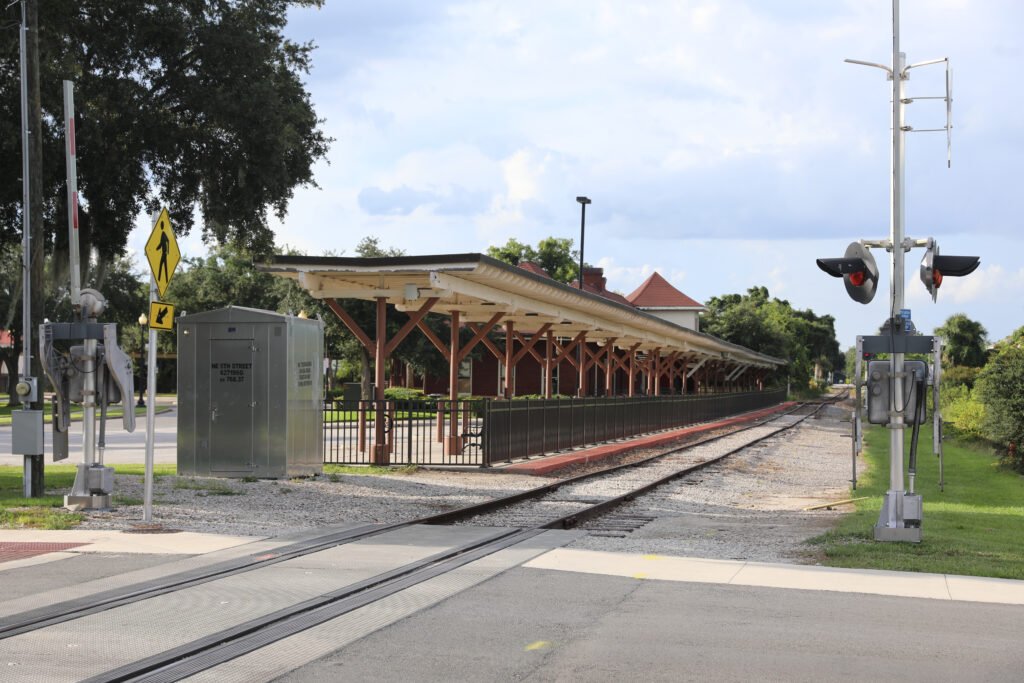 Thirty years ago, Ocala sat poised as a blank canvas, rife with potential and begging for the handiwork of artisans and craftsmen to create for itself a standing among communities where art enjoys more than just a voice, but a role in everyday life.
An Appleton Museum here, a Marion Cultural Alliance there, a smattering of galleries along the way and before anyone could say "trompe l'oeil," some bright hues and soft tones dripped onto that barren page, creating the first brushstrokes of what many hope transforms into a glorious fresco in the center of town. 
Where two decades ago abandoned warehouses and dilapidated factories served as blight for the once-thriving garment district of Wynwood in Miami, now an internationally renowned arts community graces 50 city blocks, home to hundreds of street murals, businesses, art galleries and restaurants. The renaissance of Wynwood serves as a model for the next great arts district, wherever that may be.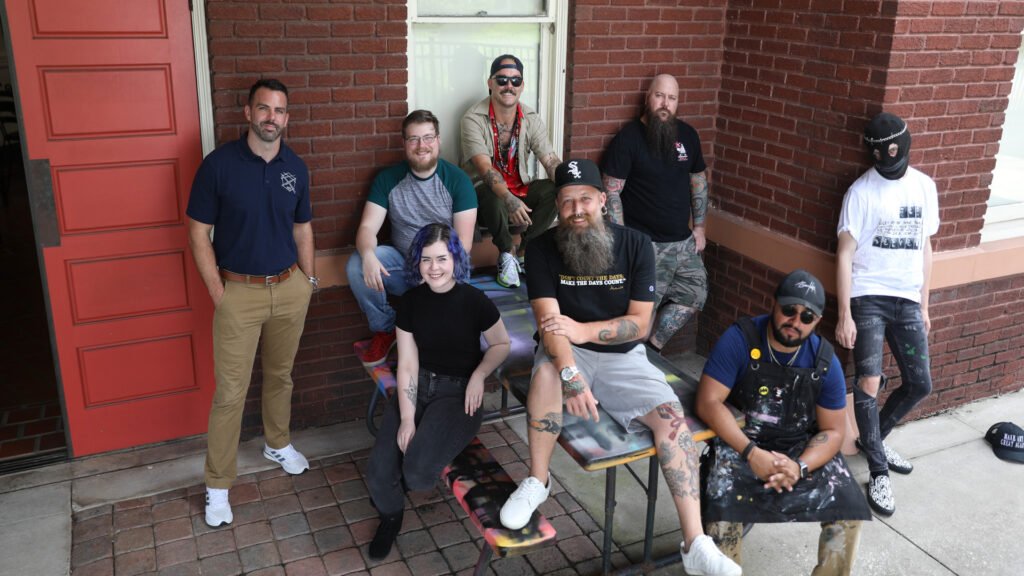 Why not Ocala?
The sneers and guffaws rain down at the notion of Ocala giving birth to the state's next great arts district – this sleepy, conservative outpost of rural central Florida where high fashion has always been synonymous with Shepler cowboy hats and Luchesse boots. How could it be possible that modern-day beats and convention-stretching painters and sculptors could find a home in the same place where church steeples outnumber coffee shops?
Indeed, it is happening.
As the Ocala arts scene goes from teething to toddler, there lies the Magnolia Art Xchange, perched at the head of the Tuscawilla Park Historic District, where a mostly organic movement seems to be taking hold and spawning a safe space for creatives. Affectionately known as 'The MAX,' the Magnolia Art Xchange has emerged from the COVID storm as a viable art "incubator" to help develop and nurture the most important element of all – artists themselves.
With its six partitioned studio spaces and two large open studio and classroom areas, the MAX is currently home to six full-time residents in one of Ocala's historic venues – Union Station.
"I was born and raised in Ocala, and I've always been a creative-minded individual, and Ocala didn't necessarily foster that for a long time. But in the past five years there's been a drastic change in creativity and what the city is allowing creatives to do." — Jesse James
"I just think this area of Ocala is going to change drastically in the next five years," said Jesse James, interim director (and "hopefully full-time director with the board's blessing") of the MAX. "I was born and raised in Ocala, and I've always been a creative-minded individual, and Ocala didn't necessarily foster that for a long time. But in the past five years there's been a drastic change in creativity and what the city is allowing creatives to do."
Under James' guidance, the MAX serves as part studio, part event space and part tomb of creative thought and education, attracting seasoned professionals like Teddy Sykes, but mainly young artists hoping to parlay their experience into a viable career. Those hopeful artists include Amanda Lyon and Brendon Wade, both recent graduates of the University of Central Florida, who believe the MAX can help set them on a proper trajectory.
Lyon engages in painting, ceramics and sculpture while Wade explores some of the more technical sides of painting with his "moving" pieces that are best viewed through spectacles akin to 3-D glasses. Both in their mid-20s, they relish collaboration with other artists at the MAX in a desire to improve their crafts and seek the opportunity to exhibit and sell their pieces.
"My goal here at the MAX is to get my body of work more cohesive and try and get those art forms into gallery spaces and gain experience in a gallery setting," said Lyon, an Orlando native now sitting at the MAX with her "Japanese Myth Work" prominently displayed in the open studio. "I think the input from other artists is most important. I think that's something that can be greatly underestimated, just how far inspiration and a different viewpoint and commentary on your work can push an artist."
For Wade, the MAX afforded him an opportunity that was nearly lost as his focus turned away from his own creative endeavors while his time and efforts went mainly to securing a paycheck. In Wade's case, an artist was saved and innovative ideas started coming to fruition – pretty much the whole point for MAX's existence.
"I had quit painting," said Wade, who is in the middle of his second 6-month tour as a full-time MAX resident. "I was kind of content with what I was doing, but there was a lack of artistry, so coming here has renewed my ability to paint again."
Lyon and Wade represent the entire modus operandi of the MAX: young, up-and-coming artists improving their crafts, showing and selling their work and getting ready to fly from the nest into the fragile world of professional art. In the process, the Ocala art and cultural scene provides another example of how it is emerging as a destination for seasoned artists, emerging artists and art lovers in general.
Although Lyon and Wade will likely take their talents elsewhere at some point, the fact remains that the MAX is situated to lure rising stars as a stopover on the way to bigger things or even attract them here for a permanent stay. Young veteran painter Ryan Neumann, originally from south Florida, is currently a full-time resident at the MAX and sees no reason to leave what he sees as a community now viable for professional artists.
"We're getting a really cool thing going on with this Ocala arts district," said Neumann, an Ocala resident for the past 13 years. "It's a real thing; that's where the vibe is."
The "vibe" would be Ocala in general, and specifically the area north of Silver Springs Boulevard to include the Tuscawilla Park Historic District and Magnolia Avenue up to 10th Street where the NOMA Gallery inhabits another of Ocala's historic buildings. Between NOMA, the Reilly Arts Center, the Tuscawilla Art Park and the MAX, a real movement appears to be underway that could transform how the city looks as well as how it is perceived.
Ask anyone in Orlando or Jacksonville about Ocala and they will likely mention horses, cattle or peanuts – artistic culture certainly does not come to mind. But with multiple galleries popping up in close proximity to one another, art events peppering the calendar, murals and sculptures appearing in the blink of an eye and a growing population of artists both professional and amateur, Ocala is no longer a town of citizens who relate solely to NASCAR and Gator football.
"We're kind of building a scene – it's an emerging phenomenon and there's nothing to compare it to," Neumann said. "Ocala is an odd place – it's been with the times, and it's been behind the times, but by choice."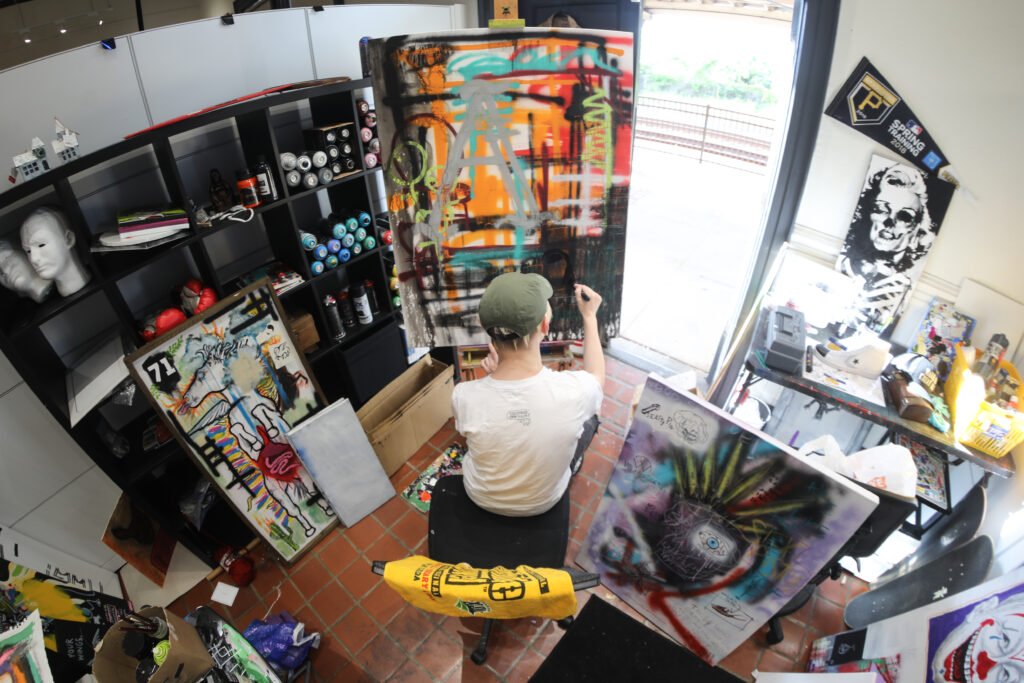 Neumann notes that Ocala's reputation as being too conservative for any real art scene to flourish is perhaps a misnomer these days, but most people are just not aware of how much the town has evolved. This makes Ocala a bit of a "frontier" for artists and a part of its charm.
When confronted by folks who tell him producing "real" art that pushes boundaries is impossible in a place like Ocala, Neumann recoils.
"What do you paint – horses?" one might posit to Neumann. "No, I just sold a blind cyclops that is a feature portrait of Jean-Michel Basquiat who died of heroine and the working title was 'Heroine is a Monster,' some real heavy shit," Neumann responds. "That thing sold in 10 minutes downtown at the Brick where 'all the old ladies paint.'
"To people who say, 'Ocala's not progressive' I say BS, not anymore; these things are dissolving."
Ocala's reputation as one that would only accept art that depicted "horses, butterflies and flowers" according to Neumann, was about the only major concern when the MAX went from an idea to a concept being pitched before the city government. If the financial support could be mustered, there was always the question of whether tax-paying citizens would want their money helping to fund art that might in some cases push the edges of decency.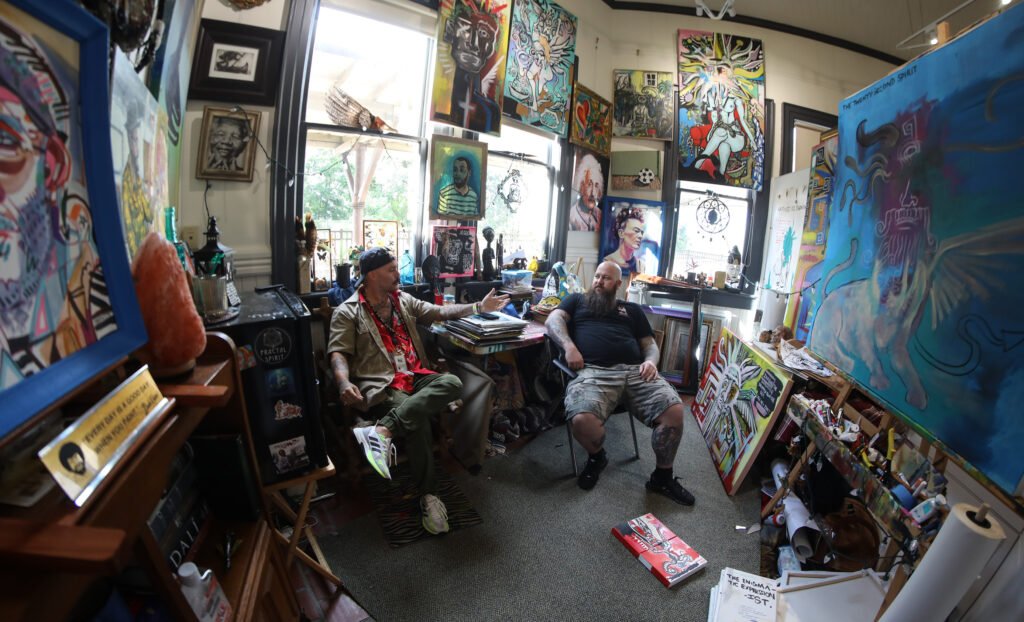 Melissa Townsend, who was working with the City of Ocala Parks and Recreation Department when the idea of an art incubator was being discussed in 2014, said the biggest hurdle may not have been acquiring funding but overcoming the notion that some art may be deemed intolerable by some citizens.
"The community really bought in, and I felt there was really strong support from the beginning," Townsend said. She says there was concern about a public space and taxpayer money potentially supporting "what some might consider offensive art."
"It was a challenge of trying to walk that fine line of truly supporting artists and allowing them the creative freedom to evolve as artists, and also trying to convey that… not all art needs to be loved by all people. Sometimes art is meant to question and stir conversations that might be a bit challenging and even a bit uncomfortable – that was tricky."
Townsend was a major part of the steering committee that shaped the vision of the MAX and formed a business plan that would eventually be accepted by the City of Ocala which would grant use of the old train station. Current MAX president Justin MacDonald notes that once prominent members of the community showed support for the project, momentum gathered like a snowball.
MacDonald said one of the first benefactors was Lisa Midgett, owner of NOMA, and that led to others believing in the project. What followed were other philanthropists and art lovers getting on board such as Angie Lewis of State Farm, Leslie Hammond of Artistic Eye Fine Art Services and Matt Wardell of the Reilly and Ocala Symphony Orchestra. Businesses such as Duke Energy and Clay Electric as well as the Ocala Rotary Club stepped in to help, then Fine Arts of Ocala (FAFO) put things over the top when it pledged to match all donations up to $65,000.
"It doesn't come down to just money in my eyes," MacDonald said. "It came down to the power behind the names. These people that put their names out early on, they put their money where their mouths were. They said, 'we're going to be involved and we're also going to cut you a check.'"
With the MAX having gone from an idea to a concept on paper to a business plan approved by the City of Ocala, the doors opened in October of 2019. The mission of providing affordable studio space to emerging artists while conducting educational workshops and events to display and sell work had come to fruition.
Resident artists came pouring in – the first "class" of 2020 saw local stalwarts Drake Arnold, E.J. Nieves and Mel Fiorentino come through to initiate the spark that would conflagrate the MAX's reputation. Monthly shows, mixers, charity events and fundraisers proved the concept had merit.
"We were at full steam and things were rolling nicely," James said. "Then COVID hit."
The fledgling incubator, like most everything else in the spring of 2020, was forced into a drastic re-set. What ensued was no events, visitation by appointment-only and a drastic kink in the revenue hose. All the while, artists still utilized the space and produced pieces, but hosting an event would be out of the question.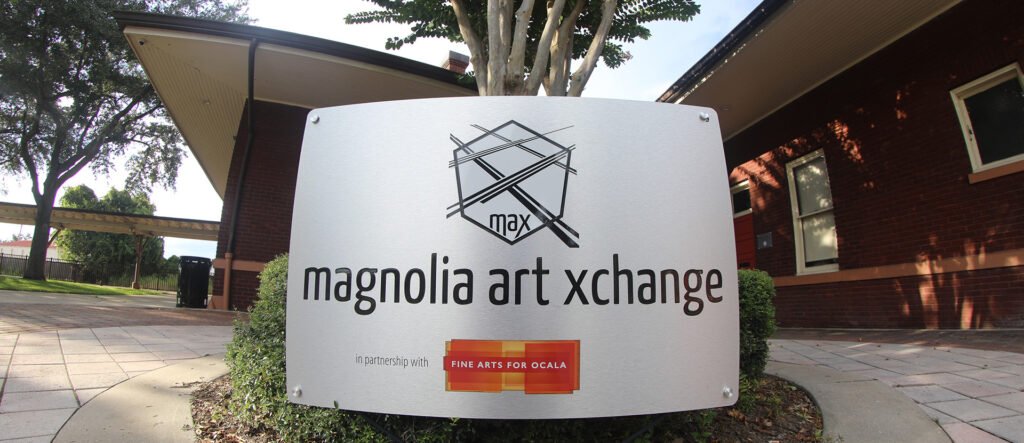 In October, the MAX finally did return with its first show since the arrival of the pandemic then held subsequent events in November and December. Crowds had been growing, but with new variants of the virus emerging, there is the fear that another step back could be taken.
"The hardest thing now is convincing people that it's okay to be out, that it's okay to be here," James said. "We're in a unique position because we have so much outdoor space that we can support a big crowd safely."
James may be announcing soon an event in October, and with the studios at full capacity and shows on the horizon, the only thing missing from the original vision is the workshops.
"We're still pretty reliant on grants and donations," MacDonald explained. "Our planning was to have multiple workshops per week and people paying for classes, but we know right now that's not the case. I hope that (soon) we will have a full workshop schedule; I hope we have a full waiting list for artists to get into the studios, and I hope that we're highlighted as one of the best event spaces that goes to a non-profit organization."
As fall of 2021 approaches, the MAX stands as Ocala's first official art incubator, yet another step being taken by the Ocala arts community as it approaches adolescence on the journey to artistic adulthood. Galleries, art parks, sculptures, murals and new businesses popping up signal a change that for now we are only getting glimpses.
"MAX was always meant to compliment what we already had in the community," Townsend said. "It wasn't meant to be a sole anchor, it was meant to be a participating anchor and help anchor the north part of what we felt was an arts district."
"In my mind, I don't see why we couldn't be a mini-Wynwood or do it on the same scale," James said. "I think that's what the future looks like for this area.
"It's an exciting time and there's a legit community behind it. We want to make Ocala known for art."
Somewhere soon, the next great arts district is going to emerge, one with numerous galleries, an art park, vibrant businesses and restaurants, a multitude of artists flocking to be a part of the scene and, of course, art incubators to cultivate the talent.
And the question remains: Why not Ocala?
MAX: "Making art history"