Live Oak International, the only equine event to host both combined driving and show jumping at the same venue on the same weekend in North America , is scheduled to return to Ocala, Florida March 16-19, and organizers say it will be the biggest and best edition yet.
Held on the grounds of the iconic  Live Oak Stud Farm, off State Road 40 west of Ocala, the Live Oak International tournament will offer record prize money, 200 world-class competitors and plenty of activities for the whole family, including special presentations by the Budweiser Clydesdales.
The largest spectator event held annually in Marion County, Live Oak International is a family affair as it's organized and run through a team effort of the Weber family. 
Family matriarch Charlotte C. Weber opens her picturesque Live Oak Stud to the public for the tournament. Her son, Live Oak International co-president, Chester C. Weber and granddaughter Chloe D. Reid play integral parts in planning and bringing the event to fruition. 
 "Chester wants the tournament to be bigger and better every year and to increase awareness of combined driving in North America," said Chloe Reid, who is co-president of Live Oak International and a member of the US equestrian show jumping team. In addition to managing the tournament, Chloe will be  competing at the tournament again this year in the show jumping classes. 
This year, Reid said, Live Oak International will offer record amounts of prize money in both show jumping and combined driving.  100 competitors are expected to compete in show jumping and another 100 in the combined driving competition.
Reid noted that  the best show jumpers in the world, including several Olympians, will be competing for top prize and World Cup qualifying points at LOI.,
Show jumping starts on Friday, March 17 and runs through Sunday, March 19, with the tournament gem being the CSI4*-W $222,600 Longines FEI Jumping World Cup ™ Ocala presented by Lugano Diamonds which will be broadcasted by CBS Sports. 
Combined Driving is always a crowd favorite of the tournament.  This year, Chester will be competing on home soil, for his 20th USEF Four-in-Hand National Championship title.  
Live Oak International started and continues to expand with the goal to promote and elevate the sport of combined driving in America. As America's premier competitor in the sport, Weber  has strived to raise combined driving's profile in America to where the equine discipline will be recognized by all.
Live Oak International is the largest CAI3* combined driving event in the United States with the largest amount of prize money of any such event in the country – and, again, this year it will offer a record purse for competitors. The combined driving competition includes three phases – dressage, marathon, and a cones obstacle course – and is held over three days, starting on Thursday, March 16. Reid said the marathon, to be held on Saturday, March 18 is an exciting event for spectators to watch.
Keeping in Weber's vision to grow the sport, back for a second year will be the LOI Youth Driving Division. This division for aspiring athletes under the age of 16  was started last year to give young drivers the experience of competing alongside their role models on an international stage to help educate  the next generation of drivers.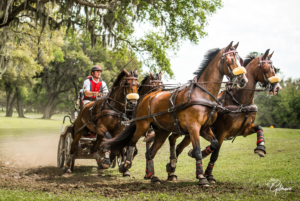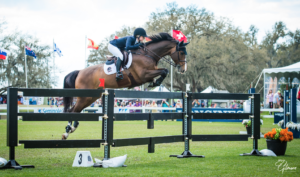 As for when spectators can see the most action, Reid said Saturday will likely be the most exciting day of the four-day tournament because in addition to the thrilling combined driving marathon, the day will feature show jumping and the Budweiser Clydesdales.
"People are always looking for fun things to do with the family, so we're hoping we will have a bigger and better turnout at the tournament," said Chloe D. Reid. 
In addition to the equine competitions, Live Oak International will also feature a host of activities for attendees of all ages. On top of seeing the Budweiser Clydesdales, who will perform Saturday and Sunday, spectators can enjoy a shopping spree at the vendor village, the AdventHealth Ocala Kids Zone (with a bouncy house, face painting and games), the Biergarten and, of course, the beauty of Live Oak Stud Farm for those who just want to enjoy Marion County's great outdoors.
Also, exciting news as Live Oak International will resurrect its Saturday Night Party, long a favorite part of the weekend. Tickets are still available for purchase on their website. 
Live Oak International attracted more than 15,000 spectators in 2022 and this year's crowd is expected to be even bigger.
Tickets for Live Oak International are available for purchase by visiting their website. . General admission tickets can be purchased for  $10 per day, with free admission for children 6 and under. For those wanting to host private tailgates or have the VIP experience, which includes special seating overlooking the main arena, tickets start at $250.
For more information, to purchase tickets and see the Live Oak International schedule, please visit their website  www.liveoakinternational.com