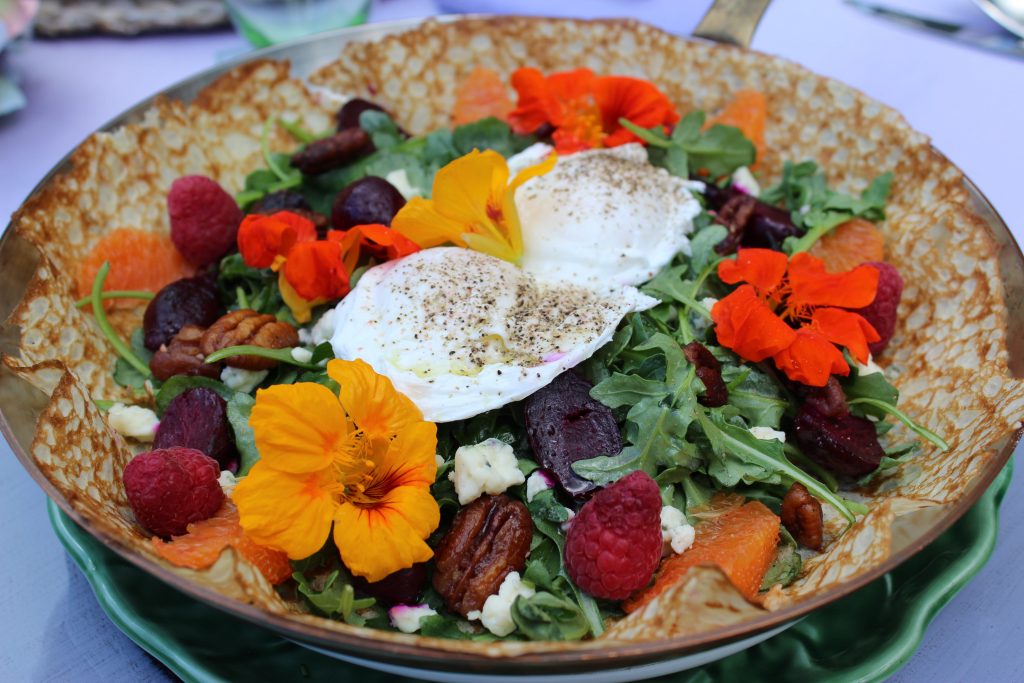 By Robin Fannon of RSVP Robin
Celebrating motherhood has been done for centuries in over 40 countries worldwide. The roots of the modern day holiday, we celebrate each year, can be traced to the early 20th century and the social activist Anna Jarvis, who conceived the day as a way to honor her own mother and commemorate her death. She envisioned the holiday as an opportunity for children to not only acknowledge a mother's influence and role within the family, but also offer their thanks. In her quest to have the holiday observed by every state in the union, she began writing to governors to ask them to officially observe the day. It wasn't long before the idea caught on and the rest, as they say, is history. However, as the celebration became more commercialized and marketed into a gift-giving holiday, by manufacturers and retailers, Jarvis herself became disenchanted with the day she had once championed.
Today, Mother's Day remains a beloved tradition and a charming way to express our love, appreciation and gratitude for the role these amazing women play in our lives.
For many, it is celebrated by taking mom out to a special local restaurant for brunch or venturing further afield, to one of our neighboring cities, for an elaborate "destination" Mother's Day outing. For others, the idea of pampering mom at home is what's on the menu. Whatever way you choose to celebrate, we've got some amazing options to show your mom just how much  you care.
On a personal note, this is my first Mother's Day without my own beloved mom Millie, so it gives me great comfort to vicariously enjoy the day through all of you. It doesn't matter how you chose to honor your mom; hand picked or store bought flowers, a hand written note, a hug—any expression of your love, appreciation, and gratitude is all any mom needs to feel special.
Celebrating Locally
Three of our finest downtown establishments are hosting Mother's Day brunches; La Cuisine, The Ivy House and Katya Vineyards.
La Cuisine French Restaurant
48 SW 1st Avenue
(352) 433-2570 |  lacuisine.com
Owners Elodie and Patrice Peron have created the perfect atmosphere for a charming celebratory meal with Mom. The walls are the most beautiful shade of pink. The food is quintessential French with a modern twist. They have also recently added a new outdoor dining patio, which is perfect for the glorious spring weather. Need I say more?  Additional specials will be added for the Mother's Day Brunch, which runs from 11 a.m. to 2 p.m. Reservations are highly recommended.
Ivy on the Square
53 South Magnolia Avenue
(352) 622-5550 | ivyhousefl.com
Treat mom to some good old-fashioned southern charm y'all!   "Come on home, it's suppertime." is their motto and the friendly hospitality is contagious. This family-owned and operated set of restaurants (the original Ivy House is located in Williston) is set apart by the perfect combination of warmth and good southern fare. The newly renovated Ocala location has quickly become an institution amidst the thriving downtown scene. They will be hosting a special Mother's Day lunch. Reservations are a must.
Katya Vineyards
101 E Silver Springs Blvd
(352) 528-2675 | katyavineyards.com
Another downtown, family-owned and operated endeavor, Katya Vineyards has developed an outstanding reputation for great food, a delicious selection of boutique wines and excellent service. Chef Tony Deras is wowing the community with his sumptuous weekly creations and gorgeous presentations. It is said that one eats with their eyes as well as their palate. If that is true, then you will dine very well indeed. Katya is hosting a Mother's Day Brunch from 11 a.m. to 3:30 p.m., featuring bottomless mimosas and sparkling rosé. Seating is by reservation only.
Destination Dining
For our out-of-town recommendations, we chose two of the prettiest and best-loved locations in our region; Preserved Restaurant in St. Augustine and Oxford Exchange in Tampa.   
Oxford Exchange
420 West Kennedy Blvd, Tampa
(813) 253-0222 | oxfordexchange.com
If you are looking to give Mom a truly unique experience, then look no further then this multifaceted venue. Located in what was once a stable, it has been painstakingly renovated to house a restaurant, bookstore, gift shop, tea/coffee house, and art gallery. The architecture and interior design will both awe and inspire you and your mom! They will be offering a Sunday brunch from 9 a.m. to 4 p.m. with several Mother's Day specials. Reservations are required for parties of 6 or more.
Preserved Restaurant
102 Bridge Street, St. Augustine
(904) 679-4940 | preservedrestaurant.com
Located in the historic area of Lincolnville, in the beautifully preserved Jefferson House, this venture is spearheaded by James Beard-nominated Chef Brian Whittington. Whittington is committed to serving only the freshest ingredients, that are locally-sourced whenever possible.  He feels strongly about supporting farmers who have a responsibility to the preservation of our land and environment. Whittington is also no stranger to our city. He has twice successfully participated in the Ocala Culinary Festival, so make sure to say hello. You will be delighted that you made the drive. Brunch will be served from 10 a.m. to 2 p.m. and reservations are highly recommended.
Celebrating Mom at Home
Whether your mom would prefer to celebrate at her home (which was the case with my mom) or you want to host the event at your home, here are some light and fresh spring recipes that may inspire you. And if you think that staying home will be boring, think again. You can create a beautiful tablescape with flowers and lots of special touches. If weather permits, a beautiful outdoor garden-inspired table setting, will make her feel like the Queen that she is!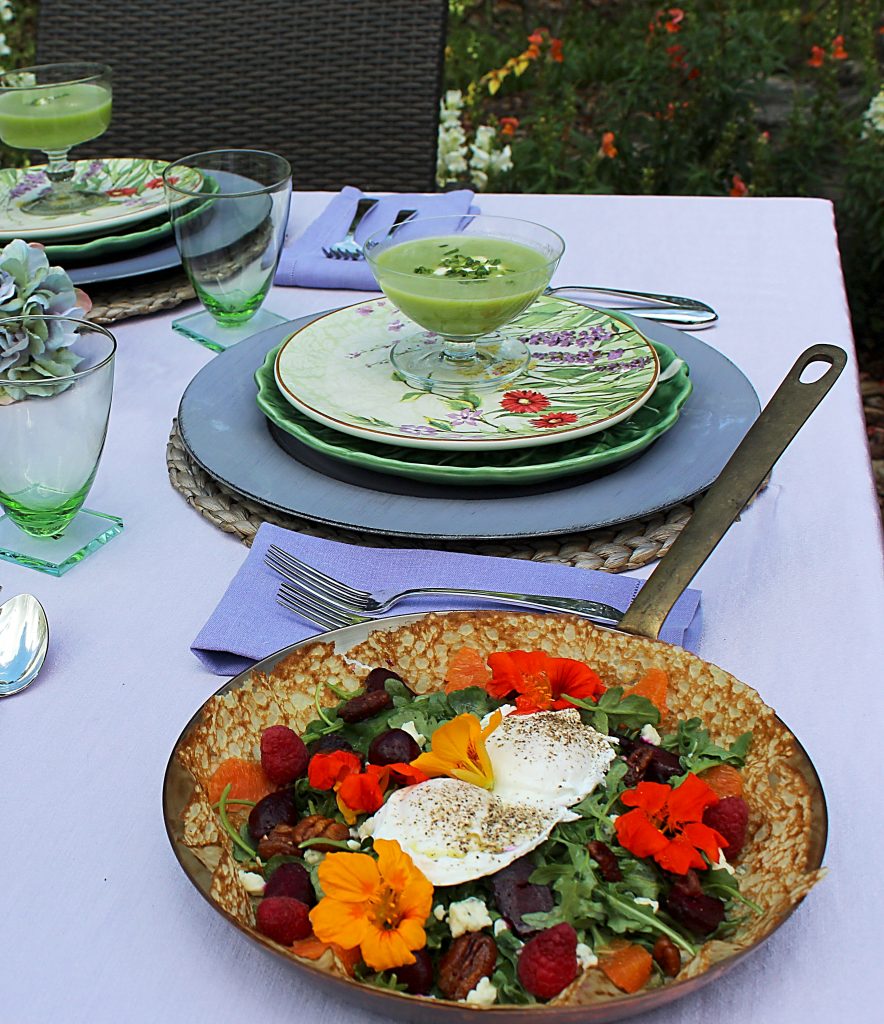 Fresh English Pea Soup
Ingredients (Serves 6)
6 cups Fresh English Peas  (or frozen peas)
1 large Shallot (or small onion)
1 Tbls Olive Oil
1 Tbls Unsalted Butter
4 Cups Low Sodium Chicken Broth
½ Cup Heavy Cream or (half and half)
Salt and Pepper to Taste
Crème Fraiche and Chipped Chives for Garnish
Directions
1) In a heavy bottomed pot warm the olive oil and butter.  Add the onion or shallot and cook until translucent. Season with salt and pepper.
2) Add the peas and chicken broth. Simmer on medium heat until the peas are tender.
3) Carefully puree in batches in the blender.
4) Return puree to the pot and slowly add the cream or half and half.
5) Serve with a dollop or crème fraiche or sour cream and top with chives.
Crepe Salad with Poached Egg
While making your own crepes would be ideal,  and while they are relatively simple to prepare from scratch, a store bought version will work just fine.  Basically this recipe is using the crepe as a "vessel'' for the salad.  You can also skip the crepe entirely and just serve the salad on a plate or shallow bowl. The extra step of toasting the nuts brings out all their natural oils and flavor.  The beauty of this salad is its versatility; you can use whatever nuts, citrus fruit or cheese that your family prefers. A simple vinaigrette dressing is recommended.
Ingredients (Serves 6)
One package of pre-made Crepes (or 6 homemade)
2 packages of Organic Mixed Baby Greens
Two bunches of Baby Beets
Two Navel Oranges
One Cup of Toasted Pecans
One Cup Gorgonzola Cheese (Feta or Goat Cheese will work too)
One dozen Eggs – Poached (or fried will work too)
Directions
1) Wash and place the beets in foil or parchment paper, drizzle with olive oil, salt and pepper and roast in a 350 degree oven for 1 hour. Remove from the oven, let cool and peel (carefully, they will stain – gloves are recommended).
2) Peel and "supreme" or segment out the oranges
3) In a nonstick frying pan, toast the pecans on low heat (be careful not to burn them).
4) Lay the crepe down in a large, shallow salad or pasta bowl and assemble the salad;
Mixed baby greens on the bottom, scatter the beets, orange segments, pecans and cheese on top.  Drizzle with Vinaigrette and top with two poached eggs.
5) Season with salt and pepper. Garnish with edible flowers if available.