Your sense of smell is a powerful part of the human experience. Smell strongly influences how something tastes. Emotion can be influenced by certain smells. And if your sense of smell is minimized or you've lost it completely, it could be an early indicator of brain disease.
The nose knows
While temporary loss of smell may indicate you have a cold, COVID-19 or a respiratory virus, ongoing and progressive smell loss may be one of the most important signals of brain health, including risk for Parkinson's disease.
According to a research study sponsored by The Michael J. Fox Foundation for Parkinson's Research (MJFF), up to 30% of people with enduring smell loss showed brain changes associated with Parkinson's disease – a chronic, neurodegenerative disease that currently affects an estimated 6 million people worldwide.
Importantly, smell loss can happen years or even decades before the traditional motor Parkinson's symptoms appear, such as tremors or difficulty with balance. But studies have shown it can be surprisingly difficult to know whether you have smell loss – 7 in 10 people living with it didn't know until they were tested.
"From my role on a hospice team caring for others, I used to think Parkinson's started with a tremor or other movement symptoms. Little did I know, I had lost my sense of smell years before noticing its impact on my work, daily life and connection to my own diagnosis," says Reni Winter-Evans, 68, of West Point, Indiana, a medical social worker and former journalist who lives with Parkinson's and is an active research volunteer.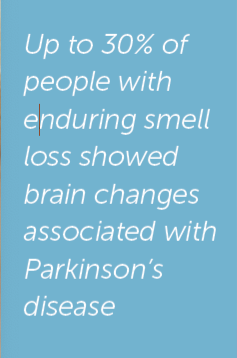 The scratch-and-sniff test
While scientists don't yet know why smell loss occurs in Parkinson's, researchers are hard at work trying to uncover this link. It could be an important missing puzzle piece in understanding Parkinson's, including who's at risk for the disease, who gets it, who doesn't and why.
Now, MJFF is using a simple screening tool to measure your risk for brain disease. It's a free "scratch-and-sniff smell test" for people over age 60 living without Parkinson's, developed by scientists at the University of Pennsylvania.
"Research is becoming clearer that our sense of smell has the power to help scientists answer key questions around how Parkinson's develops and when it begins," says Maggie Kuhl, vice president of research engagement at MJFF. "In addition to helping further brain disease research, taking a test is a simple, free tool people can use to assess their own ability to smell."
Getting started is easy – people aged 60 and up without a Parkinson's diagnosis can request a free smell test at MySmellTest.org/GetStarted for delivery right to their door.
The 40 scratch-and-sniff multiple-choice questions are simple. You'll be asked questions like, "Does this page smell like a rose, mint or coffee?" Then, you'll submit your answers online and the results have the potential to change our understanding of brain disease, who gets it and why.
"It's an opportunity to help people and families around the world living with this disease, and partner with leading scientists toward our joint goal of ending Parkinson's for good. And, for many, the test is a fun and easy way to get involved," says Kuhl.
The opportunity to further Parkinson's prevention
Scientists will then analyze your smell test results and you may be asked to join MJFF's landmark brain health study, the Parkinson's Progression Markers Initiative (PPMI), that seeks to enroll 100,000 participants with and without the disease in the hopes of better understanding and preventing it.
Currently underway across the United States and the world, both in-person and online, smell test participants will be able to join PPMI and contribute valuable insights into the link between smell loss and brain health.
"We can only find a cure for brain diseases if we volunteer for research and educate ourselves on what we can actively do today to boost our brain health. I wish I had known about smell loss and its connection to Parkinson's earlier in my disease journey," says Winter-Evans, who began participating in PPMI after noticing Parkinson's symptoms. "Today, I participate in research because I feel a strong sense of duty to help in any way possible to provide a disease-free future for myself, my children and everyone else."
Not everyone with smell loss will go on to develop brain disease. That said, everyone can play a valuable role in helping find better treatments, cures and even prevention of brain disease altogether. If you're over 60 and living without Parkinson's, consider taking a few moments to put your nose to the test: MySmellTest.org/GetStarted.