Story, Recipes, and Photography By RSVP Robin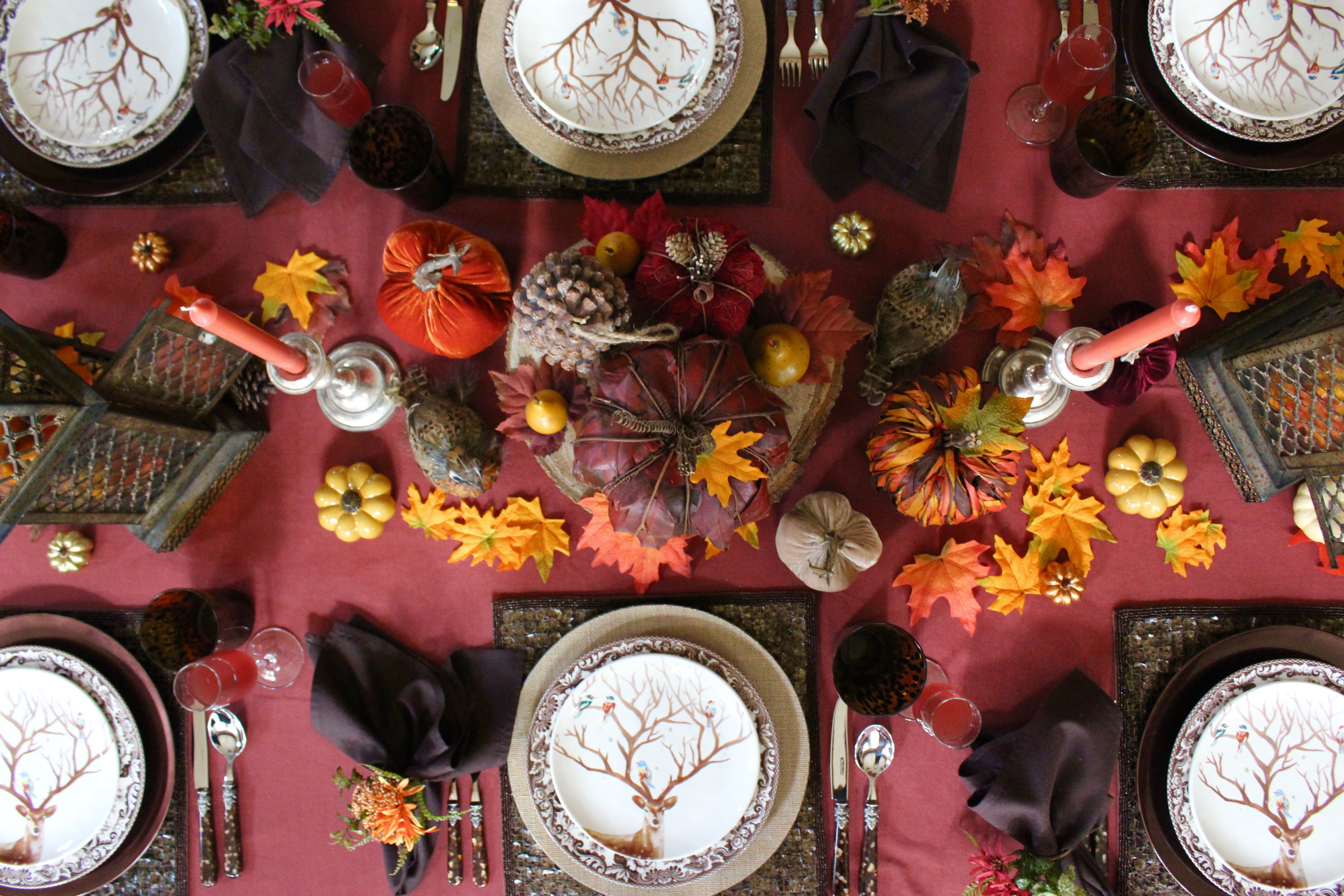 Fall is the perfect time to focus on hearth and home. We can shift our focus away from outdoor activities and concentrate on fluffing our nests. It's also a wonderful time to reflect on the past year and renew our sense of gratitude, restore our spiritual selves, and shed our souls of unnecessary debris. In other words, count our blessings!
In Florida, spring and summer tend to meld and become one long, hot season. Fall creeps in ever so slowly here. It begins with noticeably cooler morning and evening temperatures. All of a sudden we can wear long sleeves and sport jeans without melting. Our makeup stays fresh, and we relish the good hair days! We Floridians know how to look for the slow, subtle signs of the new season approaching.
In my years of planning events and weddings in Florida, the fall events were always the most enchanting. The obligatory floral centerpiece gives way for more creative elements. Birdcages, wrought iron, metal, heavier fabrics, rustic branches, and twigs can all come into play. Tabletop design and home décor are all about texture and layering. Warmer tones take over from their softer, paler cousins. Tawny browns, sage, and olive green, vibrant reds and oranges make a bold, yet cozy and comforting statement.
Our taste buds sense change in the air as well. Now is the time to indulge in heartier soups and stews, starchy root vegetables, and heavier protein choices. So dig out your fall décor, put on a pot of life-affirming soup, grab a soft throw, and make a mug of hot cocoa. However slow and subtle…it's
fall, y'all!
RECIPES: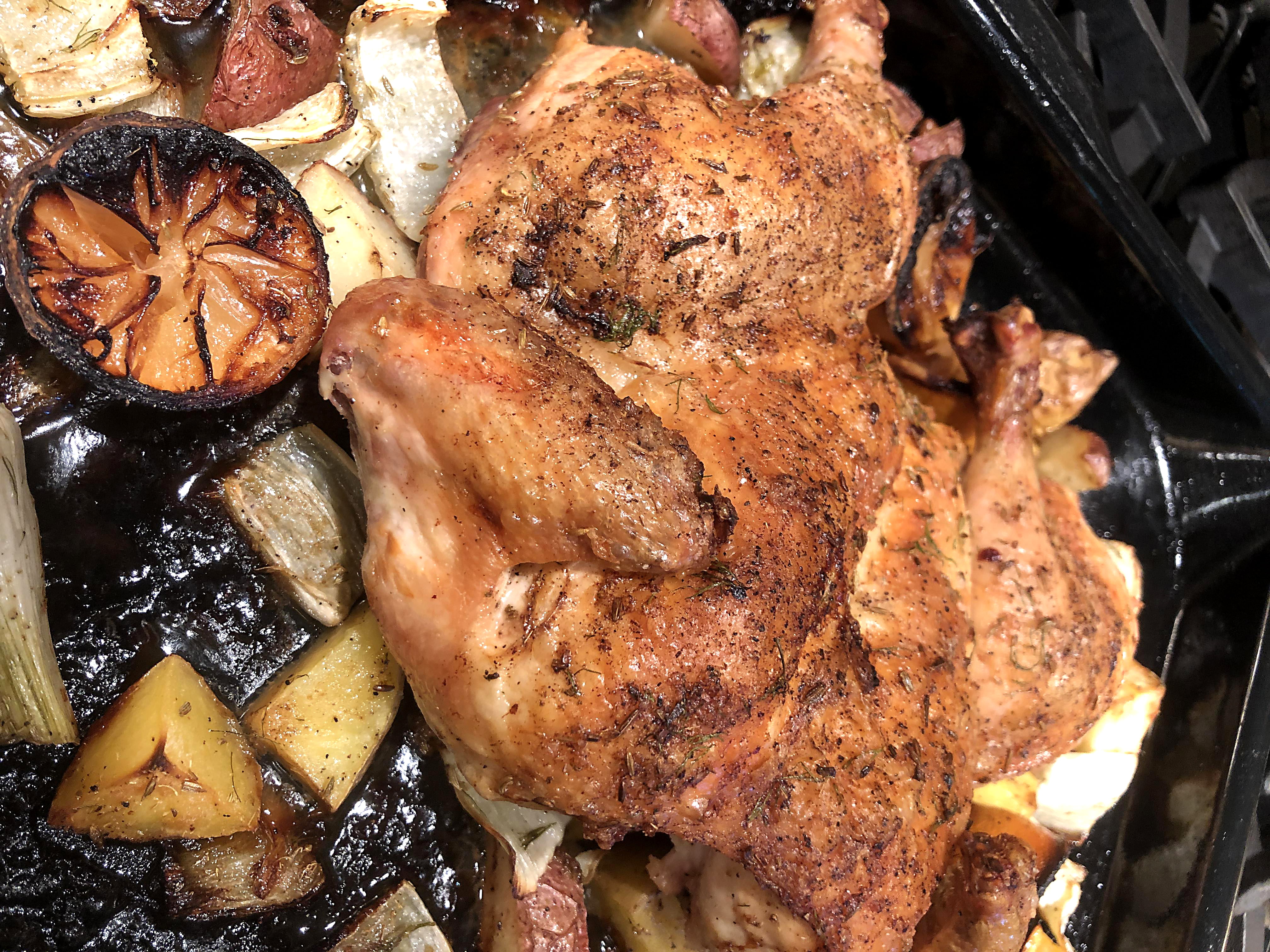 Roasted Chicken
Prep it
1 whole 4-pound chicken
4 to 5 cloves whole garlic, peeled
1 Tablespoon fresh dill, chopped
olive oil
juice from 4 organic roasted lemons (cut lemons in half, drizzle with olive oil, salt and pepper and roast in 375°F oven for 20-25 minutes)
sea salt
freshly ground pepper
1 fennel bulb, trimmed and thickly sliced
approximately 8 baby potatoes, washed and sliced in half (optional)
Instructions
Place chicken on a cutting board, breast side down. With a pair of kitchen shears cut down both sides of the backbone and remove.
You can discard the backbone or save it for stock. Spread the chicken on a flat surface and press firmly on breastbone to flatten it.
Rub It
Rub the chicken with olive oil and sprinkle it liberally with salt and pepper. Massage the butter, dill, and lemon into and under the skin. Pour the juice from 1 lemon over the top and sprinkle liberally with sea salt and pepper. You can put in the refrigerator and marinate this way for up to two hours. 
Roast It
Preheat oven to 375°F. Place the fennel, potatoes and garlic in the bottom of a roasting pan and place the spatchcocked chicken flat on top of the veggies.
Roast chicken for 40 minutes. Baste the chicken with the pan juices (and/or chicken broth)  and return to the oven, rotating the pan to help with even browning. Roast for another 30 to 35 minutes, until the chicken is cooked through and the skin is browned and crispy.
Roasted Butternut Squash, Toasted Walnut and Fresh Fig Chutney
Ingredients
1 cup peeled and chopped butternut squash
1 cup chopped toasted walnuts
1/2 cup chopped fresh figs
1/4 Gorgonzola Cheese crumbles (optional)
2 tablespoons real maple syrup
1 tablespoons fresh lemon juice
Olive oil
Fresh cracked pepper and sea salt to taste
Instructions
Place butternut squash on a small roasting pan lined with parchment paper, drizzle lightly with olive oil, season with salt and pepper.  Roast at 375°F for approximately 20 minutes until tender. Let cool.
Gently chop fresh figs into small ¼ inch pieces.
Toast walnuts in a small frying pan to release natural oils
(careful not to burn).
In a medium bowl, combine squash, walnuts, figs, and cheese. In a small bowl, whisk together maple syrup and lemon juice. (add olive oil, salt, and pepper to taste) Drizzle mixture over squash mixture, tossing to combine. Cover and let stand for at least 20 minutes or up to 2 hours. Serve on baguette slices as a bruschetta appetizer or as an accompaniment to chicken or pork.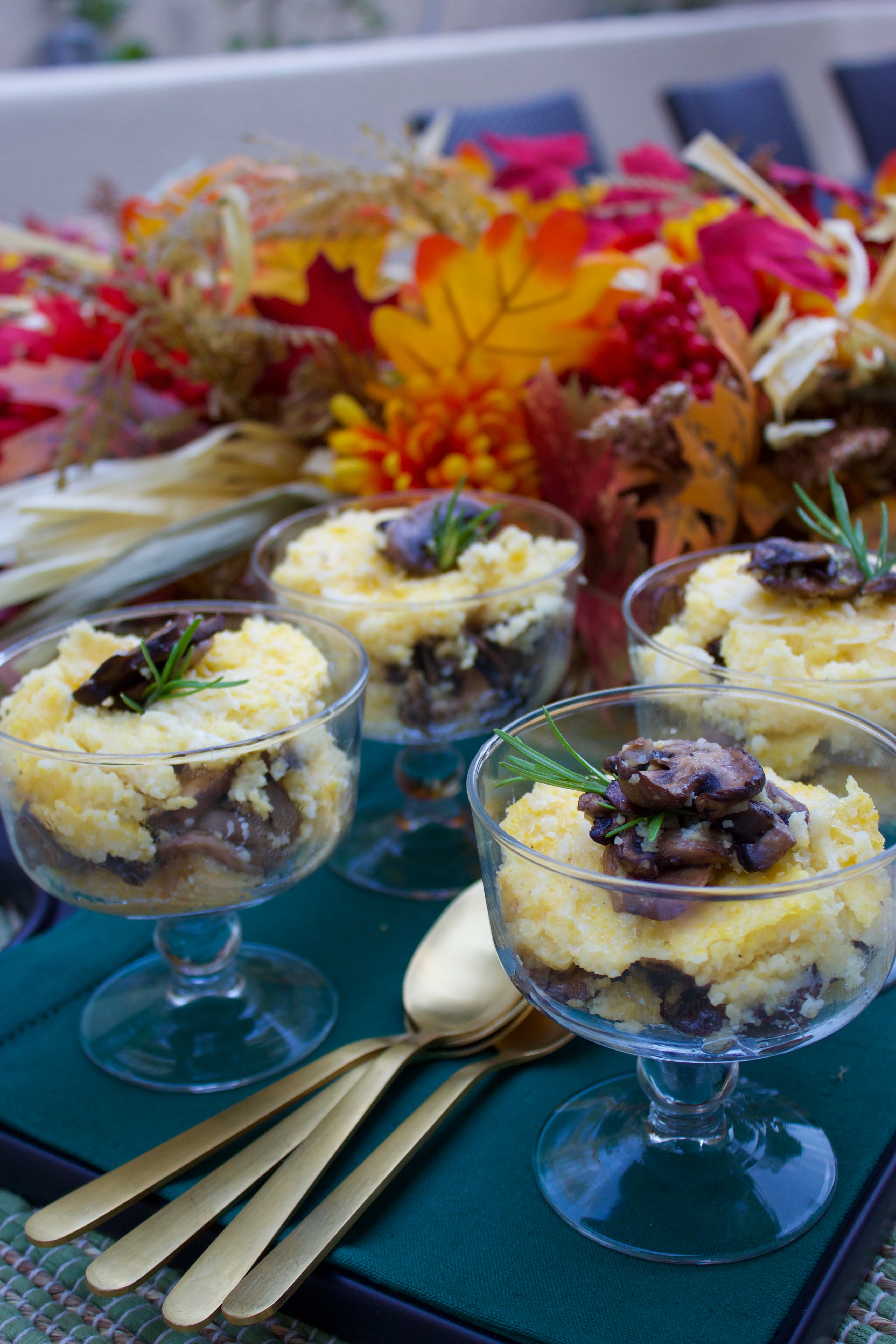 Creamy Polenta and Wild Mushroom Parfait
Ingredients
1 pound of assorted wild (if available) or
gourmet mushroom of your choice 
(Chantrelle, porchini, shitake)
1 tablespoon of unsalted pastured butter
1 tablespoon of olive oil
2 tablespoons of chopped fresh herbs of your choice such as: thyme, rosemary, sage
One package of yellow corn grits or polenta (we recommend Bob's Red Mill)
Freshly grated fontina cheese
1/4 cup of organic half and half
Sea salt and pepper to taste
Instructions
Place butter and olive oil in a 12-inch frying pan and saute the mushrooms until soft and lightly brown.
Add herbs, salt, and pepper to taste.
Prepare the polenta as instructed
When a porridge consistency is achieved,
add half and half, cheese, salt, and pepper.
Stir to combine.
Layer the polenta and mushroom mixture in the vessel of your choice.  This can be made into individual servings (as pictured) or in a larger baking dish.
Keep warm until serving.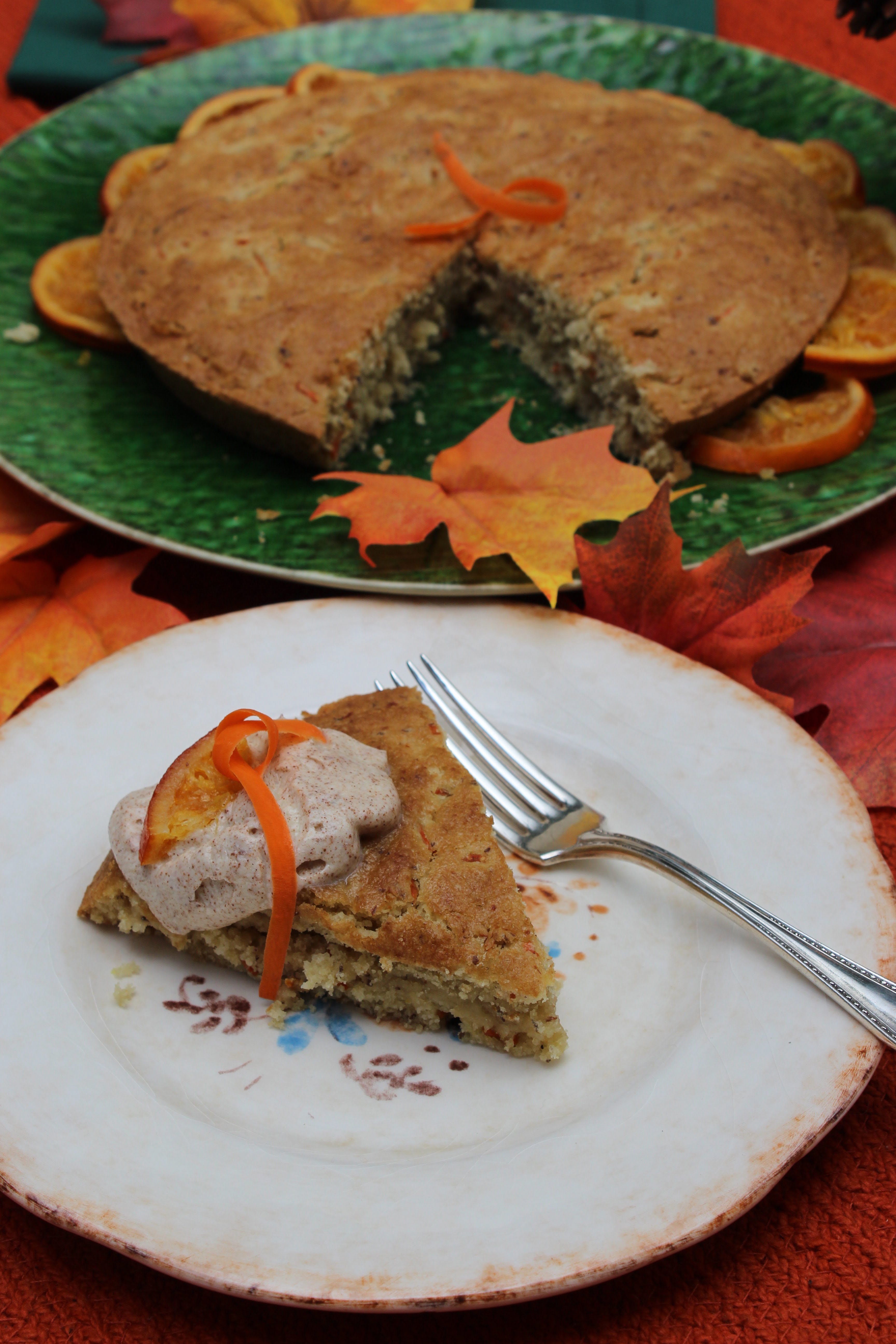 Healthy Yogurt Carrot Cake
Ingredients:
2 large eggs
1 cup plain Greek yogurt
1/3 cup olive oil
2/3 cup maple syrup or honey
1/2 cup almond milk
1 tbsp pure vanilla extract
2 cups whole wheat flour
1 tbsp cinnamon
3 tsp baking powder,
aluminum free
2 tsp baking soda
1/2 tsp salt
2 cups carrots, finely grated
1 cup walnuts, chopped (optional)
1/2 cup coconut flakes (optional)

Instructions:
In one large bowl, whisk the eggs for 10 seconds. Add yogurt, oil, maple syrup, milk and vanilla extract. Whisk well and set aside.
In another large bowl, add flour, cinnamon, baking powder, baking soda, and salt. Whisk well breaking any baking soda or powder lumps. Set aside.
Preheat oven to 350°F. Butter or oil a 9×9 square or round baking dish and set aside. (If using walnuts and coconut do the following) Preheat large skillet on low heat, add walnuts and toast for a few minutes (until fragrant), stirring occasionally. Add coconut flakes and toast another minute, stirring frequently (careful not to burn).
Add dry ingredients to the bowl with wet, stir gently until combined (do not over mix).  Add carrots (and walnuts and coconut flakes, if using). Stir gently just enough to combine. Pour into prepared baking dish and bake for 40 minutes. Remove from the oven and cool completely.
Top with your favorite whipped cream or vanilla ice cream.