Since 2016, the City of Ocala, in partnership with the Magnolia Art Xchange (MAX), has been sponsoring the Student and Emerging Artists Competition to promote up-and-coming artists in the region. Over the past seven years, the annual contest has grown steadily, with it attracting 54 entries this year.
Once the winning artists are selected, their works are shared with the community. The winning artworks are put on display and offered for sale in city-owned buildings, including City Hall, the Recreation and Parks Administration Building, the Eighth Avenue Adult Activity Center, the Barbara Gaskin Washington Adult Activity Center, the Ocala International Airport terminal, the City Clerk's Office, and coming soon, the new Mary Sue Rich Community Center. Currently there are more than 100 works of art from the Student and Emerging Artists Competition exhibited throughout the city.
Winners are judged by an out-of-town art expert and, upon winning, receive membership or affiliate status with the Appleton Museum of Art, MAX and the Marion Cultural Alliance. The College of Central Florida also offers a partial scholarship to those artists wanting to go to school.
In short, said Leslie Nottingham, Cultural Arts and Science Division head for the city, "It gives these artists exposure and easier access to art opportunities."
This month, Ocala Magazine profiles the last three Student and Emerging Artist Best of Show winners and their works. They are Emily Lane Ferguson (2020), Jaeda Samuel-McKnight (2021) and Alex Estrada (2022).
Jaeda Samuel-McKnight:  Painting those she knows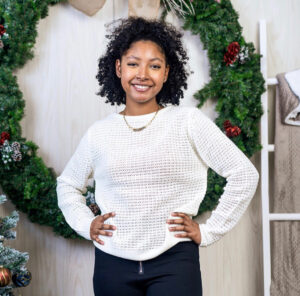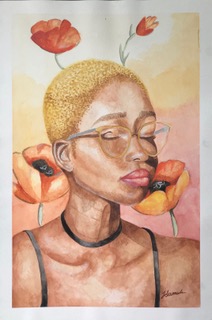 Since she was a little girl, Jaeda Samuel-McKnight has loved to paint. Her father is a talented artist, and she was inspired by him to pick up a paint brush.
"I started painting when I was little," the 19-year-old 2021 Vanguard High graduate said. "I've always enjoyed painting; it's something I'm good at."
Good, indeed. Samuel-McKnight's work was so good that she won Best of Show in the City of Ocala's 2021 Student and Emerging Artist Competition. She won with her watercolor painting call "Muse: Ebu," a portrait of a friend.
Despite having the talent to win the annual competition, Samuel-McKnight said it would not have happened if not for her high school art teacher prodding her to enter "Muse: Ebu."
"I just submitted the piece because my teacher told me to," she said. "Then I pretty much forgot about it until they notified me that I had won something."
Now a student at Emory University in Atlanta, where she is studying applied mathematics, Samuel-McKnight said she is uncertain what her art future holds. At one point, she considered majoring in art – she now says her goal is become a trauma surgeon.
"It was fun, but I figured I just wanted to keep art as a hobby."
There is no doubt, however, that art is a major influence in Samuel-McKnight's life and focuses significantly on those closest to her.
"My art was just focusing on people in my life," she said. "I drew my friends a lot."
The isolation of the pandemic in 2020 accelerated her use of her friends as subjects. "I was having a burst of inspiration a couple summers ago at the beginning of the quarantine. My first instinct was to draw someone I was close to."
Which brings us to her award-winning piece, "Muse: Ebu."
Samuel-McKnight said she chose to draw her friend Ebu because of the young woman's beauty.
"I don't think black women get the recognition they deserve for their beauty," she said.
Her painting of Ebu only took one day to complete, she said, adding, "I considered it one of my best pieces."
Samuel-McKnight, the oldest of nine siblings, said while she is pursuing a different full-time career path, she plans to continue painting. She particularly enjoys watercolors. Winning the Emerging Artist competition has added to her confidence as an artist and one of her big art ambitions is to paint a mural-size piece. She also hopes to sell her works.
In the meantime, the pre-med student continues to relish the best-of-show win in the 2021 Student and Emerging Artist Competition.
"It was an important win for me," she said.
Alex Estrada:
The intricacies of everyday things
Sometimes it's the little things in life that can be the most inspiring.
That is what artist Alex Estrada discovered while being stuck at home became part of our routine during the pandemic. It was the little things in his life that became the inspiration for his painting that won Estrada the best of show award in the City of Ocala's 2022 Student and Emerging Artist Competition.
The painting, called "Intertwine," is a colorful close-up of a pair of Estrada's sneakers. Being in lockdown during the pandemic, Estrada said, forced him to look for inspiration in his own living space.
"I was getting a lot of inspiration from the things around my apartment at the time," the Altamonte Springs resident said.  "I was looking at all these objects closely, looking how forms would overlap and intertwine, hence the title. I was noticing the intricacies of something so small."
The Ocala competition was Estrada's first win. "It came as a surprise," he said.
A Central Florida native, the 25-year-old Estrada is a graduate of the University of Central Florida with a degree in fine arts/studio arts. He said his ambition is to be a working artist and go back to school and earn a graduate degree. He currently is a full-time artist and works with some local galleries and museums, including the Orlando Museum of Art.
Estrada had praise for the Ocala competition, especially the diversity of backgrounds and experience among its entrants.
"It was really nice seeing all the artwork at the different levels," he said. "I was really impressed with the artwork out of the high schools."
That is where Estrada first tried his hand at art. During his last year of high school, he was in dual enrollment, meaning he could also take college classes while in high school. So, he took a drawing course at the local community college. It made him think about becoming an animator.
He went on the UCF and expanded his interest in art and decided he wanted to be an artist.
"I've really fallen in love with drawing and painting," Estrada said. "There's something about creating a new image in a few hours or a few days that is by you. It's just a process that is very gratifying."
He said he wants to go back to school not just to get a graduate degree, but to expand his views and understanding of art and "gain new insights into how my artwork fits into the art world."
His favorites artists are photorealist Audrey Flack, Orlando-based Amer Kobaslija and installation artist Pepon Osorio, and he "loves anyone who uses a lot of objects in their art."
His immediate art goal is to work on larger, still-life pieces.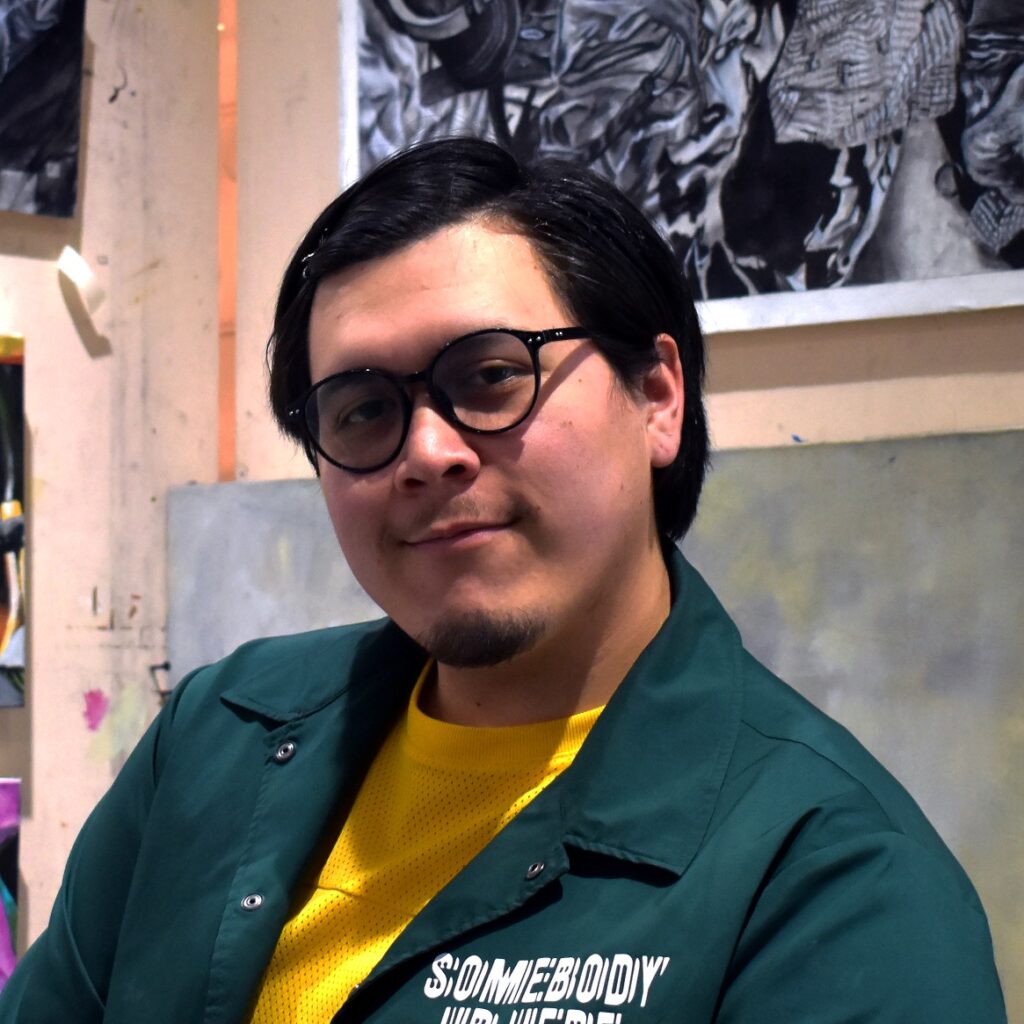 Emily Lane Ferguson:
Light, camera, winner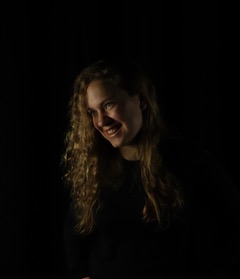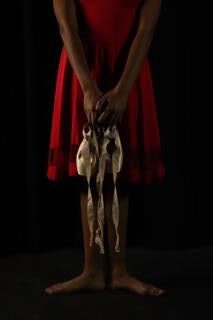 It's all in the details.
That is what Emily Lane Ferguson says got her interested in photography, something that started as a childhood hobby but ultimately became an award-winning passion.
Ferguson, a 21-year-old Vanguard High School and College of Central Florida graduate, won Best of Show in the City of Ocala's 2020 Student and Emerging Artist Competition with her photograph "Brianna."
The photograph, taken of Ferguson's friend Brianna, shows a ballerina wearing red and holding her dance shoes against a black background.
Ferguson started taking pictures when she was 12, photographing "things around the house using the family camera." Initially, she was taken with nature, things like flowers and birds in the yard.
"It was the ability to see things of beauty in those things that were basically part of everyday life," Ferguson said.
But as time passed and her interest in photography grew – she has taken just one photography class – Ferguson became more interested in shooting people and experimenting with different lighting while doing so.
Now using a Canon T7I camera, she said she now "enjoys more portraits of people than nature."
"One of my favorite things about my most recent photographs is a void background," she said. "By getting into shooting people, it allowed me to get more into lighting." She shot the winning "Brianna" photograph in the black box theater at CF.
"I've always had an interest in how light affects things," she added.
Ferguson said that being an artist, for her, means creating quality work that is both self-satisfying and beautiful in the eyes of others.
"I think it's important that the things I really care about, that I do them well," she said. "There is a level where when I look at it, it just has to be right. I really love to see the details in things."
When she won the 2020 Emerging Artist competition, it was Ferguson's second competition she had ever entered. And her only formal training was one art class at CF. So, Ferguson isn't sure being dubbed an Emerging Artist, however, will mean a career in art.
"At this point I'm working on personal growth," she said, adding that she currently works at National Auto Parts. "I don't think I realized I was emerging when I emerged."
At this point, her art is more about personal satisfaction than launching a career.
"With artists, there are the ones who want to pursue it as a major part of their life and there are those who see it as a way to get away from the stressful parts of the world," Ferguson said. "If it was work, I don't know if it would be the same."
Ferguson said she intends to continue her photography.
And will she be entering more art competitions?
"I might have to," she said wryly.