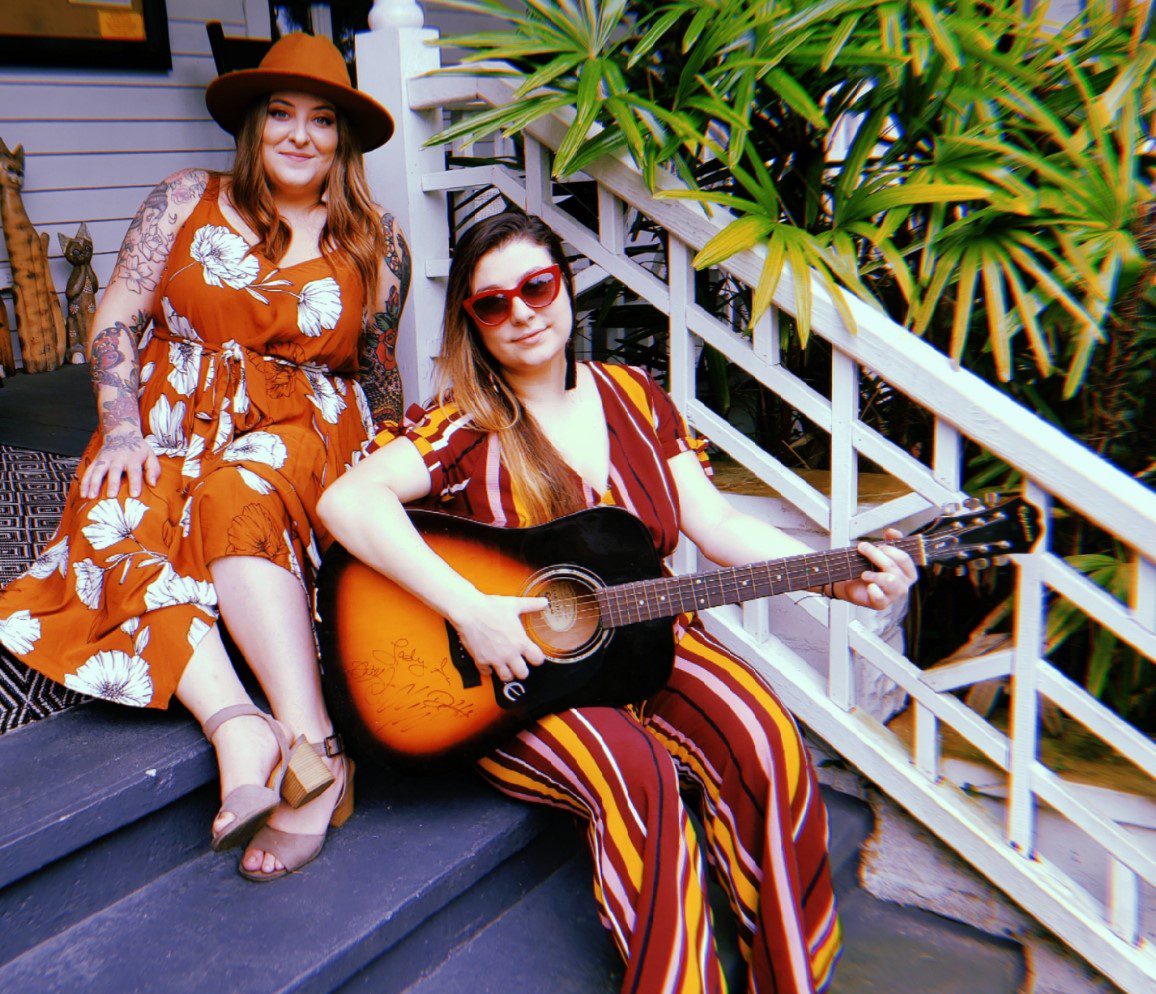 Take us through the basics, How did you two meet.
Caly: We met at work.  Through your downtown neighbor, Mrs. Angie Lewis herself.
Megan: I met Caly when I started working for Angie Lewis State Farm in October of 2017.
When did you realize that you wanted to make music together?
Caly: Immediately.  I mentioned at work, shortly after Megan started, that I sing and play guitar in my free time.  Megan came to me the same day asking to jam, and we got together that weekend to play for the first time.  Her voice is out of this world, clearly.  I couldn't imagine not playing with her.  So now she can't get rid of me. 
Megan: I found out when I started working that Caly sang and played. We traded recordings of songs we had covered and the one she gave me was an acoustic version 'Lose Yourself' by Eminem. My first thought was that I would have NEVER thought to do an acoustic cover of that song and that it was pretty unique. Once I listened, there was no way I was letting her say no to playing together.
What has been the biggest highlight of your musical journey to date? 
Caly: My biggest highlight is still the very first time I played in public.  Megan actually really pushed me and encouraged me to do it.  It was just a small open mic. night, I messed up half the chords because I was so nervous, I forgot an entire verse to our last song, and my voice was probably shaking the whole time- but all of our family and friends came out to support us.  They stood up, they cheered and clapped, and it was just so cool to see their love and support.
Megan: I've always loved to sing and would perform literally anywhere that would let me when I was younger, but I threw a lot of great opportunities I had a way that could have advanced me. Where I'm at right now, even though we're just starting, the recognition we have gotten from people so far as well as the opportunities, has been a really big highlight after carrying regret from missing so much in the past. I'm really putting myself out there for the first time in a long time and it's been amazing. 
From an artists perspective, what is your viewpoint of the Ocala Music Scene? 
Caly: I think Ocala's music scene is incredible!  Almost every night of the week you can find local, live music somewhere downtown.  We have the Reilly Arts Center, which is about to double in size, and is where I've seen some of my favorite concerts of my life.  The Ocala Symphony Orchestra puts on the most enchanting shows. We have the coolest interactive concerts every month called Couch Sessions.  And there is so much more going on!  I highly recommend taking advantage of it.  Our town is full of talent.
Megan: I'm really just beginning to dive into the music scene in Ocala, but so far I've been very impressed with the talent that's here. Caly has introduced me to the Reilly and to other events like Couch Sessions and beyond that, there's just so many venues in Ocala that have local musicians play and so many open mics for people to go to. It really makes me love when people say there isn't anything to do in Ocala.
You both harmonize really well together, how long has it taken you to get to this point?
Caly: It's something we're still working on every day.  Our voices are so different, and we've had to work really hard to figure out what works for each of us, and what doesn't.  We've really gotten to know each other's voices and each other's strengths over the years.  We push each other to be better and push our ranges.  It's been a process, but I think working together and trusting each other has been the most important thing. 
Megan: From the beginning, neither of us have been scared to tell the other if we don't like or aren't feeling something for our own voice, or if we don't like it for the other. We are also the same in the fact that we will try something over, and over, and over again until we get as close to the same inflection as the other. We've gotten to the point where we really know each other's voices and pick what we do based on that.
Every local music scene has its own set of challenges, what are some of the ones you've faced?
Caly: I'd say a big challenge of mine is making sure that I make time for music.  I work full time for Angie Lewis State Farm, am involved with the Reilly Arts Center's Associate Board, I'm on the board for Young professionals Ocala, and I have to be very intentional about not letting music take a backseat.
Megan: Right now, I think the fact that we are only performing covers makes it a little more challenging to do something memorable for people since we don't fully have our own sound figured out. So not getting lost in the background is pretty challenging Which is why we really focus on our song selection and making our catalogue so diverse so we can try to strike a chord with as many people as possible.
As you continue on in your musical pursuits, what are you most excited for.
Caly: I'm just so excited to keep getting better.  We've already grown so much together.  It's so fun to listen to recordings and videos from when we first started, and compare it to our newer material.  The growth is so clear and I'm just stoked to keep playing together and improving even more.
Megan: I am most excited for us to start writing our own songs and navigating that part of our journey and process. We're both so passionate and excited about what we've been doing already that I have no doubts that same energy is going to be able to create a lot of amazing music from us.