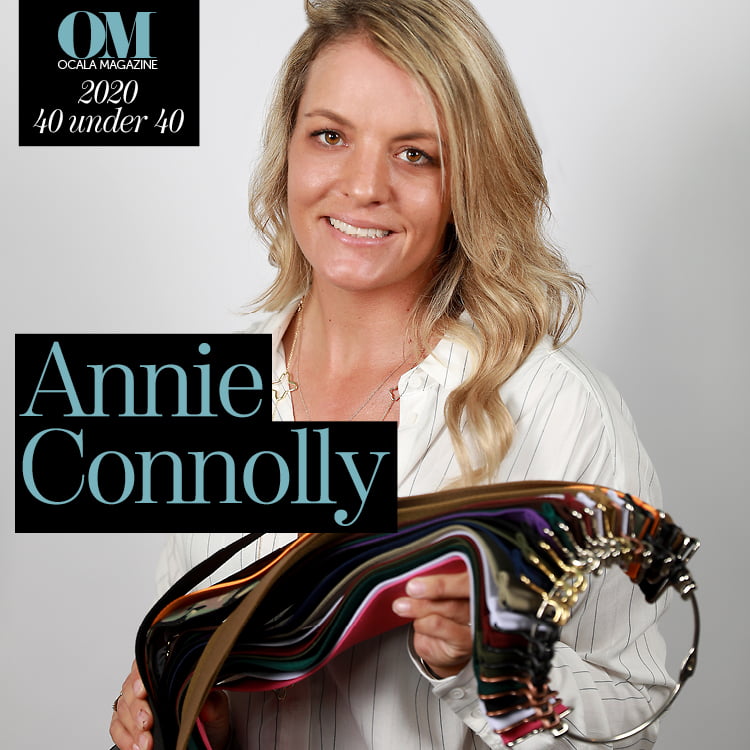 Name: Annie Connolly
Age: 35
Title/Company or main life pursuit: Owner, ACE Equestrian & Sport
What is your word and why did you chose it? Resilient. Whether you're a large or small business owner, healthcare worker or employee, life has very likely been affected in some way by the pandemic. To start a small business alone, like myself and many others, and come out swinging during this unprecedented time requires resilience. It's a word I feel represents myself and the brand as well as many others at this moment in time. Stay strong, stay resilient.
What aspirations do you have for yourself in the next 40 years? I'm looking forward to continuing the growth of ACE as a brand while expanding our partnerships in both events and charitable causes. On a personal level, I hope to continue riding and competing for many years to come! To be able to work in the industry you love and live in, is a blessing and I am excited for what's ahead.
Favorite way to give back to the community? We've partnered locally with several organizations to provide prizes or awards at horse shows, raffles, silent auctions and more. Some of those partnerships include HITS, Florida Horse Park, Run for the Ribbons and FTC/FTBOA. We also work with several local retailers. (HerKloset/Greiner's, Country Lane Tack, Good Apple, Redfield Show Tack, On The Hunt Equestrian, Exceptional Equestrian)
What do you love and/or hate about the Ocala area? I began coming to Ocala in 1999 to compete and have been in love with the area ever since. The abundance of horse farms and green spaces is hard to beat. From farms to parks, rivers and springs, the area is perfect for anyone who enjoys the outdoors and the bonus is the year-round accessibility. I've also enjoyed watching the area grow to encompass a lovely downtown and am excited to see all of the new businesses and event facilities continue to expand.
A few albums and movies you'd bring to a deserted island? Can we add bands and shows? Whiskey Myers, Tyler Childers, Gaslight Anthem. Yellowstone, Lawless, Beetlejuice.
You never leave home without: Seltzer, chapstick, sunglasses and a notebook. You never know when you'll need to write down a new idea!
If you could tell your 16-year-old self one thing: I guess I'd tell myself the same thing people told me when I was 16: "This might just be a phase." I may have been a bit unruly back then but I believe all life experiences come together to get you where you're supposed to be. My creative side started to show when I was about this age, so I wouldn't suggest changing too much. Be yourself.
Anything else you're super passionate about that you'd like to tout: This might be typical for the area – horses and dogs! I'm looking forward to horse shows beginning again for both personal and competition reasons, but also so that our vendors can get back to business whether it be on the road at the shows or serving those customers locally. As for dogs, I'm very supportive of rescuing and recently adopted my dog Luna from a kill shelter. She's wonderful and my family has two from the Humane Society of Marion County, as well! #adoptdontshop