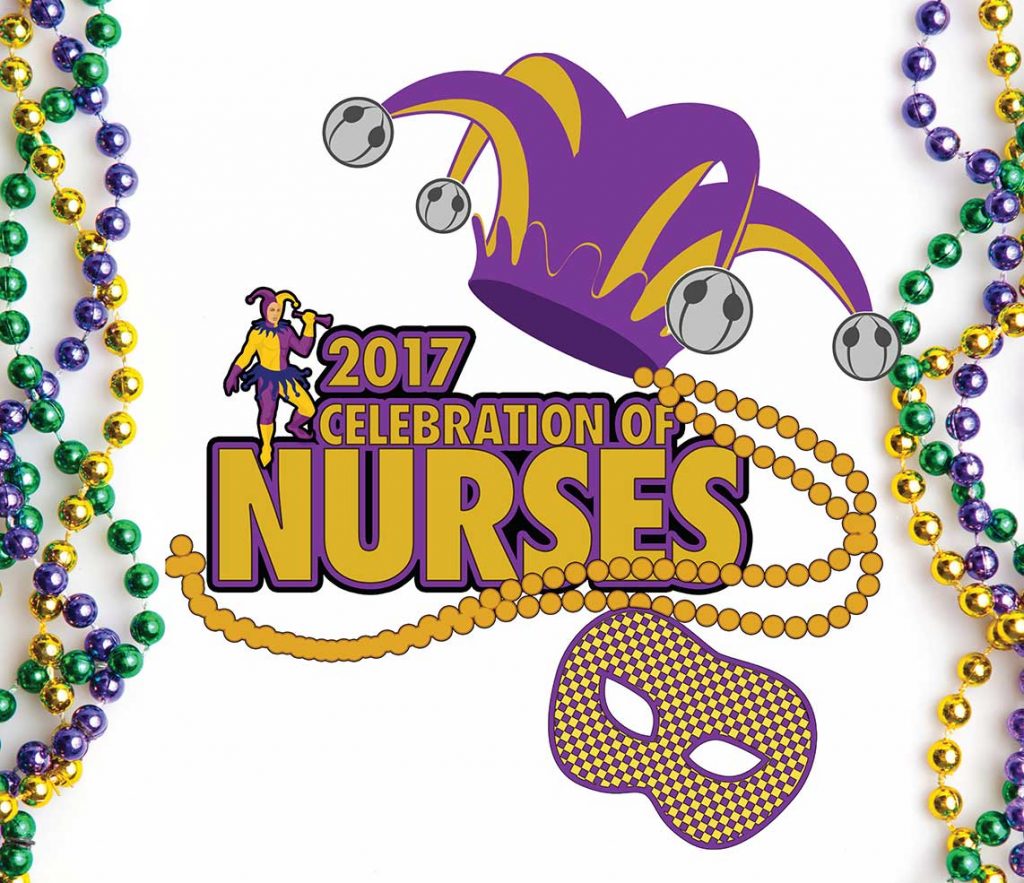 written by Kelli Fuqua Hart, Editor-in-chief
Photography by

Chris

Redd, Chief Photographer
Ocala Magazine and a host of local businesses came together on Thursday, April 20th to host the 3rd Annual Celebration of Nurses event. Over 800 nurses, nursing students, medical staff and instructors, along with their families and friends celebrated local nurses with a fun night filled with a variety of food, spirits, games, door prizes, live entertainment, awards and more. Pixel Pro and The Event Firm set the tone for the evening with a upbeat music and a photo booth –all carrying out the Mardi Gras theme. Guests were welcomed by a Zydeco Band and soon after entertained by live jazz performers and a Blues Brothers Tribute Band. Local food vendors were vying for a People's Choice Award –Mojo's taking First Place and Brick City Southern Kitchen & Whiskey Bar coming in a close second, just 6 votes behind. Six deserving nurses received honors from their peers and loved ones, some shedding tears over the kind words spoken of them. And every guest left with a neck full of beads, full stomachs, vendor swag and smiles – many with a valuable door prizes and bottles of delicious wine.
Instructor award
College of Central Florida
"When I felt as if I wasn't meant to be a nurse and was ready to give up, Dr. Williams was there to remind me what nursing is all about," recalls Roxana Valle. "He played a major role in me finding my confidence as both a new nurse and person as a whole." Williams was both an instructor in Roxana's ADN program and a professor in her BSN program at CF. Denise Odier also had amazing things to say about Justin. "He's not just here to make sure his students succeed in class, but in life overall. He's the best nursing instructor Marion County has ever had!"As an Associate Professor of Nursing in CF's RN-BSN program, he's earned a reputation for being as inspiration to faculty as well. "His passion to advance the nursing profession is evident in his teaching pedagogies," according to CF's Tammy Martineau. "Dr. Williams is an asset to the nursing profession and the future of nursing education." June Tickle goes on to say, "Dr. Williams promotes nursing professionalism, interdisciplinary collaboration and lifelong learning." With over seven individual nominations from peers and students alike, it is clear Justin has touched many lives. Lorna Rembert agrees. "Dr.Williams is a shining example of both a leader and teacher. He should be celebrated for that!"That is exactly what we did –celebrate Justin and his accomplishments in winning Ocala Magazine's Nursing Instructor Award – presented for the first time at this year's event.
Student award
West Milligan had this to say about his mother, Gina Hall, "My mom has worked so hard to get through school. She has stretched her savings and sacrificed so much to make sure we all have what we need. However, she's never once sacrificed the care she's given to her family. I've seen her sick and still study and make it to class – never late, never complaining. Even when she's been tired, she's never slowed down or given up. She's an awesome mom and will be an awesome nurse. I am so happy to see her dream coming true." West's nomination was one of over one-dozen that rolled in, all saying the same things. Gina's sister Jennifer Way knows how becoming a nurse has been a lifelong dream of Gina's. "When [Gina] was a child, she'd pretend she was a nurse, taking care of me by sticking me with cough syrup syringes that resembled actual syringes. She'd pretend to take my blood pressure and heartbeat. Today, as an adult there is no one I'd rather have take actual care of me than Gina."In raising three wonderful children, no obstacle or challenge has slowed Gina down. "She was challenged early in life, at just 20-years old, with the birth of her oldest son who has Down's Syndrome," explains Kristian Branch. Her strength has always been unwavering and that same determination and dedication is evident as a student. "Gina will push patients who need enthusiasm and nurture those who need a tender touch," says Erin Callahan. "Marion County will be lucky to have her." Ocala Magazine agrees and was happy to award her with the first-ever Celebration of Nurses Student Award.
Legacy award
Ocala Regional Medical Center
"She is fun-loving, classy and a ray of sunshine," says Michele Svenningsen of Cindy Phillips. "She is always there when you need her – a mom to us all." Cindy has been caring for patients for over 30 years. With over one dozen independent nominations, the majority of those who know Cindy have known her for a very long time. They all agree she's always had a reputation for being charismatic and completely committed to her patients, friends and loved ones. Sultana Beverly-Duke has known Cindy since grade school and says, "Her character alone is something to honor.""We need more nurses like her," says Sandi O'Boyle in her nomination. "She is one-of-a-kind. There are few like [Cindy]."Cindy's daughter sent Ocala Magazine a heartfelt nomination and had this to say about her mom, "Even when her day has exhausted her, my mom keeps her head high and does everything in her power to do what she's done for decades. She is the reason I decided to become a nurse. She has inspired me to follow in her steps and I hope to be even half the nurse she is every single day." Family is most important to Cindy and even after a long day on her feet caring for other people's loved ones, she makes sure her husband and children have dinner on the table – a moment they all value. Cindy's sister Gloria Cochran agrees with the many kind words spoken and says, "This award will mean the world to her."
Inspiration award
Christine graduated from the Crouse Hospital School of Nursing in Syracuse, NY. She worked in multiple clinical specialties before finding her true calling in 2010 at Hospice of Marion County. She began her career as a case manager.

Within six months

, she was taking on pediatric hospice cases and ultimately landed a management role in the newly created Palliative Program, designed specifically for children. According to Lila Ivey, "Christie excels at mentoring and served as Senior Nurse, teaching others. She was recently promoted again – three times

in seven years

– to a senior management position, overseeing a team of 30 people and caring for 140 patients in assisted living facilities and nursing homes." Christine started a joint program in Florida that provides care for children with advancing illnesses. As the Pediatric Palliative Care Program Manager, Christine expanded the services to include dozens of youngsters who received excellent comfort care and specialty services. One of Christine's cases involved a baby born with multiple anomalies just before Christmas of 2015. Not expected to survive her birth, the girl lived for two weeks at home under the care of Hospice and Christine's direction. She worked with her team around the clock to care for not only the infant but the distraught young parents as well.Christine used to bandage her little sister with a toy nursing kit, dreaming of the day she'd be able to help people for real. She's acheived that dream and so we honor her!
Spirit award
Munroe Regional Medical Center
Some of the adjectives used to describe Lorelly, by the multiple peers and friends who nominated her, include competent, dedicated, hard working, compassionate, kind, joyful and bubbly. Christina Philbin says, "Nursing has been a dream of [Lorelly's] for a very long time. Since realizing her dream in 2014, her passion for this career has done nothing but expand." Lorelly grew up in Marion County so her continuous passion for and dedication to providing health and wellness here comes as no surprise. Chad Mobley describes Lorelly by saying, "She has a spirit like no other, uplifting the hearts and minds of both her patients and coworkers." Prakash Motwani would agree."Lorelly is a very conscientious, responsible nurse. She provides great care to her patients and everyone under her care is appreciative of her positive personality."With over 25 independent nominations, an Ocala Magazine Celebration of Nurses record, there is no doubt Lorelly's peers and loved ones admire her devotion to not only nursing, but everything she touches. Debi Pardee was a patient of Lorelly's and Debi's husband Chuck had this to say, "Lorelly stands out. Having started in hospital housekeeping, I admire her working her way to her dream career." Ocala Magazine congratulates Lorelly for her excellence in nursing.
People's choice award
In addition to honoring nurses with our judged awards, we present the opportunity for local nurses to be chosen by their peers for a prestigious People's Choice Award. This year, with over 950 votes, Ocala Magazine is happy to name Sharese Ajuzie our People's Choice winner! Sharese's photo received over 209 comments, all praising her work ethic, compassion for others, selflessness, ambition and professionalism. One Facebook follower, Maxine Hutchinson McFarlane, wrote, "I am not surprised Sharese has been nominated for this special award. During our high school years, she demonstrated leadership skills, excellence and a passion for living life to the fullest. Through the years she has epitomized strength and grace while showing she is a woman with a heart of service. Sharese is a blessing to humanity."Patrick Clarke wrote," Sharese was born to serve people – it is in her DNA. She's from a family that dedicated their whole lives to public service – her mother, a retired teacher and principal; her late father, a former municipal councilor,JP and dedicated entrepreneur that gave long unwavering service to his county – now Sharese Ulett Brown-Ajuzie is walking in her parents' path."Linda Ulett-Dixon wrote, "Most importantly you are commited to the needs of the less fortunate and often go beyond the call of your profession to give assistance. I admire your spirited personality and positive disposition. I continue to applaud you on your achievements over the years." Ocala Magazine applauds Sharese as well on this deserved People's Choice Award.