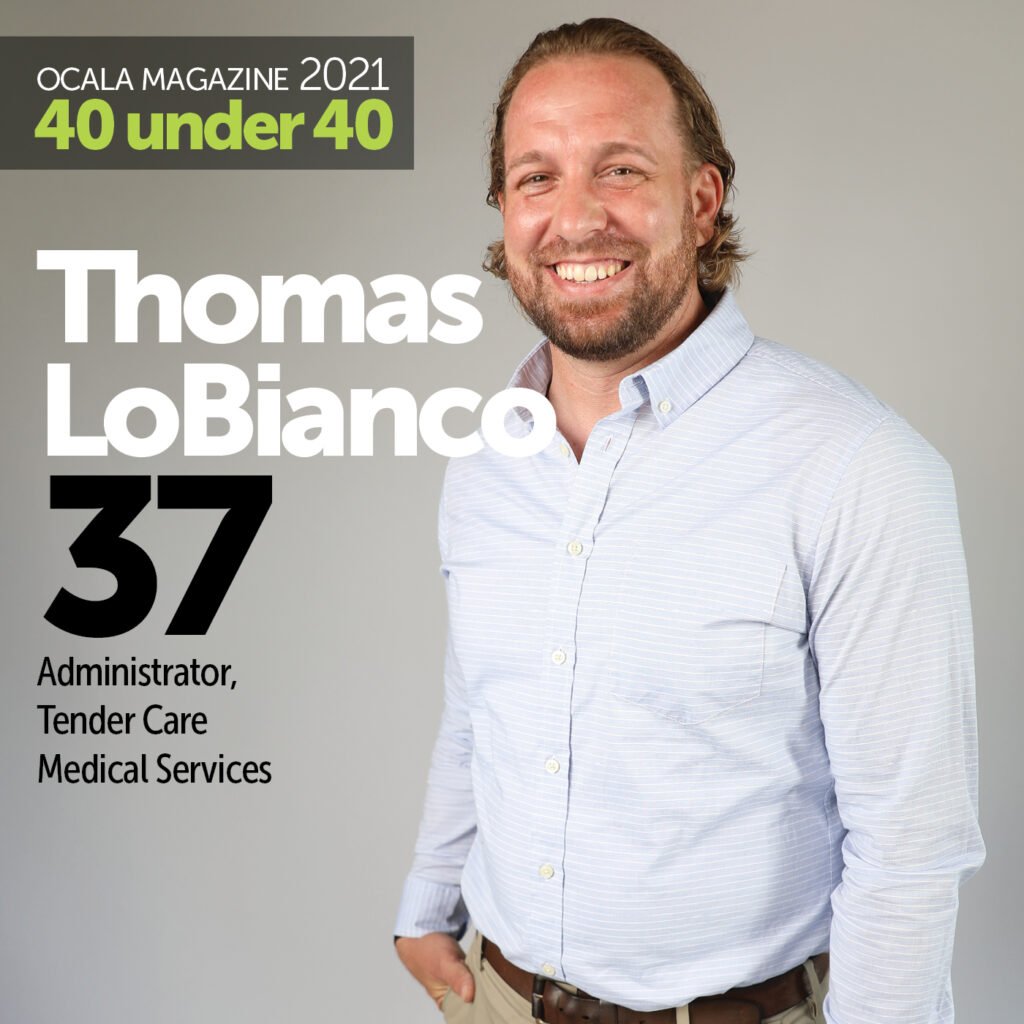 Name: Thomas LoBianco
Age: 37 
Occupation: Administrator 
Name of business/workplace: Tender Care Medical Services, a PPEC (prescribed pediatric extended care). We provide skilled nursing and therapy services to medically fragile and complex children in a loving environment that caters to each child's individual needs. All services are Medicaid funded.
Grand goal: To be a person that my children and their future children can look up to so that they might desire to perpetuate the doing of good for the sake of others.
When not working, I … enjoy spending time with family and coaching baseball.
What I like most about Ocala: That you have the best of both worlds, country and city, with a small-town feel and sense of community.
Pet peeve: The sound of someone chewing ice.
Philosophy in a word: Perseverance. Personal goals require hard work, diligence and an intent determination to achieve the results we desire.
My personal superpower: Empathy, the ability to understand a person's feelings. This helps a lot in my profession. One of our mottos at Tender Care is, "We Care." We truly do care and try to assist and accommodate our patients' families as much as possible.
If you could have a superhuman power, it would be … the power to heal. I would heal all our patients of their ailments. We serve some pretty amazing kids, and I would love to be able to remove those obstacles from their paths.
Community cause: The Early Learning Coalition of Marion County. I am currently a board member. The motto for the Coalition is, "Good Beginnings = Great Endings." If you can establish a strong foundation for a child early on, it will support them as they grow, develop and become prosperous.  
Guilty pleasure: Fantasy Football
Historical dinner date: Helen Keller. She accomplished incredible things in her lifetime, despite having many disabilities (or differing abilities). I would love to ask her how she was able to overcome all her obstacles, becoming so successful. I would ask her if she had any words of wisdom for someone in a similar situation. Then, I might be better equipped to serve our patients and families.
People who know me say I am . . . Patient, self-sacrificing, and humble
Professional achievement for which I am most proud: Establishing Tender Care Medical Services in Dunnellon. We now employ 30 people and serve roughly 35 families in the community. 
Favorite part of my profession: Being able to make a difference in the lives of children and their families. We get to witness children reaching milestones that many thought they might never reach. Watching a child walk for the first time when their parents had been told that it would likely never happen or seeing a child move on from us and transition to a regular school setting with the skills in place to succeed is tremendously satisfying.
If there is one thing, I indulge too much in, that would be . . .  black cold brew coffee (it's my fuel) and… have a sweet tooth (specifically cake and ice cream)