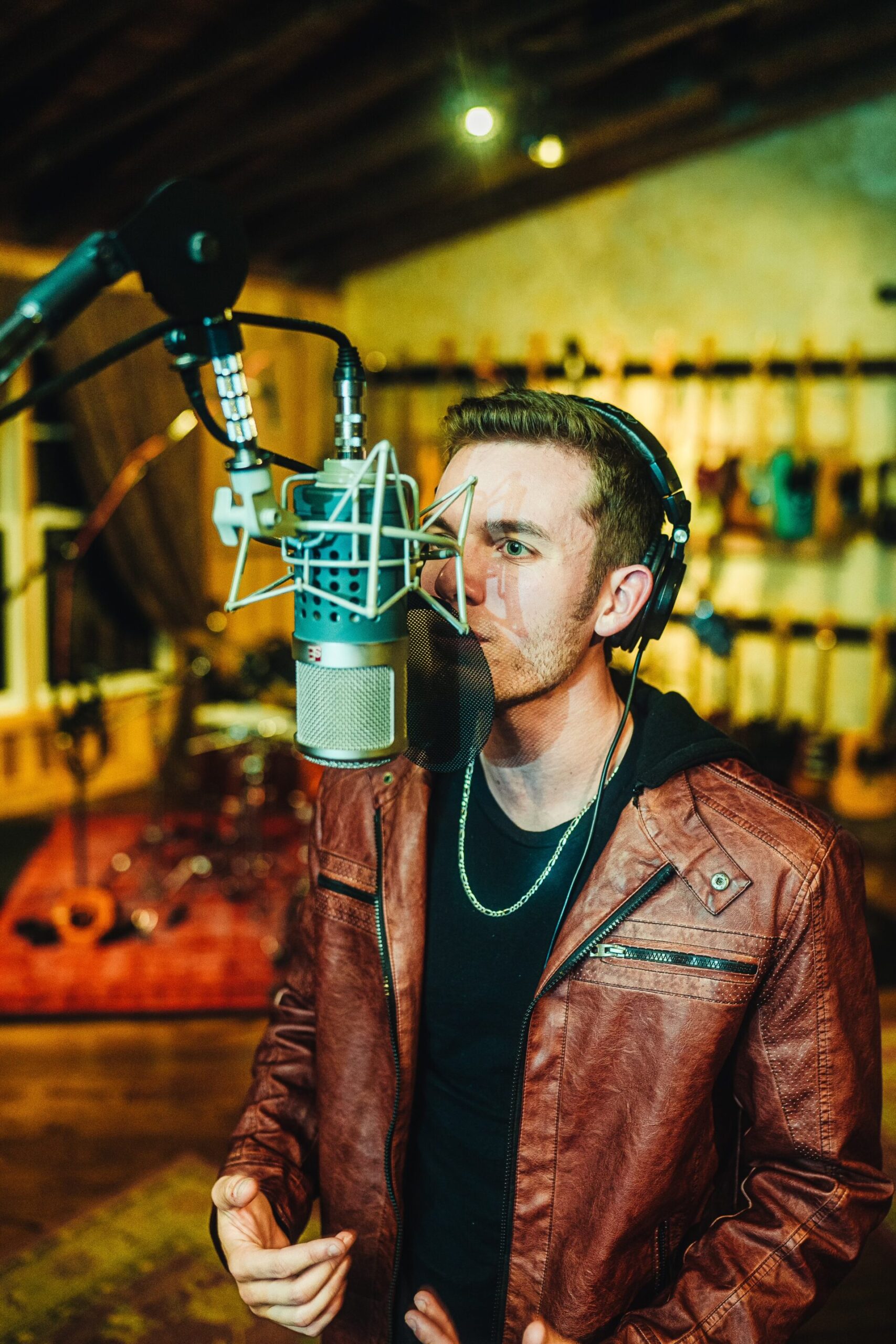 Being on stage in front of several thousand concert goers may have been enough to declare the moment a success for Noah Hunton. Performing at Oxford Downs as the opening act for Colt Ford, Hunton's job would simply be to keep the crowd engaged until the main event arrived.
Then something unexpected happened while Hunton belted out some of his original tunes not yet released by any record label.
He sang …
Meant to be
you and me
for the rest of our lives
… but he wasn't alone. He noticed the mouths of those in the audience singing right along to a song he had written for his fiancé.
"It was a surreal feeling," Hunton recalled. "To hear in the crowd people singing back without the songs even being out at the time, you get that feeling, 'Oh, yeah, I'm gonna make it.'"
For Hunton, the 24-year-old Ocalan who dreams of being a household name in country music, there was a bit of validation in that moment, a reaffirmation that the journey upon which he has embarked may actually bear fruit someday. For his journey is one trod by thousands and one where only a handful ever reach the desired destination.
While the numbers may be stacked against him — the odds of anyone reaching the glorious limelight and fortune that is the top of the country music scene are astronomical — Hunton has several factors in his favor: a laser-focused work ethic, well-grounded humility, and a deep singing voice that could bring back Ralph Emery.
"The end goal, of course, is to be as big as the big guys, Garth Brooks, George Strait," Hunton says. "But, for right now my goal is stay as independent as long as possible, and if the time comes and the right contract is presented in front of me, then to sign over to whatever label."
For Hunton, the road to country music relevance looks nothing like that taken by stars of old. Hank Williams never posted songs on social media and Willie Nelson never stood behind a merchandise table hawking logoed hats or t-shirts. Buck Owens never tracked YouTube views or Spotify streams of his songs before he ever inked a deal with a record company. But in the 2020s, an artist can prove his worth through a fair amount of internet exposure and even word of mouth.
So far, social media and a few serendipitous connections have put Hunton on some big stages, recently at the aforementioned Oxford Downs, but also opening for Tim McGraw in West Palm Beach last year. His ability to charm a crowd during a live performance as well as write his own material has drawn the attention of at least one major label, which offered him a contract while others have shown more than a passing interest.
When BMG put a contract before him that would immediately send Hunton into the recording studio and on tour with Kane Brown, the initial reaction was to take this journey to the next level. But in music, the artist must be careful what is signed during the early stages of a career and Hunton followed the advice of entertainment lawyers and walked away from the table. It was a colossal act of discipline and foresight Hunton hopes pays off in the end.
"It was kind of life-long binding," Hunton said of the BMG contract offer. "I didn't want to sell myself short with my career. My record producer and my booking agent, they said I can do way better."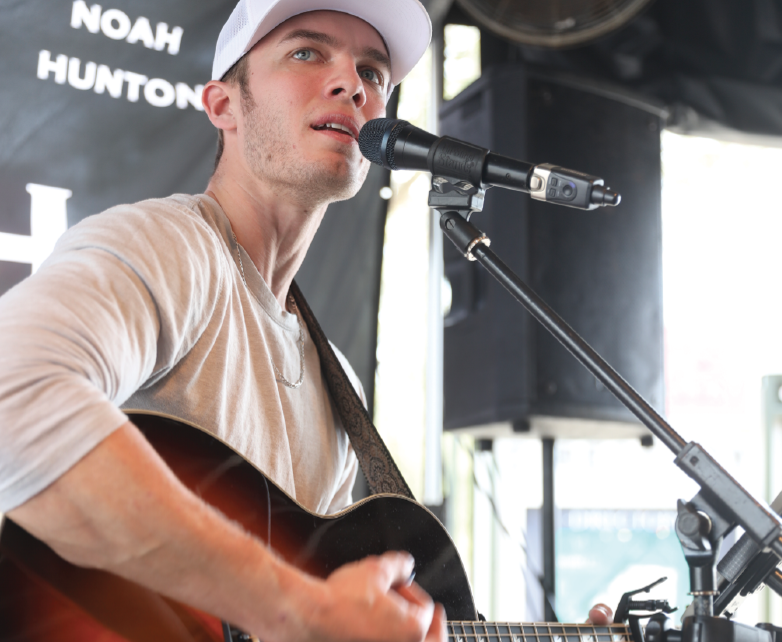 With that, Hunton either turned his back on the biggest break of his career or he bought himself some time and more importantly control over the direction of his art and his career.
"When it comes to his journey, he's at the beginning," said Kip Allen, who with Michael Lattanzi has worked with Hunton producing songs in Nashville. "It's the wild west — there are no rules anymore, and that's what the (record) labels are trying to figure out because basically kids are becoming famous without their help."
Not yet famous and still in the embryonic stages of his development, Hunton is committed to the journey and is invested for the long haul. From his days at Forest High School, Hunton knew he wanted to croon for the twangy tunes of Americana, but that direction was not immediately laid out for him. Upon graduation, Hunton embarked on the life of a working man and, in a way, built a storehouse of experiences to be used in future lyrics.
In 2017, he started working behind the counter at Subway Sandwiches, then worked lawn maintenance for several years. From there, it was on to his uncle's air conditioning business and then to construction work. There was a stint at Federal Express to fill the Christmas rush shipping demand, and he even started his own car washing business that eventually led to auto detailing for a local dealership. All the while, Hunton strummed his guitar, penned lyrics and composed music while toiling in the "real" world.
Music's calling was just too strong and he needed to be around it, taking a job at Sound Exchange in Ocala where he could earn a living and learn a little bit about the music business.
"I just wanted to be around music," Hunton said of his employment at Sound Exchange. "I was in the store, learning all the ins and outs of the instruments."
It was at Sound Exchange where store manager Johnnie Gargano, once under contract to Sony, helped to mentor Hunton and supported his dream.
"I would write a song and show it to him, and he would be like, 'Let's structure it this way,'" Hunton said. "He saw the potential in what I could do and wanted me to pursue my (singing) career."
Then Hunton decided to take the plunge, leaving Sound Exchange and the security of the labor force to enter the unknown realm of the music world.
"Stepping away from a 9-to-5 paying job was a risk, because now basically working on tips, shows and merchandise," Hunton said. "I just kept saying 'what if?' way too much. I couldn't dedicate 100 percent of my time to what I wanted to do, which was song writing, doing shows and being more interactive on social media."
"I think he is young and hungry and talented," Allen said of Hunton's prospects. "He has a lot of room to grow, but he has great ideas and has good songs. He's just got to find the right crew, like a label, maybe a publisher, to get in the writing rooms to write with the right people."
Among the songs having received some professional production is "Meant to Be," a ballad written for his girlfriend to ask her hand in marriage. "Hometown" is Hunton's homage to Ocala, but is really meant as anyone's homage to their hometown. Locals will recognize his line,
"It's where I learned to sing
it's where I learned to play,
it's where I had my first show on Broadway."
His most popular original track in terms of streams is "Huntn for a Good Time." The sound is all country with a smattering of outlaw and just a pinch of pop.
For Allen, the tune that perked up his ears was "Guitar With a Million Miles On It."
"He sent us a batch of songs to do and that was the first one that I was like, 'Yeah, we should do that one,'" Allen said. "I like the hook, it's a cool idea, it's unique, it hasn't been done that way."
With Allen and Lattanzi, Hunton has access to top-level studio musicians and writers such as Jason Sever, who also writes with Jason Aldean. But there is more to a successful journey than talent, hard work and good luck — a strong support group is also part of the equation. Hunton has found such support among locals who have heard him and believe he has what it takes to make it and are willing to help fund the journey.
Among those on the Hunton team is Joy Chappel and her husband, Charlie, who were impressed by one of his live shows. Seeing his potential as well as the pitfalls and difficulties for a young local trying to make it in the music industry, the Chappels became one of Hunton's benefactors, taking away some of the financial burden of travel that comes with climbing the country music ladder.
"We first met him when he was singing at the 100 Proof Saloon," recalled Joy. "I was kind of not paying attention and then look up and hear this kid singing — his range is just crazy. He's definitely a crowd pleaser."
The affable Hunton walked over and introduced himself to the Chappels and they have been more than fans since.
"We sponsor him and mostly it helps him with travel expenses, recording fees and things like that. My husband and I go to Nashville a lot and everybody you hear there is good, and I don't think he would have any problem competing with them."
The Chappels' confidence and support is among the factors contributing to Hunton's potential success in an industry known to chew up and spit out those with dreams of fame and fortune.
"Without support, the music industry can be a cold, dark place," Allen said. "It gets lonely, especially when you're struggling, trying to figure it out and break through."
So what does it take besides talent and support? According to Allen, there is no one recipe for success, and sometimes it happens when you least expect it. Some artists struggle for 20 years, then break it big with a hit song; others seem to burst onto the scene in an instant. On one side of the spectrum is Walker Hayes, who didn't break in with a top-10 hit until he was in his late 30s before hitting No.1 with "Fancy Like" in 2021 at age 41. Then there's Bailey Zimmerman who hit No.1 just last year with "Fall in Love" at age 22.
"If you have the one right song that hits the algorithm just the right way, you can be an overnight success," Allen said. "(Hunton) could post a Tik Tok video tomorrow that could make him the next Morgan Wallen. That's rare, but it does happen."
Allen's advice ultimately to Hunton? Keep up the song writing.
"He still needs to make sure he's a good writer and can hold himself in a writing room. As long as he keeps his writing up and is really proficient with that, that's a great place to start."
Hunton currently has six songs released but will drop a 12-song album soon that will include those six. Those songs will all be written or co-written by Hunton. With it will come the attention of other record labels, some of which are already in discussions with his team — he is keeping a tight lip for now on just which companies those are.
The trajectory so far is promising, and a visit to country music's Holy Grail could be in the offing: The Grand Ole Opry. Having been nominated for a Josie Music Award, which goes to independent artists, Hunton will get to walk the red carpet at the Grand Ole Opry in October. If he earns a spot in the top five of voting he will perform on stage.
Today, it's locals at Oxford Downs singing along with him, tomorrow it could be the Grand Ole Opry. Not too shabby for a kid who just several years ago was making BMTs at the local Subway.