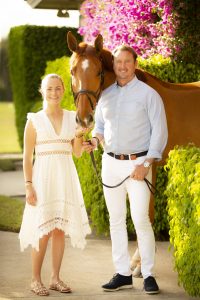 Live Oak International is recognized as one of the largest and most prestigious equestrian events held in the United States, by competitors and spectators from around the globe. Now in its 28th year, this annual event is a showcase for some of the best combined driving and show-jumping events in the world, drawing top drivers, top riders, trainers, coaches and owners from across the United States, Canada, Asia, South America and Europe.
When March rolls around, the 4,500-acre family farm, becomes a hub of activity and excitement. In 2018, top equestrian athletes, including Olympians and World Cup Champions, descended on this world-class venue to compete at Live Oak and this year promises to be even bigger than any previous year. The show-jumping events includes the $10,000 Waldron Private Wealth Power & Speed competition, two $35,700 Longines World Ranking Classes, and culminates with the thrilling $100,000 CSI-W3* Longines FEI World Cup Jumping Qualifier Grand Prix on Sunday, March 10. It is the last chance for U.S. riders to qualify for the 2019 Longines FEI World Cup™ Final in Gothenburg, Sweden.
"We usually have around 20 nations here to compete," explains Chester Weber, who along with his sister Juliet Reid, serve as co-presidents for the event "It's really become a family affair. My sister and my niece are both involved. This is a real passion for our family"
The seeds of the event were sowed by another Ocala resident, Susan Gilliland, who was part of a local driving club "She was looking for a venue to have the combined cross-country event," Weber recalls. "She approached my folks about having event and my parents said, 'Yeah, that's fine. We basically have a cow field and you can use. So in 1991, they had their first event. The cross-country part of the event was here for the first four years and then we built the stabling area and a place for dressage, and the rest is history. At the time, I was away at school, but but when I moved back in 1997 Susan and I developed a really close friendship."
Their friendship led to a collaboration that Weber credits with the formation and growth of that local event into what is now an important international stop on the equestrian calendar. Weber explains that it is an important part of their legacy. "Initially, one of the big draws for people was for them to come out to watch the cross-country driving on Saturday morning," he says. "It became a place to go and be seen."
But the potential for it to become something greater was not lost on this enterprising family. And as the concept expanded, so did the audience. "It's been really nice because we have seen a really organic growth in the spectator base," Weber asserts. "People love coming out. Our customer, unlike a lot of horse competitions, is really the sponsor and the spectator. Whereas a lot of events are competitor or exhibitor driven. We like to refer to it as a tournament of sport…not as a show. We feel that we that we bring a top equestrian sport, in the area of driving and show-jumping, to Ocala once a year."
"We have large aspirations in this family." Juliet Reid stated during one of Live Oak's press conferences.
Some of those aspirations have been inherited by Reid's own daughter Chloe, who is a regular competitor at Live Oak. "I am a show jumper and I have competed for the U.S. multiple times," Chloe explains. "That's my ultimate goal — to represent my country. I'm looking forward to competing at Live Oak in the Freestyle Jumping World Cup competition."
Lucky for Chloe that the family had the foresight to expand the event from just driving to include show-jumping, a few years back. But while she has inherited her uncles love of competition, she admits that she is somewhat of an anomaly in that way. "While my family is very horsey, my parents are not," Chloe reveals with a chuckle. "My mom manages the horse shows with my uncle, but I don't think I could pay her to get on a horse. I joke that it skipped a generation, because my grandmother and uncle have a real passion for horses," she continues. "My mom is one of four children and she is the only one that has no interest. She is also the only one of her siblings who has a child that wants to ride. I have a lot of cousins and I'm the only one."
Chloe, who will graduate from the University of Miami in May, is already an accomplished competitor in her own right. She is also exploring the ways in which she can help grow the family business. "She has started a social media company and has been working on some of our social media already," says Weber. "It's a lot of fun to have new blood involved…younger people with different ideas. We try to continue to evolve as an event and an organization. You can imagine, if you still had the same concepts and principles that you had 27 years ago, and you never changed your business, then I think you likely wouldn't be successful," he continues. "Much of the success of Live Oak International has come from adapting to what's going on and making sure we deliver a wonderful tournament for our spectators."
From its inception, this family-run business has been a passion project that continues to grow and exceed expectations each year, thanks to the forward-thinking nature of the family. But it has also given them an indelible link to the Ocala community and brought countless visitors and opportunities to our region. Perhaps what is most special about the event is the amount of togetherness and joy it brings to the family
"My favorite part of Live Oak is that it is something that my entire family does together," Chloe shares. "Obviously, my mom has a large part in managing everything with my uncle. My dad does farm tours for the major sponsors on the weekends and my brother is running around taking photos and helping with the media. I am involved in encouraging riders to come. I was on the phone yesterday with someone from Japan, then someone from the Netherlands and then someone from Germany. We have riders come from a lot of South American countries as well, Mexico, Columbia and Paraguay."
"It's really a lot of fun for us." Weber says echoing his niece's sentiment. "I really like the cross-country driving on Saturday. That's really where the roots of the event started. It still gets a huge crowd. Thousands of people come out to watch. I see people who have very little interest in horses come out every year just to have a tailgate," he continues. "Somebody will have wonderful fried chicken and the next one will have something equally delicious. There are a bunch of food trucks. I really look forward to that one."
"It's a beautiful farm and we welcome the community in once a year," Chloe offers. "This past year, there was a lot of mayhem around the idea of maybe having a highway put through Ocala. That was an eye opener for me, to see the community come together to protect the horse farms and the land. So I think that for us to be able to, in turn, open our gates and welcome them, shows them just what they are protecting — it's something that we take so much pride in and it is a great experience, even if you're not even remotely interested in horses. It's a real community event with some many elements from a car show and a beer tent, to a lot of fun family activities."
Live Oak International runs from March 7th through the 10th. For more information, a full schedule and to buy tickets, visit liveoakinternational.com