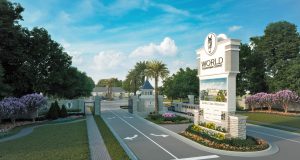 Busy as worker bees, construction teams have begun building the World Equestrian Center at Golden Ocala. The masterpiece of mastermind Larry Roberts, which will become the signature attraction of Ocala — beckoning splendor and spectacle to our community.
Compiled by John Sotomayor
There are few who contributed more to Ocala's landscape than Larry Roberts. The trucking magnate from Ohio envisioned a magnificent, luxurious community in Ocala to house and entertain equine enthusiasts, who also happen to own businesses that employ many Ocalans, and created Golden Ocala Golf & Equestrian Club decades ago. The influx of wealth that followed has helped pave the way for the construction of highways, hotels, and other infrastructure that has transformed a sleepy little town into a robust small city. "When [Larry] Roberts came in and [built] Golden Ocala, he raised the bar for everything that was made around here," says City of Ocala Mayor Kent Guinn.
Roberts will open his latest project, Ocala's World Equestrian Center, in 2021. It is his second World Equestrian Center, the first of which is located in Robert's native state of Ohio. Like the original, the center will be a world-class equestrian venue for not only the world's best riders and horse, but also for spectators, exhibitors, vendors and sponsors. The addition of the World Equestrian Center to Ocala will help take our city to the next level and elevate our standing on the world stage. The busy worker bees at the construction site, have created lots of buzz.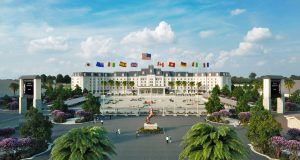 "It is the biggest game changer this community has had in a long time," asserts Mayor Guinn.
CEO of the Ocala/Marion County Chamber & Economic Partnership (CEP), Kevin Sheilley echoes that remark. "It is a game changer for our community. It is a game changer, quite frankly, for the equine industry," Sheilley offers enthusiastically. "2021 just cannot get here soon enough."
According to World Equestrian Center website, the original World Equestrian Center located in Wilmington, Ohio, "contains more than 200,000 square feet of climate-controlled riding space, affirming that it as one of the largest indoor/outdoor equestrian sport venues in the world. The state-of-the-art facility offers premium footing, permanent stabling and on-site facilities, as well as more than 28 weeks of AA-rated Hunter/Jumper competition."
The website continues, "Dedicated to offering great sport and good fun in a family-friendly environment, the WEC promises their exhibitors an experience built on three core values: quality, class, and distinction."
When the WEC debuts the new center in Ocala, it will provide the same, if not even greater, world-class equestrian competition and equestrian-inspired country club living, all alongside the deluxe Golden Ocala Golf & Equestrian Club.
"When this was first announced, I thought, this puts the exclamation point on Horse Capital of the World to me," said Mayor Guinn.
Here's the buzz from the World Equestrian Center, as provided to Ocala Magazine:
A CONVERSATION WITH ROBBY ROBERTS
Mr. Roberts, I know it is your vision that drives the WEC, but how and why did that begin? Have you always been involved with the horse industry?
I grew up in Wilmington, Ohio.  My Mom was passionate about horses and we grew up riding Quarter Horses  —  Western performance horses. We rode in 4H all the way up to Quarter Horse Congress. Our daughter Sofia, age 15, started riding ponies and then she decided she wanted to jump. So, we switched to Hunter / Jumpers. My family also owned and operated Roberts Arena for 35 years. We ran it for decades as "The Showplace of the Midwest" and it was a destination for AQHA shows and other breed shows. When my parents decided to stop showing, the facility was leased out. A few years ago, we decided to run it privately again. We rebranded Roberts Arena to World Equestrian Center in early 2016. We already owned the facility as it was on our family's property (and where I grew up) so it made sense to keep it there.  We have done extensive renovations and made many improvements to the infrastructure of the facility. It is on about 100 acres and we have purchased more land around the facility now as it is growing still. We have been running our own horse shows since 2016 — 4 distinct USEF rated AA Hunter Jumper circuits —  Winter, Spring, Summer and Fall, with 28 horse shows total. So far, our horse shows have been very popular, many of our horse shows have been sold-out.
What sets your facility in Ohio apart from other equestrian centers?
Our staff is 100 percent focused on customer service.  It is our first priority to make sure that all of our exhibitors, their horses, our spectators are all comfortable, safe and accommodated while they are at WEC. Our facility is clean, bright and comfortable. We have invested heavily in the infrastructure. We have three main climate controlled indoor arenas, The Sanctuary, Roberts Arena and the R+L Arena. Each one features stadium-type seating for spectator comfort.  All of these are connected by indoor, heated walkways so you never have to go outside.
Our horse show environment is rich with amenities. We offer great sport, terrific shopping and excellent dining options. We have a full schedule of fun, family-friendly after-hours events and competitions that we run each week – dog races, volleyball, drive in movies, horseless horse shows, ninja-warrior courses, bull riding, and seasonal fun like pumpkin carving, gingerbread house decorating — the list is endless. Last year we put on a 5K at the facility called the 'Hoofless Derby' and more than 100 people competed. At any of our horse shows there are 20-25 vendors on site. Our own Sudden Impulse Boutique provides a unique shopping experience, featuring an eclectic selection of elegant gifts, jewelry, whimsical home goods, fun stuff for kids and dogs and a whole lot of WEC-branded clothing and merchandise. We also offer free WiFi.
But most of all, the most important thing that sets us apart is that we are nice.  People are smiling, helpful  —  everyone from the horse sow office staff, to the jump crew, to the concessions people  —  is nice. So, the experience at WEC is pleasant and that has made a big difference for the people who compete there.
What is your main goal for WEC in Ohio?
We want people to enjoy their passion for horses at a safe, clean, comfortable and beautiful venue. Obviously, our amenities are wonderful. We have made a big investment in that so that helps to make a great experience.  But more than that, WEC has a great "feel" to it.  We have a large sign over the entrance that says "Welcome Home Equestrians" and we mean that. People say to me, "You have a nice facility." My response is,  "It is not mine, it is ours. It belongs to you too." I think when people realize that I mean that, it affects them in a positive way. We're driven by a set of values, Christian values, and that comes across in the experience at WEC.
You are breaking ground on another center in Florida. Why two centers and why Ocala?
Our family owns Golden Ocala Golf & Equestrian Club in Ocala.  It is a beautiful club with amazing amenities like golf, tennis and spa. With the success of the Ohio WEC facility, it made sense for us to purchase the land adjacent to the club and build an equestrian facility in Ocala.
What will some of the similarities and differences be between the two, besides the obvious location?
The main difference is size and scope. The Ohio facility was built by taking an existing footprint of a venue and adding on to it. The facility in Ocala has been built from scratch and covers a much larger area. For example, our Ohio facility has six outdoor rings and the one in Ocala has seventeen! Both facilities have indoors that are climate controlled. In Ohio the barns are heated while in Ocala they are air-conditioned. One thing that will be the same is the level of customer service that visitors receive at our facilities. We treat our exhibitors like family and we want them to feel like they are being taken care of and that we care about them and their horses. The facility in Ocala will be very resort-like. So just as you would at Disney, you will get a wristband and that will be your pass and contain your ability to pay for food, amenities and even your horse show bill!
When people speak of your equestrian center, what is the best thing they could tell you?
That they feel at home when they are at the World Equestrian Center.
Is there anything else that you might like to say about either centers? Anything people should know?
We are committed to changing the sport for the better and we are in it for the long term.
THE BUZZ BEHIND THE BUILDING
Q&A Provided by World Equestrian Center
Will you plan to have USEF sanctioned / recognized events at WEC Ocala? What about USEF mileage rules?  
Ultimately our plan is to host sanctioned events. We have begun the application process with the US Equestrian Federation to acquire dates in Ocala. In the event that we are not granted the ability to run USEF rated horse shows, we plan to run our own WEC Hunter / Jumper horse shows. Since 2016, we have hosted 28 weeks of USEF rated horse shows at our facility in Wilmington, Ohio. Our exhibitors are encouraged to sign up online for WEC Points to qualify for year-end awards and prizes. We will expand our WEC Points system to include events at WEC Ocala, hosting a year-end awards banquet to celebrate our circuit champions.
Will you host FEI events?
Yes, we have built our facility in Ocala to international standards and we will be applying to host FEI sanctioned events. We have already begun discussions with organizations that manage these events and presented WEC Ocala for consideration as a future event venue.
When will you host your first horse show?
Our Grand Opening is slated for January 2021. We will host our first horse show then and the facility will be open to the public at that time.
Why the two-year timeline?
We want to be absolutely certain that our facility is completely finished and in ready condition to safely host horses and exhibitors. It is a matter of ensuring that we have the infrastructure and amenities to provide a world-class experience to all who visit WEC Ocala.
Can you give us an update on the current status of the build?
As construction advances, the World Equestrian Center continues to shift the paradigm in equestrian sports with development of a truly state of the art, resort-style equestrian sports venue. The facility's sophisticated technology network is currently being built with systems that will make World Equestrian Center Ocala the most advanced horse show facility in the country. When it comes online in January 2021, the World Equestrian Center's technology infrastructure will accommodate key card technology, digital video live streaming and a 24/7 security network.
What type of Equestrian sports will be featured at WEC Ocala?
Our facility is equipped to host many different equestrian disciplines such as Hunter/Jumper, Dressage, Para equestrian, Vaulting and Reining. We will welcome breed events as well, such as Quarter Horse, Paso Fino, Arabians, etc. In addition to equestrian sports, the facility will host weddings, corporate events, athletic events, dog shows, car shows, antique shows and more.
On the Equestrian Estates
How many lots will be available and at what sizes?
The Equestrian Estate property will be offered in 3 acre lots or multiple 3 acre lots, depending upon a purchaser's requirements.
When will lot pricing be available?
Lot pricing will be available in Q1 of 2019
Does home ownership at WEC Ocala include Golden Ocala club membership?
Those who purchase lots within World Equestrian Center Ocala will be required to join Golden Ocala Golf & Equestrian Club.
On Economic Impact
What is the WEC going to bring in the equestrian community in Ocala and to the larger equestrian world?
Ocala is beautiful and it is truly the Horse Capital of the World. So, it is fitting that WEC have a presence in Ocala.  To have World Equestrian Center in Ocala, adjacent to Golden Ocala, is incredible for exhibitors and their families. Golden Ocala offers the equestrian the experience of amazing amenities like golf, swimming, tennis, fine dining and of course real estate, so it is truly unique in our world. We look to the past to incorporate things that we loved about showing horses as kids – and then we tie in more modern aspects to the facility like better footing, equipment and technology. These things make managing horse shows easier and more efficient and that translates to making showing horses easier and more enjoyable for everyone. The new facility will create jobs in the area and provide people with a friendly, safe and fun destination for their whole family.
On the Employment Impact
Can you estimate the jobs impact the facility will have on the area?
Our current estimate is that we will hire approximately 300 full-time and 200 part-time associates, before our opening. This does not include horse show staff.
When will you begin hiring for the facility?
Our approach will be a phased one. This means that we will begin hiring facilities and landscaping staff in the Spring of 2019. We will begin hiring sales staff in the Summer of 2019 and we will begin hiring culinary and service staff (hotel/restaurant) in the Spring of 2020.
– For information on how to learn about employment opportunities at WEC Ocala, visit the expanded version of this article online at ocalamagazine.com and for more information about the World Equestrian Center, visit wec.net.