Like the siren songs of Odysseus, the game of football keeps calling out to Sean Price, now eschewing his life as a police officer to return on his journey toward a professional career in the sport he so dearly loves. But unlike the sirens of Homer's epic, football's promises are not shrouded in falsehoods culminating in one's ultimate demise, but rather offer a tangible road and opportunity to eventually reach his goal.
At the end of the journey, Price's Ithaca would be the National Football League, the dream destination of every boy who ever strapped on the shoulder pads his first day in the pee wee leagues. Along the way are exotic destinations, tribulations and tests to his worth in one of the world's toughest sports.
Now, Price's Scylla and Charybdis awaits: Las Vegas and the XFL.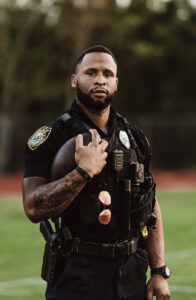 On Feb. 18, the fledgling XFL will begin its second season and Price looks to suit up for the Las Vegas Vipers on that day, officially marking his return to professional football. It means, however, walking away at least temporarily from his position as a law enforcement officer with the Ocala Police Department, where he has spent the last two years chasing criminals as opposed to running from defenders.
"I want my life with no regrets," Price said. "I'm more on the side of taking advantage of (an opportunity) than sitting back wondering what life would have been like if I'd taken that chance and just worked a little harder and stayed focused."
The game runs deep in Price's blood. His cousin Jamie Thompson played defensive back at Oklahoma State and later for the NFL's New York Jets and NFL Europe's Amsterdam Admirals. Another cousin, Greg Carr, is head football coach at his high school alma mater North Marion after a standout career as a wide receiver for Florida State and later professionally in Canada.
Price himself has even had a taste of the professional game, playing in four games for the Dallas Renegades of the XFL in 2020, a season canceled mid-way due to the onset of the COVID-19 pandemic. When the league went away, there was no way of knowing if it would return, but under the new ownership of actor Dwayne "The Rock" Johnson and film producer Dany Garcia, the XFL has re-ignited and with it the aspirations of many football players like Price.
Price headed to Bradenton to participate in the league's combine, where he shined enough to get drafted as a tight end by the Vipers. With that realization, it was time for Price to step away from the police force to take one last shot at making football a career.
"I plan on riding it out as long as my body allows me to," Price said. "I take good care of my body — I think I've got three or four years left of playing, if God is willing."
Price starred at North Marion during his prep years, finishing his career as the Colts' all-time leader in receiving yards. He was good enough to earn a spot in the prestigious Under Armour All-American game and was among the nation's top 150 recruits according to Rivals recruiting service.
As a tight end for the University of South Florida, Price was a starter all four years and finished his collegiate career in 2015 as the Bulls' career leader for tight ends, with 75 catches for 897 yards. After USF, Price had workouts with some NFL teams, including the Baltimore Ravens and Green Bay Packers, but things didn't pan out in that direction.
After the XFL's canceled season in 2020, Price entered the police academy to embark on a career as an officer and seemed content to ride out his days as such. So far, Price has been as comfortable on patrol as he has been blocking and running pass patterns his whole life.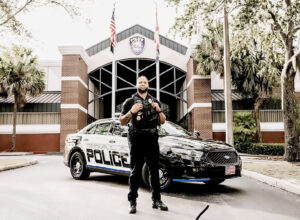 "He's the epitome of the type of police officer we want here at the Ocala Police Department," OPD Chief Mike Balken said. "He's a hard charging, young, aggressive police officer that takes his job seriously. He strives to provide the best quality law enforcement service that he can each and every shift that he works. He'll be sorely missed."
Life on patrol the past two years has been a change of pace for Price, but in the end it may help him in his quest to return to the gridiron. Running crossing routes into the realm of defensive backs trained to blast you no longer seems so daunting once you've stared down a criminal aiming a loaded weapon at you.
Price remembers a moment when a suspect actually had a loaded gun in the back of his car. When they reached the jail, the man revealed his weapon and stated, "If I wanted to kill you, I would have killed you." Price was forced to draw his weapon and had the suspect at gunpoint in a moment of extreme intensity.
"I was honestly shaken for two or three months," Price said. "Everyone there, all the supervisors, pulled me aside and talked to me, checking on my mental health. They were more concerned about my health and how I was doing as opposed to the mistake I had made.
"There have definitely been moments at the Ocala Police Department where I put things in question — this job is no joke. It's much easier catching a football and getting hit as opposed to catching a criminal with live ammunition who really doesn't care much for your life. I'd much rather take that hit coming across the middle than take that bullet from anywhere."
OPD officer Cheyenne Boyer attended police academy with Price and knows him as well as anyone else on the force. She sees qualities in Price during the line of duty that should serve him well on the football field, and it's not all of the physical nature. Price stands over 6-feet-2 and weighs over 230 pounds, but his demeanor stands out more than anything, according to Boyer.
"He looks intimidating," Boyer said. "But when he starts talking to people it all just washes away. He's very humble and people take a good liking to him. When we're in a heightened situation, he just talks to people and he can bring them from an escalated emotion to de-escalating them and calming them down."
Boyer remembers moments at the academy when Price took on a leadership role and helped motivate the other cadets. In physical training, Price would naturally finish first in most exercises, but he would always go back to help motivate the others.
"Sean is a team player, whether it's out on patrol with the rest of us or it's on the football field. He brings that motivation, that leadership and his kindness to everywhere he goes. I've never seen an XFL game in my life, but I told him we're definitely going to be watching it and I'm sure we'll get together with other people at the department and make sure we watch his games.
"Nobody deserves this more than
Sean Price."
The correlations between being a football player and a police officer are few, but according to Price they are relevant. Price said he believes his time on the force has helped build his character and mature him as a person in ways that will actually make him a better player than before.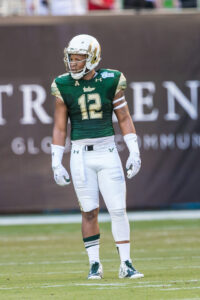 "As a law enforcement officer getting back into football, I think it has helped me a lot, helped me mature, given me more patience and more mental toughness," Price said. "There is an itch to play ball, but there's a different approach to it now after being a law enforcement officer, like the way you think. My whole way of thinking has just changed – in a good way."
Chief Balken faces a bit of a conundrum with Price — he fully supports a man and his dream, but he also wants to keep a good officer on his force. When Price informed him of the opportunity to play for the XFL, Balken had a decision to make and he chose the route that best suits everyone.
Price will not be quitting the force per se, but merely taking a leave of absence. Balken has assured Price that when his football days are over, there is a spot on the OPD force waiting for him.
"It's mixed feelings," Balken said. "He's a tremendous police officer, but to see someone's dream come to fruition outweighs the 6-month leave of absence, or even longer, for me. I'm hoping he can attain those dreams in the XFL and maybe even the NFL one day and still have plenty of time to come back and give to the community he grew up in and that he loves."
Price goes to Las Vegas with the understanding that if things do not work out on the football field, his job awaits him upon return. That fact gives him peace of mind and also a gratitude toward the department that nearly leaves him speechless.
"I can't express my gratitude, how thankful I am for them supporting me and allowing me to take this journey without making me reapply or losing my job permanently," Price said. "It's really like a huge family at the Ocala Police Department, and we're still a growing agency."
During his time away from football, Price has maintained his speed and agility, constantly working out under the guidance of Tony McCall, himself a local legend on the track. McCall has Price engaged in more biometric and explosive movement training in addition to normal conditioning. Today, Price is every bit the physical specimen he was in college and as a member of the Renegades, perhaps even more so. He says the past several years there has been "no lapse of training" mainly because "I like to stay ready for whatever comes."
Despite his resume as a prep standout at North Marion and a collegiate star at USF, as well as his glowing performance at the recent combine, Price is not taking anything for granted out in Las Vegas. Others are out there working just as hard to earn the same job as he.
"Nothing is guaranteed — they are going to make cuts," Price warned. "I've got to go out there and do my diligence. Nothing is given to you; everything is earned."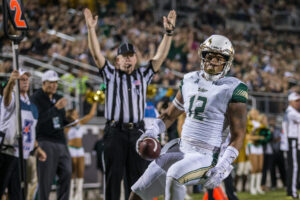 If he makes the squad, Price will be one step closer to achieving his dream, and back in Ocala and elsewhere will be a throng of men and women in blue cheering him on as he represents not only his hometown but law enforcement officers everywhere.
"We told him to put a badge on his helmet, but I don't think he's going to do that," Boyer joked.
There may be no badge on his helmet, but that badge will still reside inside Price as he takes the field, carrying his hopes and dreams while representing the force back home.
"It shouldn't go unsaid, the relationship-building, the repairing between law enforcement and communities around the country to know this young man is going to serve as a role model," Balken said. "As a role model on the (football) field with people knowing he's a police officer as well, I think maybe it can bridge some gaps and improve upon those valued relationships that we already count on with him in our community. I'm looking forward to him being able to help send that message throughout the country."
Price transitions from facing live ammunition to head-hunting defensive backs, but when he's there he won't be alone. With him will be an entire community of citizens and those wearing the badge.
Odysseus completed his journey to Ithaca and returned as king of the island. Price's odyssey continues and his Ithaca still awaits: the NFL by way of the XFL. Until then, everyone back home will cheer for the Vipers and their favorite son, the North Marion kid who would stare down a loaded weapon in service of his community.