Artistic
 

Determination
Her drive to create NOMA and foster Ocala's burgeoning art scene make Lisa Midgett OM's 2020 Person of the Year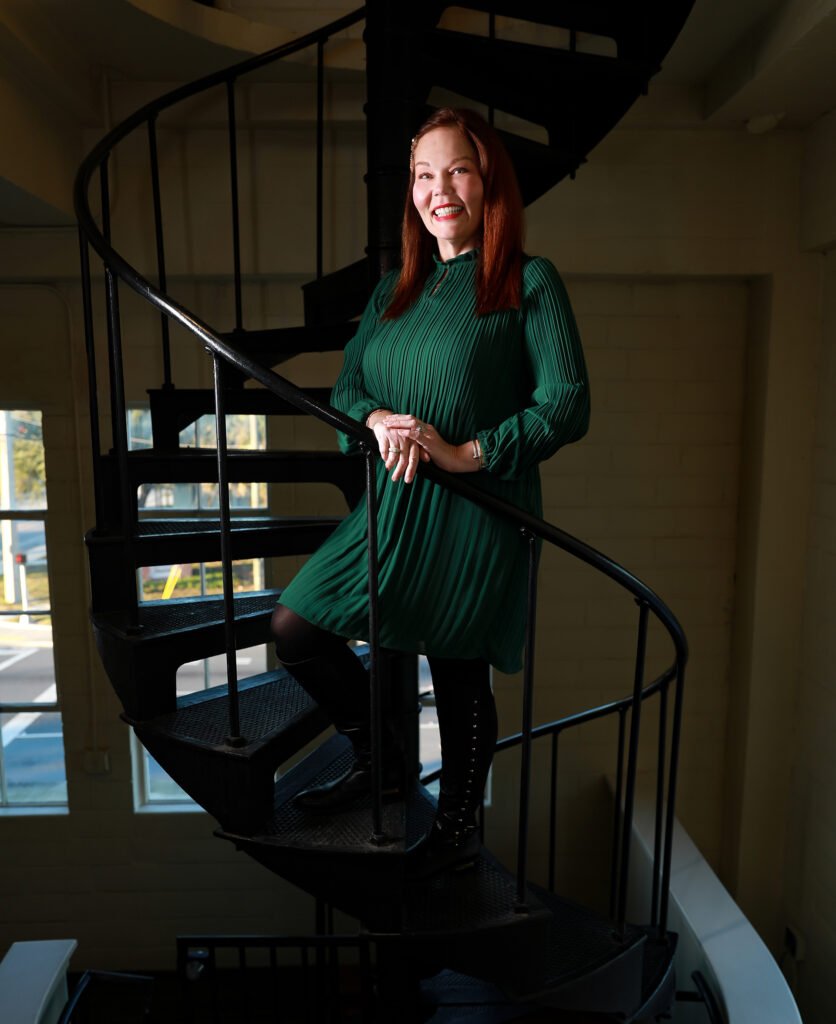 The unprecedented challenges brought forth in 2020 revealed the character of a community that refused to surrender to fear and lockdowns, grasping with white knuckles at any semblance of normal life that could be offered to a weary populace.
In the middle of it all was Lisa Midgett: businesswoman, entrepreneur, philanthropist, art aficionado and one who genuinely loves Ocala and its toddling art community. 
As schools, restaurants, small businesses and even art galleries ceased operations over pandemic fears and CDC edicts, the livelihood of most citizens lay naked on the sacrificial COVID altar. The effect on local artists was especially troubling to Midgett, who refused to simply wait until the pandemic was in the rearview mirror before plowing ahead with plans on a project on north Magnolia Avenue, the NOMA Gallery.
What started as a "pop up" temporary gallery to provide momentary relief for artists has now become permanent thanks to Midgett's vision.
"Because of that experience," Midgett said of ArtCastle, the pop-up gallery that took place in her renovation project of the old Coca-Cola bottling plant building, "those six weeks together with those particular individuals I decided to keep it and make it a permanent gallery."
Forging ahead with renovations and planning for a temporary art gallery made for a busy summer in what would otherwise have been a viral-impacted slumber. Art shows and festivals were being cancelled and even Fine Arts For Ocala was left without a home. Thanks to Midgett and the group of artists who helped guide her, NOMA not only provided a temporary space for FAFO, but also helped resuscitate an art scene seemingly on life support due to the pandemic.
With ArtCastle coming to fruition under Midgett's determination and guidance from local artists such as Mel Fiorentino and Diane Cahal, the project's legacy is a loud reminder that the arts are alive and well in Ocala.
"I created this space for these people that are so dear to me," Midgett said. "(The artists) did make money, but more importantly they got their sense of community back. Seeing the love that was built, the relationships that were built between us and that continued relationship has been incredibly satisfying."
Renovating an iconic building and turning it into a space of which the community can be proud was a major accomplishment for Midgett, but also one she is quick to point out many others had a hand in.
"I think it's important to know that I didn't do it alone," Midgett said. "I couldn't have done it without Mel and Diane or Isaiah (Pepper, gallery manager). Without the community support, it would have failed."
The hard work that went into the building's renovations led to the success of ArtCastle which gave birth to NOMA as a permanent art gallery. But Lisa Midgett is not done there. At the direction of her husband David, the building will be home to more than just the visual arts as NOMA Records takes flight under him and the guiding hands of renowned music industry producer Bert Smith and his wife Xochi.
An independent record label, NOMA Records exists as a conduit for local musicians and songwriters to take their games to the next level.
"We are a 'soup to nuts' record label," Midgett said. "We can provide everything the artist needs. We're able to work with artists at different levels, from an artist who is brand new and has no followers or Instagram account but has a voice, to artists who have 10,000 followers, a YouTube channel and who can write but don't have a producer the quality of Bert Smith."
With David and the Smiths, NOMA Records provides local musicians an opportunity to branch out beyond the local bars and social media. This branching out into a different artistic medium is tapping into a local market that has been somewhat ignored.
"I think that we have as a community focused a lot on the visual arts in the past several years with public art and all the galleries that have opened," Midgett said. "I feel like we've done great with the visual arts, but we needed NOMA Records. We have some amazing, talented artists, but to get to that next level it takes a Bert and a Xochi and a David to help them get there."
In 2021, NOMA Gallery moves from not-for-profit to for-profit and will help fulfill a creative vision of Midgett's. Not burdened by the constraints and wishes of donors, Midgett can unleash the creative potential of artists without apology and this could make for an interesting new year.
Midgett has already assembled a calendar of exhibits that is peppered with local stars such as Fiorentino and David D'Allessandris as well as international artists who have suddenly taken notice of Ocala's art milieu.
"I didn't want to open as a non-profit because I am a fundraiser for a nonprofit and I did not want NOMA Gallery to be perceived as competing for funds," said Midgett, chair-elect of the Marion Cultural Alliance. "I wanted full control of what I'm able to do in this gallery without worrying about offending a donor or getting permission.
"I need to bring a good product to the community and they're demanding it."
Having survived a year of pandemic fears and business closures, Midgett has driven a project to its successful culmination and stands proud of what she has accomplished for local artists as well as the community as a whole. Her formula is simple: rely on people who are smarter than you.
"I try to surround myself with people who are smarter than me. I think by surrounding myself with people and artisans I trust, who are consummate professionals, has helped me elevate my game. I always try to have people in my life I can learn from and think that helps me be a better me and a better person."
Such a philosophy has worked well for Midgett and is a big reason she is the 2020 OM Person of the Year.