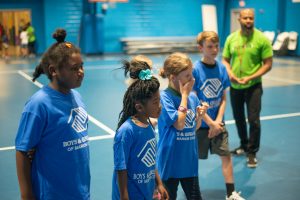 There is one thing we can agree on, we all want what's best for our children. As the saying goes, it takes a village to raise a child, a proverb which means that it takes an entire community of different people, interacting with children, for the child to experience and grow in a safe environment. Our "village" here in Ocala is the Boys & Girls Club of Marion County.
By Elka Peterson  Photography by Philip Marcel 
Last year, its three locations in Ocala, Dunnellon and Silver Springs Shores served approximately 1,200 kids, with an average daily after-school attendance of 200 and 329 during the Summer.
Executive Director April Savarese has been on board since May 2018.  She's lived in Ocala since the '80s and has actively been involved in the community.  Coming from a long career in banking, as a former Gateway Bank vice president, she admits that it's a big change going from profit to nonprofit.
"I'm doing things I never did before and learning from that," she shares. "But there are also some similarities like marketing the brand positively, building relationships with donors and making a positive image in the community."
There seems to be a common misconception that the Boys & Girls Club is just a daycare. This couldn't be further from the truth. Although initially it started as an effort to keep kids off the streets, it has grown and become so much more. "We put much thought into what is done here," Savarese offers.
According to statistics, the highest rate of crime is between 2 p.m. and 3 p.m., when kids get out of school and are unsupervised. 82 percent of kids come from low to moderate income families and don't have a place to go after school. They would either be home alone or waiting outside somebody's job. 92 percent of the kids they help live with only one or no biological parent.
The club aims to keep the kids out of trouble, provide a fun, safe and structured environment for them. This has the strong potential to impact their life and their future in a positive way.
The Boys & Girls Club of Marion County focuses on health and wellness, character and leadership and academic success. Each day the children are helped with homework, taught about sharing and caring, and encouraged to explore healthy eating and physical activity.
Each location has a computer room, gym, playground, arts and crafts opportunities and many other projects designed to engage the children. These varied activities, based on age groups, encourage a positive lifestyle. "It makes a big difference in their lives," asserts Savarese.
The Ocala location has a vegetable garden that the children tend, which is part of the health and wellness effort. "The children have fun and don't even realize that they're learning."
There is a minimal annual membership fee that goes directly to the Boys & Girls Club of America. There is also a weekly fee and an additional fee if bus transportation is required. Currently there are children from 18 Marion County schools, ages six to eighteen, that attend either the youth program or teen program at one of the three locations. The programs run Monday through Friday, 7:30am to 5pm and include breakfast and lunch.
Nobody is ever turned away for their inability to pay. The club is able to offer scholarships to local children, thanks to the Department of Juvenile Justice, the United Way and the Marion County Hospital District, along with Signature Brands, Deluca Toyota and many other corporate contributions.
The local clubs also hold fun events throughout the year to raise funds. Each club has events for their community like pancake breakfasts, nacho Fridays, basketball tournaments and golf tournaments. These events bring the community together for a good cause.
This month, Sisters on the Move is holding a fashion show, Fashion Flare 2019 on Saturday, March 2nd starting at 2 p.m. in the gymnasium of the Boys & Girls Club of Marion County's at 800 SW 12th Avenue. All proceeds benefit the Boys & Girls Club of Marion County. Tickets start at $10 and are available at allevents.in/ocala
The following Saturday, the club hosts one of the biggest events of the year. The Spring gala, titled A Night on Bourbon Street takes place March 9th from 5 p.m. to 9 p.m. at the Klein Center at The College of Central Florida. It promises to be an entertaining evening of dinner, dancing, raffles and a live auction with a Mardi Gras twist. Prizes will be given for the best costume. Visit bgcofmarion.com/calendar, for more information.
The Annual Corporate Basketball Tournament will be held on March 30th at 8:30 a.m. CO-Ed Corporate teams will battle it out for the championship title. $500 Team entry includes Team Shirts. Deadline to Register is March 15th. This is a fun event for the whole family. Come on out and cheer for your favorite team. Call 352-690-7440 or email admin@bgcofmarion.com for additional information.
All events are open to the public. The community is encouraged to attend and participate. We can all make a difference in a child's life and help with the mission of the Boys & Girls Club of Marion County.  Become part of "the village" and help a child reach their full potential. Their future depends on it. Learn more at bgcofmarion.com