New Location Brings Southern Decadence to Ocala's Historic Downtown Square
Written by R. Jill Fink
Photography by Chris Redd, Chief Photographer
The tireless effort being put into Ocala's historic downtown may be most evident when you drive over the hand-laid cobblestones on South Magnolia Avenue, just south of the Downtown Square, and the jewel in the crown of this revitalized block is Ivy on the Square.
Exquisitely decorated in muted grays and silver and accompanied by pickled wood floors, the entire space has been painstakingly renovated from floor to ceiling.
A massive, old-fashioned full liquor bar resides in the left side of the divided room, taking up station against a wall of exposed brick. Mirrors reflect the incoming light and bounce it off accompanying jeweled chandeliers and other décor, creating a dazzling display of brilliance that is second only to the delicious selections on the newly expanded menu.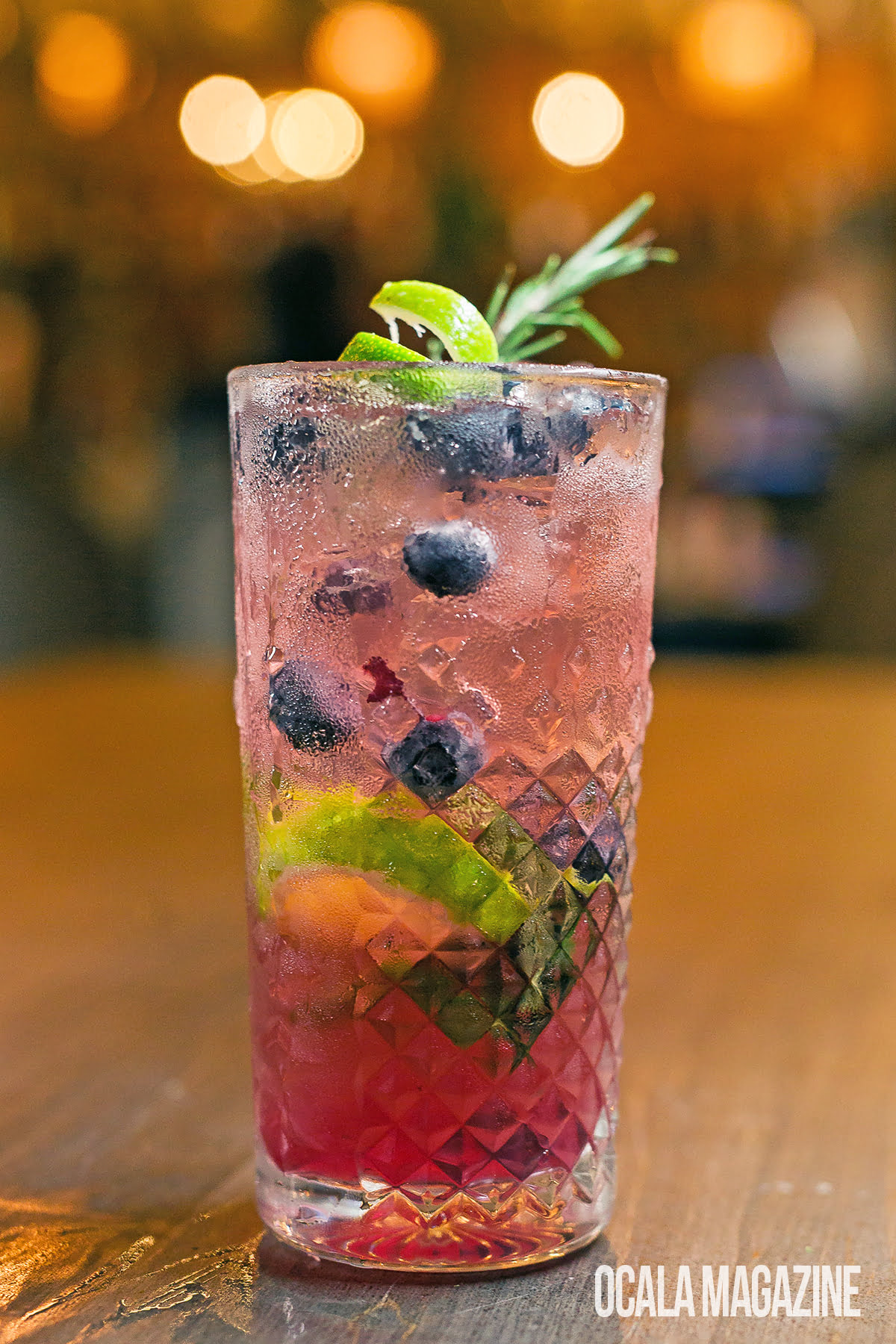 We tried the Thai Shrimp Wontons from the Southern Tapas Menu, which consisted of crispy wonton squares topped with a tasty and surprisingly light sweet chili sauce over perfectly cooked shrimp. The Chicken Wing Flight contained large wing flats and drums, delivered on a good-sized tray with an array of three sauces. Bourbon, honey mustard and PB & J were our choices. For tang and a bit of kick, go for the Bourbon sauce, but the PB & J is a must-try. All of them were fantastic.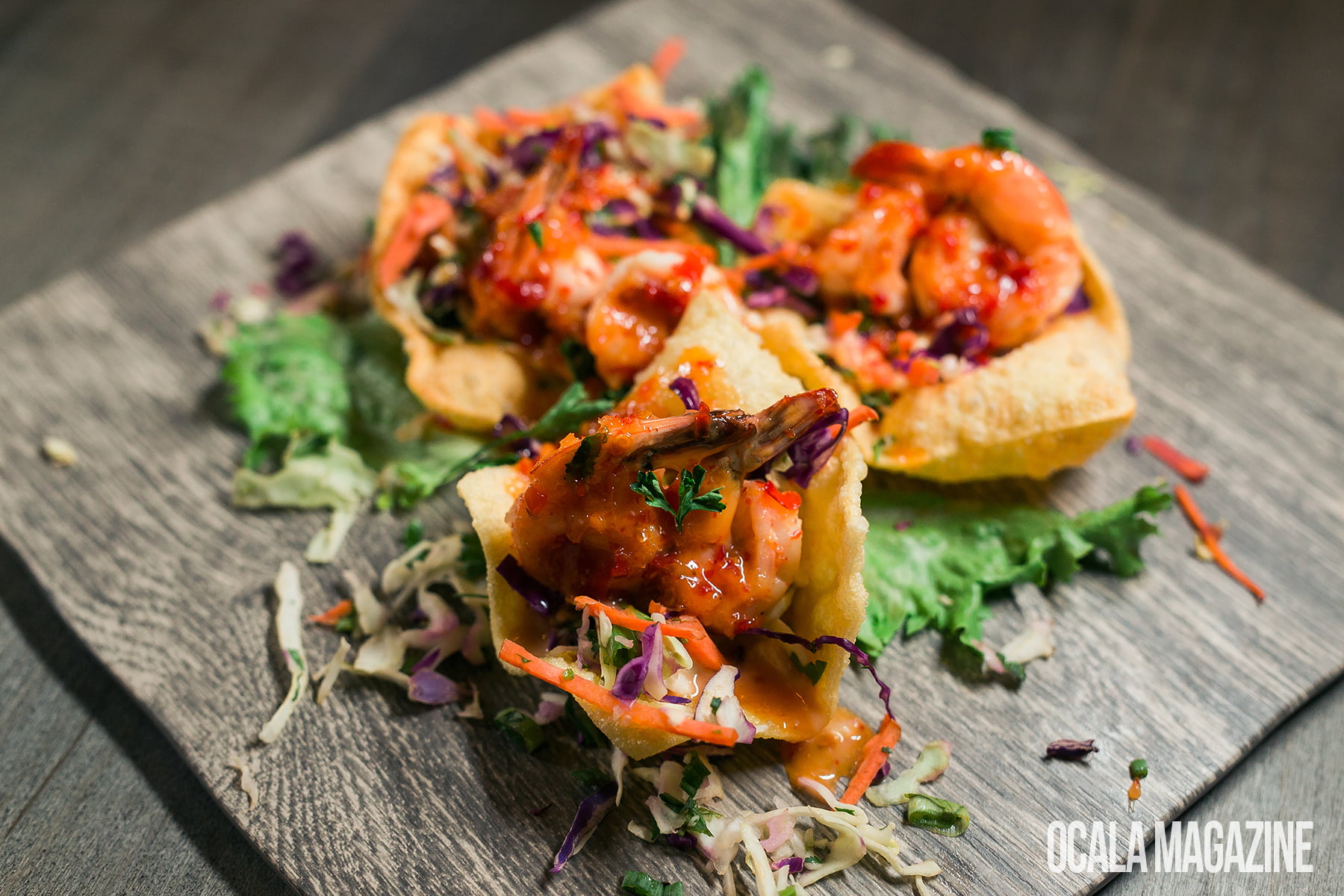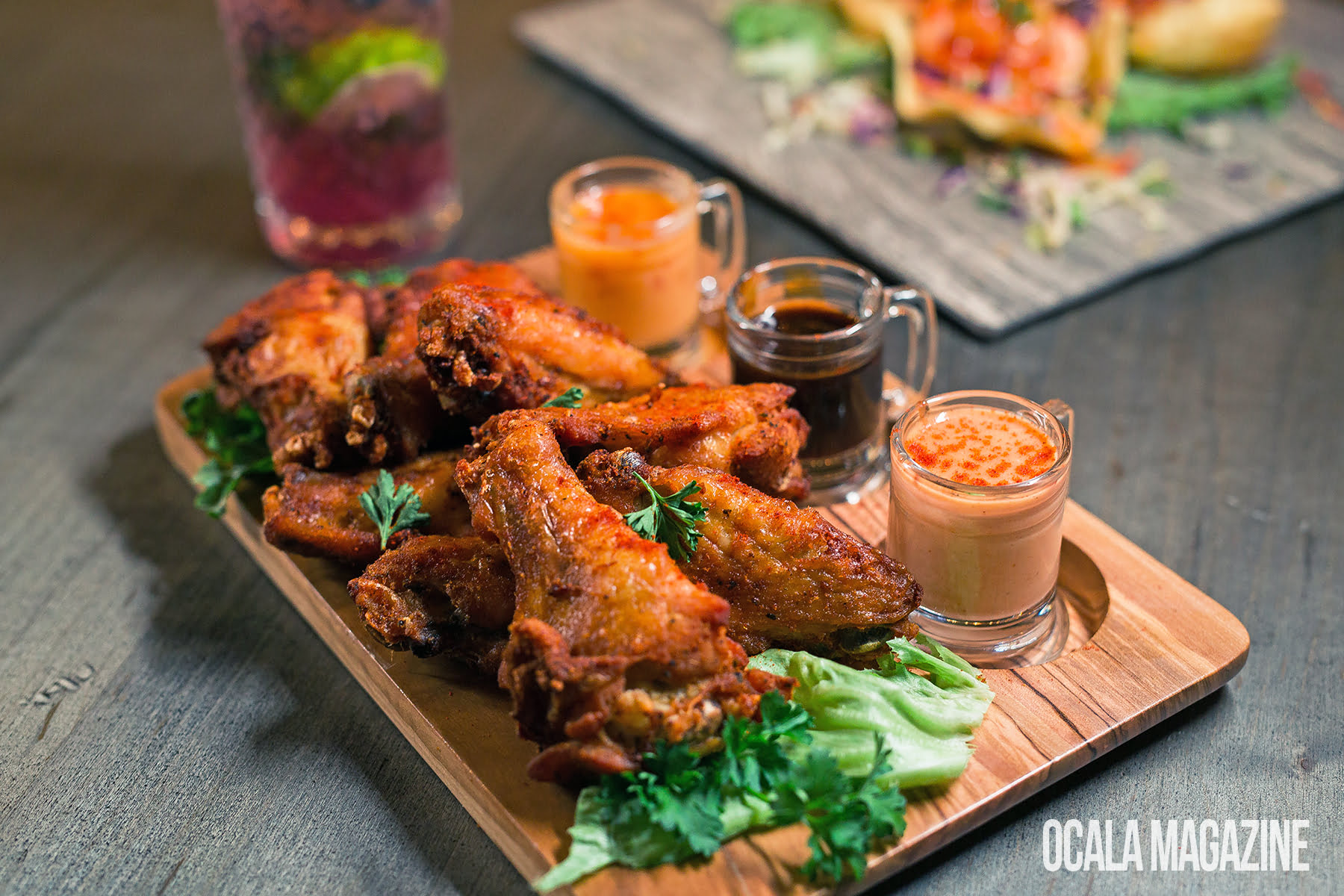 Next, we sampled the Filet Mignon from the gluten-free "Char & Coop" supper menu. This eight-ounce, hand-cut, grilled steak is served with a sea salt-crusted baked potato, sautéed mushrooms, vegetable of the day and a fresh garden salad. Our Fried Florida Lobster Tail was a huge portion of succulent, hand-battered lobster tail served with a creamy lemon sauce, baked potato and sautéed vegetables. After all of that decadence, the Pecan Crusted Salmon was a light and refreshing dish created with pan-seared salmon coated with finely ground pecans. The bed of tricolored quinoa upon which the salmon rested added a perfectly paired level of texture to the dish.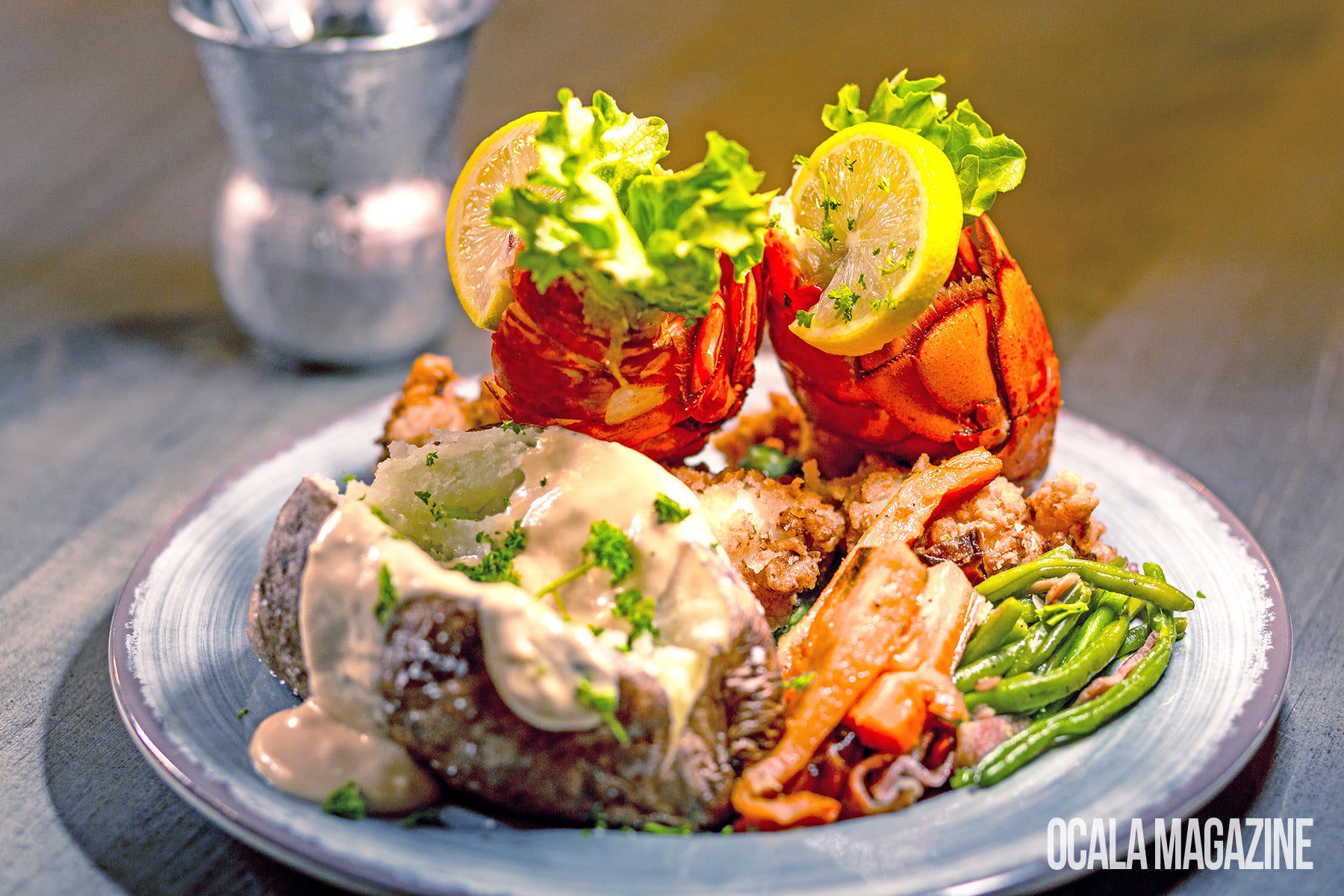 Other choices of dinner entrées include Baked Krispy Chicken, Pan-Seared Mahi, expertly crafted salads, hand-cut ribeyes, burgers and wraps.
For lunch, the soup of the day is always a great choice but Fried Green Tomatoes and the Pimento Cheese Fritters are definitely local favorites.
Our three samplings of "Giggle Water," as the menu states, were the "Lavish Mule," crafted from Hendricks gin, Roses lime juice, Reed's ginger beer, and topped with a sprig of fresh lavender; the Southern Stuffed Bloody Mary, which consisted of Tito's vodka, homemade Bloody Mary mix, Worcestershire sauce, Clamato, pickled okra, bleu cheese-stuffed olives, crispy bacon, chilled shrimp, and celery served on the rocks in a huge Mason jar glass rimmed with freshly cracked black pepper and celery salt; and a gorgeous cocktail called "The Bees' Knees," which contained Rum Haven coconut rum, Stoli blueberry vodka, lime juice, a splash of ginger ale, fresh blueberries and lime poured over muddled fresh mint leaves.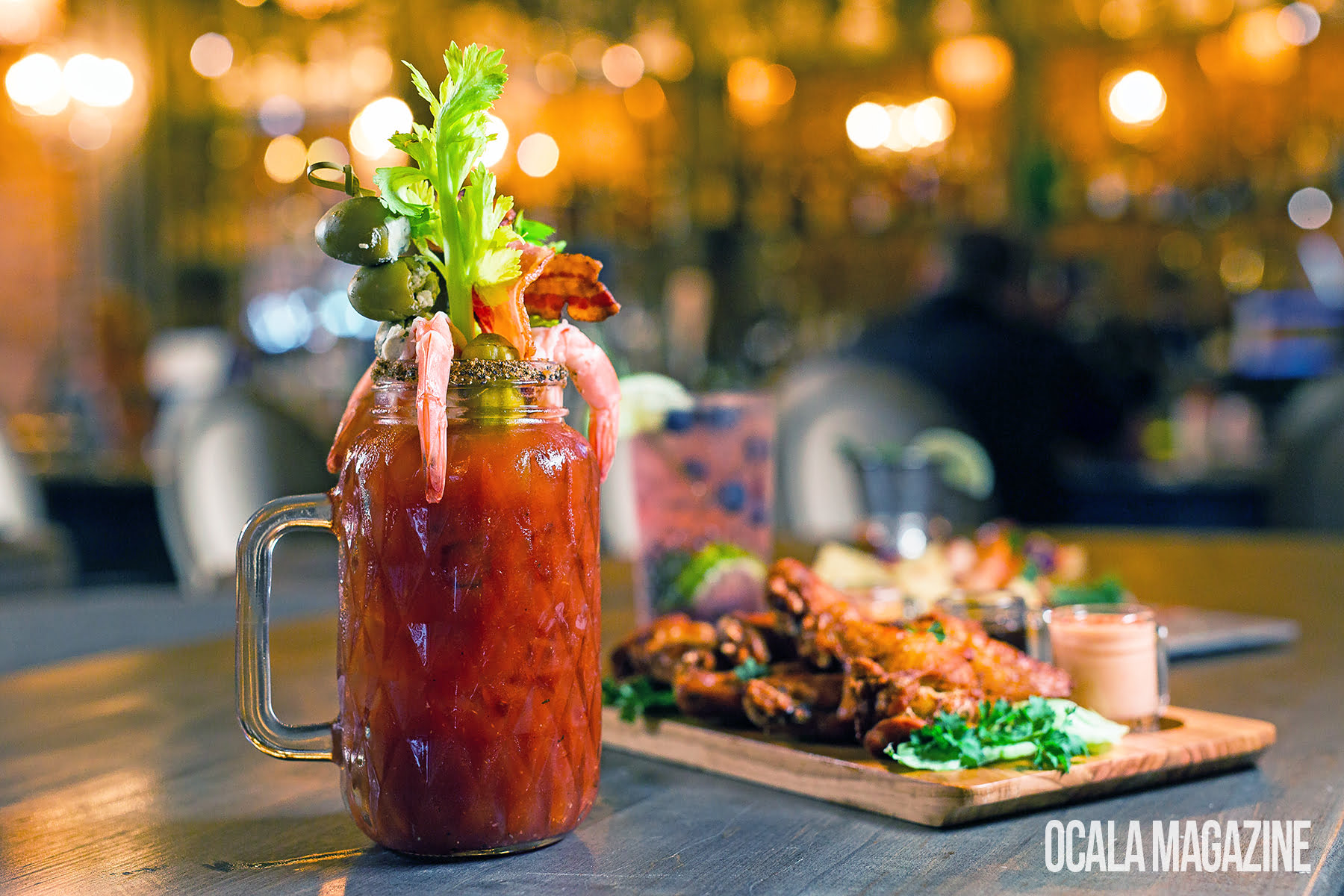 We didn't stop there … who can leave The Ivy House, Ocala Magazine's 2017 People's Choice "Best Dessert Menu in Town" winner, without having dessert?
The homemade Chocolate Midnight Cake was aptly named. This dangerously divine layer cake was slathered with butter cream cheese icing and drizzled with fudge sauce. Our Bread Pudding, vanilla-soaked French bread with a "whisper" of bourbon cream sauce, was light, fluffy, creamy, a bit boozy and a whole lot of fun. Dessert choices we didn't have room for, but will try next time, are the Key Lime Pie, Coconut Cake, Chocolate Mousse, Creamy Peanut Butter Pie, White Chocolate Crème Brûlée, Buttermilk Walnut Pie, and Pecan Tulipe, which is a vanilla bean ice cream confection with chocolate ganache and whipped cream served in a homemade praline shell and topped with fruit garnish.
Stroll over from the theatre to cap off the night with a cocktail or enjoy a sweet treat at the dessert bar. Check out their amazing specialty coffee menu as well. End a weekend with style by exploring the downtown area and stopping in for a glorious Sunday brunch. Whether you want to impress a business client or celebrate a special occasion, Ivy on the Square has the atmosphere and the level of service to make that happen for you. Frequent patrons are all greeted by name, but everyone is treated like family.
You can visit The Ocala Ivy on the Square at 53 S Magnolia or the Williston location at 106 NW Main Street. Call for special occasion reservations or more information at 352-622-5550.
SaveSave