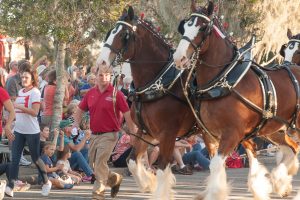 By Louisa Barton  Photography by Edward Laiz 
This year, the Parade of Nations Horse Celebration will take place on March 7th and has been renamed The Live Oak International Parade of Nations for 2019. The parade coincides with the Live Oak combined driving and show jumping competition, which runs March 7th through the 10th at Live Oak Stud Farm. Equestrian athletes from more than 20 nations come to Ocala to compete at Live Oak International. As the only U.S. combined driving and show jumping tournament, Live Oaks' sponsorship of the parade gives it an international flair.
Last Fall, the Fédération Equestre Internationale (FEI) made a decision to relocate the Longines FEI Jumping Nations Cup™ from Ocala to Wellington. In past years, the Parade of Nation Horse Celebration was held in conjunction with that competition.  
The new Live Oak International Parade of Nations promises to be an equally enjoyable event for the entire community, equestrian or not. A parade such as this will likely attract around 10,000 spectators to downtown Ocala. This adds to the excitement around the Live Oak International Combined Driving and Show Jumping event (LOI), a four-day competition that attracts many spectators. The equestrian event is now in its 28th year and is considered a true Ocala tradition.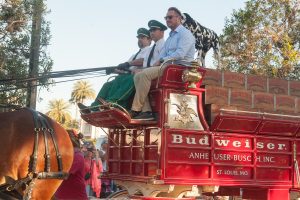 Chester Weber, co-president of LOI, will assume the role of the Grand Marshal of the parade. He will open the parade with one his teams of horses, followed by some more hitches and horse drawn carriages, entered in the parade this year. This exciting opening will be followed by an international group of equestrian athletes, carrying the flags of their Nations. Over 35 horses, many in costume representing their heritage, will then be led or ridden by their owners or trainers around the square to showcase many of the equine breeds who call Marion County home.
The parade will be hosted by Ocala Main Street in conjunction with the Ocala/Marion County Chamber & Economic Partnership's (CEP) Equine Engagement Committee, presented by New Millennium Realty. The parade will fill the downtown square with horses and riders, clad in attire befitting their breeds. There will also be an opportunity to meet and get a 'selfie' with a few of the beautiful horse breeds, from the tallest to the shortest horses in Marion County. Visitors will also be able to peruse the vendor village, where they can enjoy snacks and refreshments.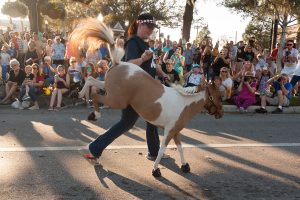 In the evening, what better way to continue the celebration of our community, and kick off a fun weekend of 'horsing around', then at Live Oak. It really does not matter whether you are sitting under a gorgeous Spanish moss-laden Oak tree, enjoying a glass of champagne and some gourmet delicacies, tailgating or watching the exciting marathon—you are sure to have a enjoyable outing.
Louisa Barton is the Director of Equine Engagement at Ocala/Marion County Chamber of Commerce, as well the host and executive producer of The Horse Talk Show.