We started off December with the Stirrups 'n Strides Urban Cowboy night. This was the annual fundraiser for this wonderful therapeutic riding center. They provide physical, mental and emotional support to disabled children and adults, who in many cases otherwise could only do very limited activities. The love of the horse shines through at this 501c3 and all who attend the program, are happy to be a part of it. The line dancing, bull riding, silent auction and Dolly Parton look-alike contest, all happened under the covered arena at their farm in Citra, and were all crowd-pleasers. Kevin Sheilley, CEO of the Ocala Metro CEP, donned a cowboy hat and boots and was a fun emcee for the evening. Hall of Fame jockey, Jacinto Vasquez donated an autographed photo of him riding the one and only Ruffian!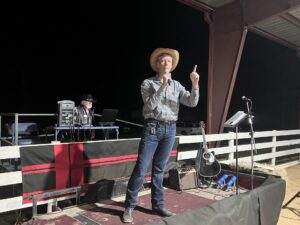 Then on to the ribbon cutting for the downtown equine-themed sidewalks in the Horse Capital in conjunction with the Florida Chambers Association's annual conference. A gorgeous Gypsy Vanner, Velvet Doll, from the Gypsy Gold Farm Tour (the number one thing to do on Trip Advisor in North Central Florida) joined Magic from Gentle Carousel Miniature Therapy Horses (the only living animal on the top 10 list of most heroic animals) at the downtown square. Just outside the Hilton Garden Inn Downtown Ocala, these two lovely horses looked on as the ribbon was officially severed by Olivia Fuller, co-founder of CEP partner Crystal Cryo. Fuller was so excited to celebrate and honor the official opening of these sidewalks in the horse capital with bronze plaques for champions connected to this area and bricks for farms or beloved pasture pets. This CEP equine initiative program is all happening with the cooperation and assistance from the City of Ocala and our wonderful Visitor and Conventions Bureau. An App will soon be developed by our VCB, so that visitors are able to access the storied history of horses in Ocala, Marion County.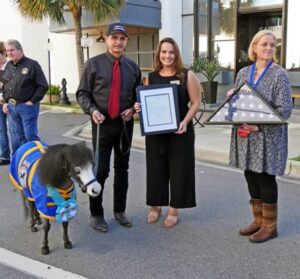 Next on to a wonderful red carpet event, the Hero Horse at the Marion Theatre. Magic from Gentle Carousel Miniature Therapy Horses, a 501c3 organization, arrived in a limo with me and Jorge Garcia Bengochea to a throng of fans and media. We hopped out onto the red carpet and into the theater for the documentary premiere of Magic's story, sharing how Magic helps thousands of sick and terminally ill patients of all ages and how she is able to bring comfort to so many first responders across the nation. Another great hero, Don, a WWII Veteran, was also present watching from his wheelchair. Don just turned 99 years old and since it was his special day, we all took a moment to honor him and his service and we sang happy birthday to him. Magic then exited stage left! This little Hero Horse, may be small in stature, but she is not small in courage or heart!
Then on to the CEP's Equine Initiative December Meeting and Equine 101, 'Christmas with the Marchadors'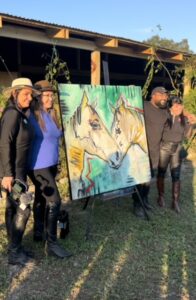 presented by Pyranha. This month, we held an equine-themed Christmas party at Oak Bell Farm, home of C&C Bellandis' Mangalarga Marchadors! The Marchador is the National Horse of Brazil. We were greeted by our gracious host Claudia Ney Bellandi. We enjoyed horse riding demos, a delicious Paella, demos by our sponsors, Crystal Cryo, Md Equine, Equigreene and Equus Tv. There was also a live painting of two of Bellandi's Marchadors, by Ocala's number 1 artist, EJ Nieves. This beautiful piece of art was then presented to Bellandi as a gift and as a thank-you for a wonderful event.
We then attended the Ocala Christmas Parade with Rudy Helmuth and his team from Big Horse Ranch, dressed as elves! A variety of horse breeds, Gypsy Vanners, Clydesdale, Percheron Cross,  Friesian Cross and a Quarter horse cross maneuvered their way through the streets of Ocala amid crowds of excited onlookers. These incredibly well-trained gentle giants did a phenomenal job and are a testament to Big Horse Ranch and their methods.
Can you believe there is more?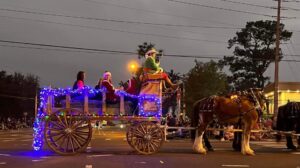 Yes, the CEP Equine Initiative is presented and sponsored by Pyranha Inc. Pyranha started their business here in Ocala and then became hugely successful across the USA. A few years back, they returned their focus back here to the horse capital, to support their local distributors and have also supported the CEP's equine initiative and all of its efforts in supporting and promoting the horse industry, in our local schools, through meetings, equine 101s and events. This year marks Pyranha's 50th anniversary and we celebrated with them, again at the Marion Theatre for their Pyranha Life documentary premiere. We followed that the next day with a Pyranha Life (a 501c3) Golf Tournament to benefit local equine and k9 charities with golf pros and 75k in prizes. This was followed by a lovely Gala at World Equestrian Center.
Horsing around here in the horse capital does not get much better than all of this! We hope you all had a lovely holiday, remembering the real reason for the season, spending time with family and friends and did not forget to hang stockings for your horses too! Happy 2023!