Writing a children's book can be difficult – especially when you don't have opposable thumbs!
Written by Nicole DeIorio, Editorial Intern
"Pleased to meet you. I'm Buck – Buck the Dog! I'm a Boston terrier. RRRRRUFF!"
Buck the Boston Terrier has many accomplishments under his paws – especially for only being around six-years-old. A published author, comedian and professional pest controller, Buck has done many exciting things in his six years of life (or is it 42-years?) Either way, life wasn't always this incredible for the Boston Terrier. Buck once faced starvation and the threat of euthanization before he found his furr-ever home. With an abundance of love and care, Buck and his owner forged a bond that developed into his first children's book.
Buck the Boston Terrier was adopted four years ago by Linda Yacovetti Arvanitis, Ocala Realtor at Remax AllStars Realty – and now published author. Before he was known as Buck the Dog, he was picked up by Winter Park Animal Shelter and given a second lease on life.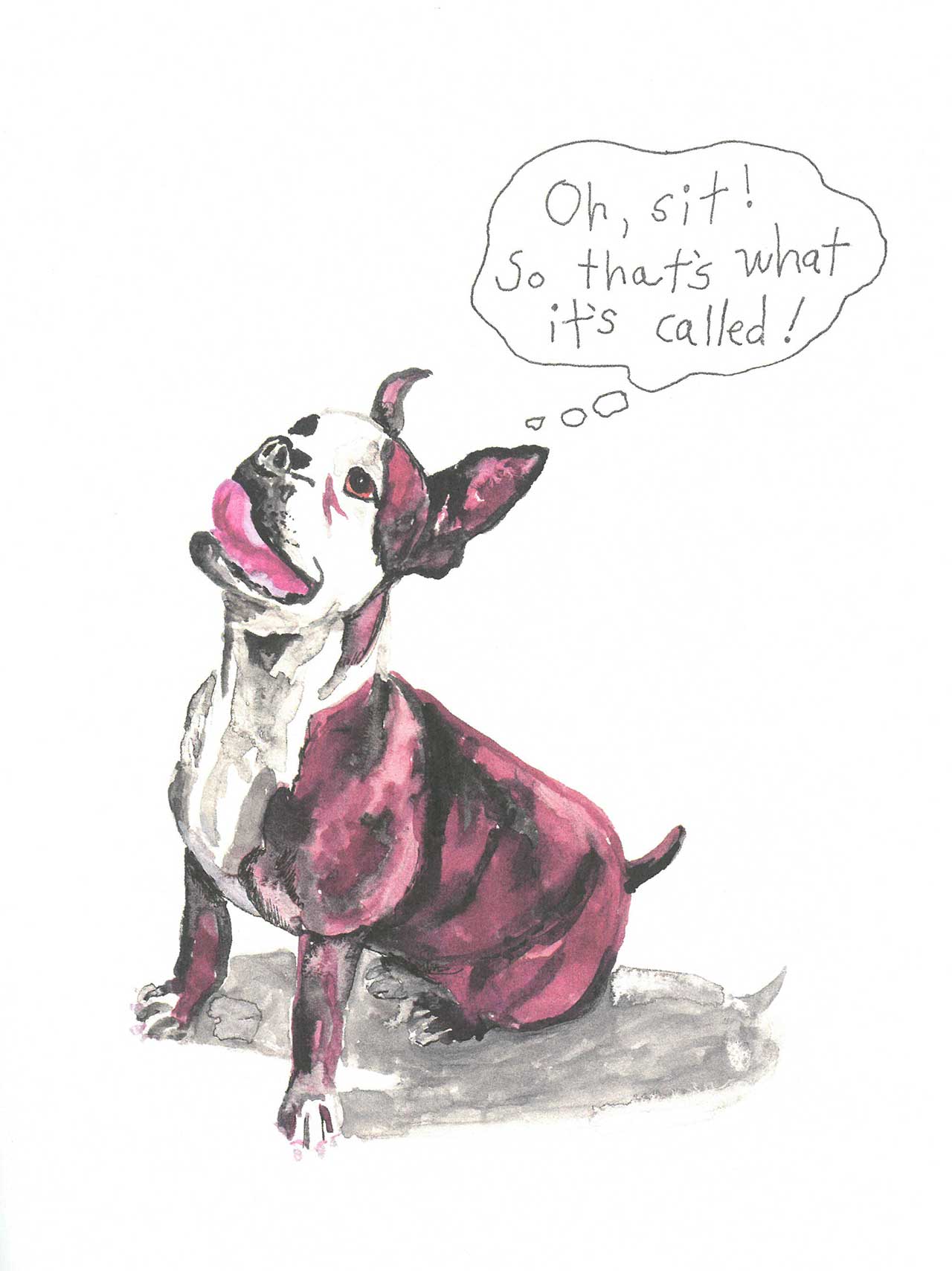 His snaggle tooth smile and brindle coat were dull from him being malnourished when the animal shelter found him. Little did the shelter know, the unnamed Boston Terrier's life would be changed forever. Being six-months-old when the pup was found, the Boston Terrier wasn't adopted until his first birthday.
The shelter tried adopting him out for months, but hopes looked grim for the sweet puppy. Thankfully, Florida Little Dog Rescue came along at the very moment Buck was scheduled for euthanization. They temporarily placed him in a foster home for the next nine months of his short, rocky life.
Meanwhile, Arvanitis scoured adoption websites, plotting the rescue of her future dog. She was a Boston Terrier lover at heart. Over her lifetime, she'd loved and lost four terriers. When she found the adorable Boston Terrier's picture, her heart instantly connected with him – she fell in love! That's when the plot thickened.
Having already scheduled to meet with the dog rescue, Arvanitis only needed to convince her husband this dog was meant to be in their lives. Her creative words won over her husband's heart and the following day they adopted the little Boston Terrier they affectionately named Buck. He was a perfect fit for their terrier-loving family.
"Buck's a warrior. I recognized that the moment I met the little guy!" Arvanitis said. "He must have been raised with big dogs at the shelter because he acts like a big dog himself – thinking he can take on the world! He won't even give small dogs the time of day."
Buck found a way deep into the family's hearts – as well as their beds – soon thereafter! Arvanitis, with a stroke of inspiration, opened Facebook and created a page dedicated to her lovable Boston Terrier – only one day after adopting him. Since then, the Buck the Dog page has exploded with interest in Buck's daily antics.
Arvanitis wrote what came naturally – humor. Writing from the perspective of Buck, she found his followers adored his hilarious jokes. Arvanitis' friends and family thought Buck's adventures were quite funny. In her posts, she affectionately called herself The Lady and her husband The Man. From chewing up pine cones to finding the sunniest spot in the house, Arvanitis documented Buck's curious antics — particularly, his love for chasing animals.
Buck's favorite critter to chase is a lizard, although that admiration is closely followed by his thrill for chasing squirrels. Buck's tenacious desire to chase animals doesn't stop with skittering creatures. In one of Buck's Facebook posts, he details his encounter with another one of his favorite animals. "I just got home from my walk with the lady and we came across a black snake. He was all coiled up, except for his little head. I was sure I would be able to go up real close to that little head and BITE IT…so that it would squeak, like my toys do. But the lady gasped – even freaked out a little bit – and pulled me away. Until next time, little black snake, if in fact that is your REAL name. I noticed you weren't wearing a name tag."
Friends and family told Arvanitis her posts should be compiled in a book. While building a social media following, she continued posting as Buck's trusty writer since he doesn't have opposable thumbs.
A year after starting the Facebook page, Arvanitis and Buck wrote their first children's book. In August of 2015, Arvanitis began compiling her posts about Buck. "Writing the book took an entire year! I never realized how long the process would take. Even after the story was written, finding an illustrator proved difficult and self-publishing took longer than expected."
In August of 2016, the adorable Boston Terrier released his first children's book titled Buck's New Home. Shortly after the book's release, Arvanitis attended a Florida Realtor Women's Conference. While she was there, her friends set up her first book signing. "Honestly, my first book signing happened by accident," Arvanitis laughed. "My coworkers set up the signing at the conference after hearing about the publication. I am beyond grateful to them for that opportunity."
At her next book signing, Arvanitis brought Buck. There was only one problem with this – Buck was more popular than the book reading. "The children flocked to Buck," Arvanitis said. "They were more interested in petting Buck – whose tail was going a mile a minute – than listening to the book reading. It was delightful!"
The local community has been very excited about Buck's story. When Arvanitis reached out to Barnes and Noble of Ocala for a book reading, the company jumped at the opportunity. They went above and beyond for the author, creating a book signing with Buck and a chance to put the children's book on their shelves. Since the start, Arvanitis has taken part in three book signings and readings with the lovable Buck.
"Buck has afforded me many wonderful opportunities," says Arvanitis. "From the day he came into our home, he has made his way into our hearts. He sleeps in our bed – something I thought would never happen. He thinks he's a human. Buck eats, sleeps and goes on walks when we do."
Since adopting Buck, Arvanitis' life changed. From having a Facebook page dedicated to Buck to writing a children's story to going to book signings to becoming an author – she is in awe of how much more happiness is in her life.
Arvanitis believes inspiration is a large reason her life turned out this way. "I follow my instincts and try to live without fear. My inspiration to write the book and reach out to Barnes and Noble of Ocala didn't lead me astray. It's one of the reasons I'm a published author with an incredible dog. Inspiration led me to adopt Buck which, in turn, afforded me these wonderful adventures."
Let Buck crawl into your hearts! Support a local author and, at the same time, enjoy reading a sweet dog's "tail" to your children. And make sure to follow Buck's adventures on his website.