BY SHARON RAYE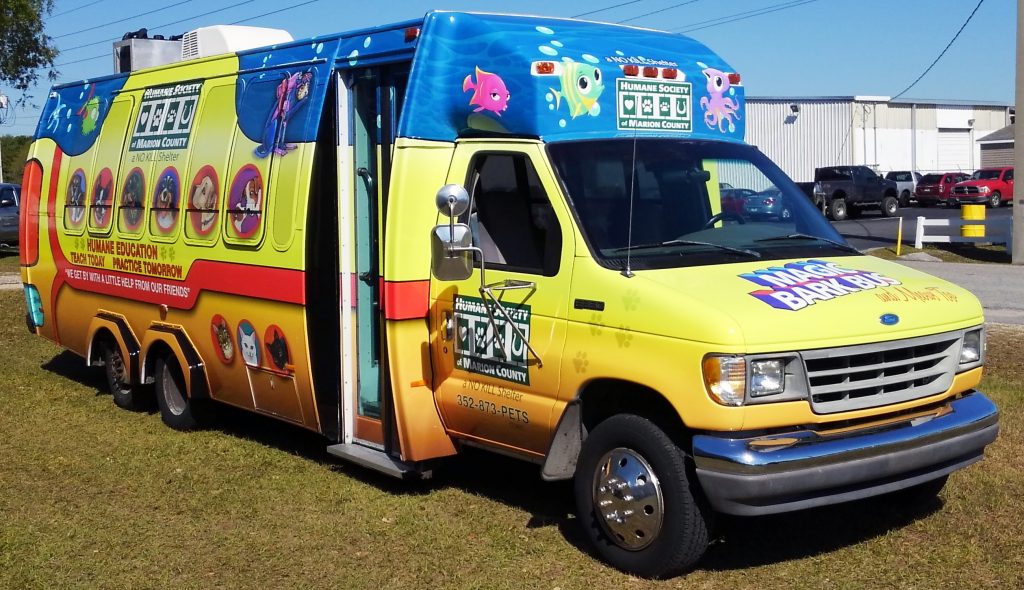 In a world which is increasingly becoming more disconnected, it is evermore important for community services such as the Humane Society of Marion County. I met up with Bruce Fishalow, the Executive Director at Humane Society of Marion County.
I found Bruce in his atypical office, which just happens to be in the gazebo outside in their beautiful Memorial Park. It was a perfect breezy day, and as I interviewed him, we could smell the aroma lofting over from the jasmine planted in the nearby meet and greet area.
I soon learned HSMC is not your typical animal shelter. Situated on 7 1/2 acres, the facility has plenty of outdoor space. 
"The animals are not locked up in a cage all day," explains Fishalow. "that's not what it's about. We have play groups for the dogs with a lot of interaction. The dogs get worn out!" 
With six hours of outdoor playtime—three hours in the morning and three hours in the afternoon—I'd say those are some thoroughly exercised and happy dogs. We can't leave out the felines/ they too have their indoor and outdoor fun. The indoor area a donor so generously decorated with blue sky walls, rainbows and cloud shelves is a haven for the cats lounging enjoyment. The room is also equipped with two floor-to-ceiling climbing/scratching posts. Just outside this room us an outdoor, screened-in room for the cats to get plenty of fresh air with climbing and lounging posts as well.
When I asked Bruce what their mission is, I was told they have three priorities.  "First we take pride in providing care for animals until they find loving homes. We are a no kill shelter and we do it the old-fashioned way." 
What's the old-fashioned way? "We don't just turn a dog or cat over to just anyone. We do our best to make the proper fit. If they have another dog, we do meet and greets and home visits." Fishalow adds that 2018 was a record year, with 2,012 adoptions. 
The second part of their mission is Education with The Magic Bark Bus. HSMC has been to every elementary school in Marion county this year. 
"Numerous Studies have shown humane education to animals greatly reduces animal abuse, spouse abuse, and violent crimes," he points out. " We are in it to make a difference."
With Erin Garri, Director of Humane Education and main educator at the helm, The Magic Bark Bus is certainly making a remarkable impact on our community's youth. Monday thru Friday, Sept to May, The Magic Bark Bus is on the road visiting schools and giving valuable humane animal education to K-5th grade students. By the time the year ends, they will have seen 20,000 children.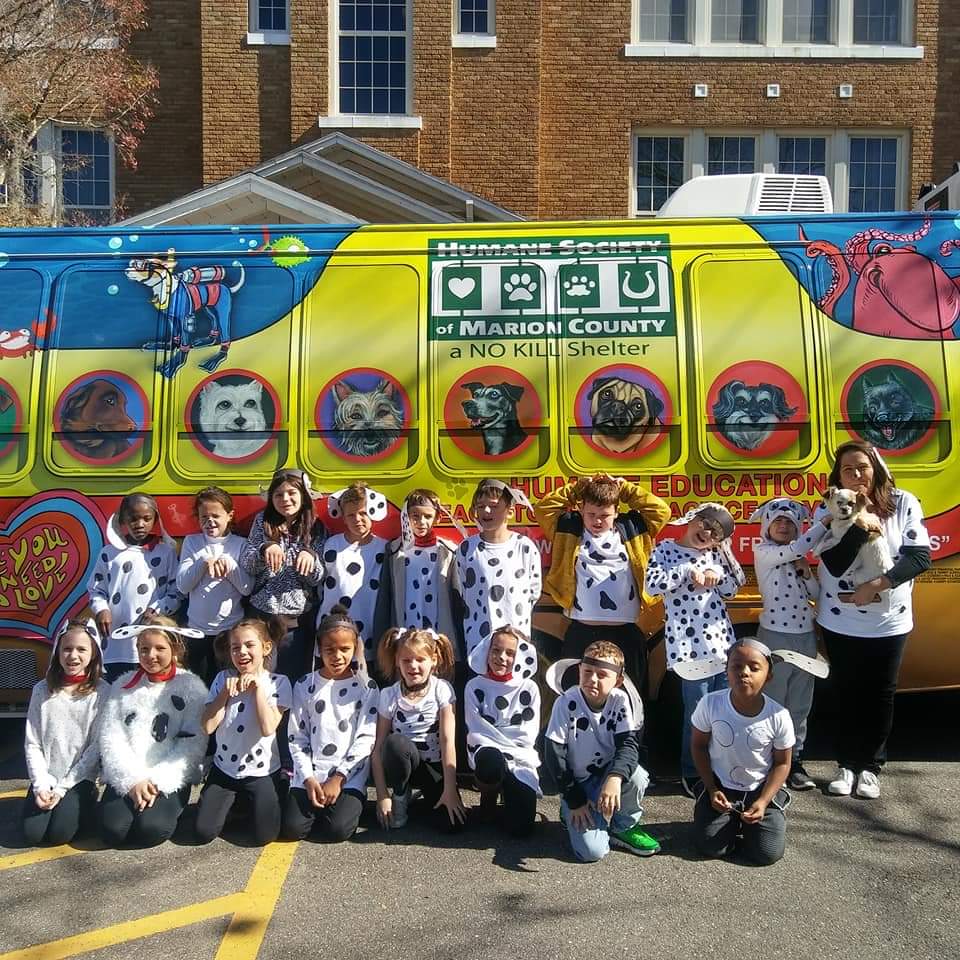 As Erin states "We're trying to not just go in and do the humane education piece; we're also trying to provide other educational skills like math and science. Then the teacher sees we're incorporating those things, I think they think the program is worth more than just coming in and talking about loving puppies and kittens. We're actually bringing skills in the classroom. We're actually expecting the students to use math skills and science skills."
The program is tailored to each grade level, and each classroom gets an individualized curriculum — such as comparing and contrasting worksheets and different levels of conclusion based literature. The children get 15 minutes of classroom time and 15 minutes on the bus with the kittens and puppies. It's such a positive experience for both the children and the animals alike. 
"The bus is not about adoption. It's about education for the children and animals," Garri emphasizes. "It's about [raising] a different generation of children who are pet parents who have compassion, character skills and correct pet parent information." 
Not only are the children learning, so are the animals, Erin adds. "It allows for them to have their first positive experiences with children as babies. When they go home with a family, they are well socialized, leash trained, crate trained and potty trained." 
HSMC has future plans to expand the program to the high schools, with more age appropriate education such as heartworm prevention and spay/neuter education. All of HSMC's outreach and education is funded directly through donations. 
The third part of their mission is spay and neuter to prevent overpopulation. Bruce is also an advocate for backyard breeder fees. He is lobbying to the county commission to pass a breeder fee. This is not to imply all backyard breeders are doing harm, but with this fee it will certainly make them think twice before they breed. Especially when there are so many animals available who are already in need of loving homes.
As I took a tour of the shelter one quickly realizes this is not a sad place; in fact it's quite the opposite. You can sense a true place of refuge and protection for the animals of Marion County. They are providing a temporary loving home and exceptional care for the current count of 270 cats and dogs. It is evident they are running a well oiled machine. Every kennel is immaculate, every unused feeding bowl was washed and drying, every blanket and towel neatly folded in its place. 
The tech room, which Bruce calls "The heart and soul of any shelter" is perfectly organized, and the surgery suite is ready to go. Lydia Albano is the head veterinarian and she performs over 1,500 spay and neuter surgeries a year, in addition to numerous other surgeries performed, such as amputations or kidney stone removal.
As we head back outside, I discover they recently expanded the facility by building brand new state-of-the- art kennels. These allow animals to still get outdoors in inclement weather. Bruce disclosed he had been in construction for most of his previous career. He changed the design by raising the gates off the ground, changed the gate's finishing to be more rust resistant, and built the new kennels. He wasted no time, beginning construction in April.  By May 2nd, they were complete. It seems as though the ongoing theme is to improve upon everything they do. Not only do they improve their own facility. They would like to share the construction plans with other kennels around the country, as they are very functional and economical to build.
Asked how people can help and get involved with Humane Society of Marion County's mission, Fishalow unhesitatingly responds, "We can always use volunteers. We have orientation twice a month. Donations. With a small donation you get your name on the bus."
HSMC holds events throughout the year and the community involvement is certainly needed.
The next opportunity to get involved is June 29th & 30th for The Famous Horsey Yard sale, which takes place four times a year in affiliation with a grand sale at the Tack Shack of Ocala & Tack Shack Too stores.
If you would like to participate as a vendor, it is $15 per car load for a 10×10 space. Anyone who sets up Saturday automatically will receive a FREE vendor pass on Sunday. Setup time is between 6:30-8:30am on Saturday and Sunday is 7:30-9:30am. Get there early as there are no reservations: It's first come, first serve.
Shopping hours are from 8am-6pm on Saturday and 9am-4pm on Sunday. 
For more information on this event go to Tackshackocala@yahoo.com or call 352-873-3599 If you would like to find out about HSMC other events, to make an adoption, a donation, or find out about volunteering they are located at 
Humane Society of Ocala
701 NW 14th Rd.
Ocala, FL 34475
352-873-PETS
Each of us can make a difference, as the sign on HSMC door so appropriately states- Kindness to Animals builds a better world for all of us.