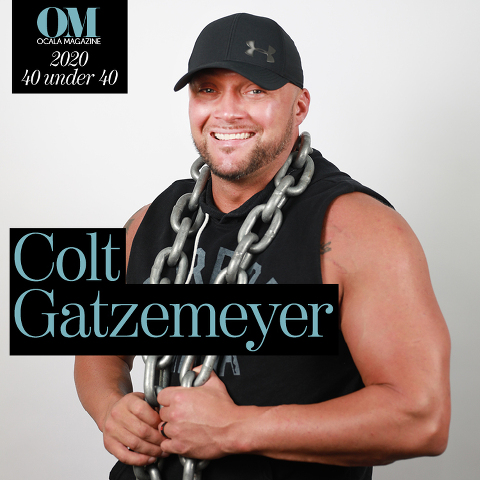 Name: Colt Gatzemeyer
Age: 32
Title/Company or main life pursuit: Breaking Chains Personal Training – Transforming Lives
What is your word and why did you chose it?
Redemption. I chose this word because it represents a lot to me.  It's regaining back what was lost — regaining control of your health, life, attitude, everything.  We always have the power to control our path; if you don't like what you see in your past that doesn't have to dictate your future.  We are the writers of our own book and we control the outcome.
What aspirations do you have for yourself in the next 40 years?
The mission for me is to touch as many people as I possibly can in a positive and meaningful way in every capacity, whether that be through fitness, counseling, or friendships.  I want to love on people and have them see the love of God through my daily walk.
Favorite way to give back to the community?
Suicide Awareness will always be my mission.  I want to raise awareness for those who feel like they have no hope and be that person or that voice that could help them regain their mental health.  I am looking at starting a non-profit in honor of my brother who passed away to suicide in 2011.
What do you love and/or hate about the Ocala area?
I love Ocala because it reminds me of home.  I am originally from Nebraska and Ocala has a lot of similarities.  It is small, friendly and has a charm about it that I find very relaxing and comforting.
A few albums and movies you'd bring to a deserted island?
As far as music, I would bring Skillet, Luke Combs, and Chris Stapleton.  For movies, I would bring "Remember the Titans," "Happy Gilmore" and "Hot Tub Time Machine."
You never leave home without: Telling my wife I love her.
If you could tell your 16-year-old self one thing: Love always wins.  Even flowers break through the concrete.