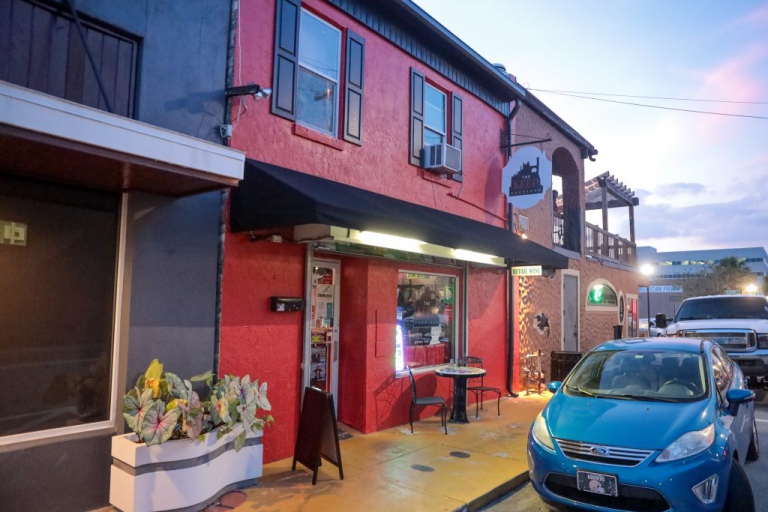 Mark and Megan had been discussing opening a small bar or restaurant close to the Downtown Ocala area when the owners of Ocala Wine Experience decided to sell. Naturally they jumped at the opportunity to actually make this dream happen. Megan has an extensive background in finance and has been at the helm of several businesses while Mark is a certified Sommelier and offers close to 20 years of experience in the restaurant industry. Together they came up with a concept rooted in bringing a unique experience to our town. After taking ownership of Ocala Wine Experience in 2016, over the course of the past three years they gradually started putting their taste and personality into the establishment. In May 2019, on the 20th anniversary of Ocala Wine Experience, and the 3rd anniversary of having become owners of such, they launched a full rebrand. Thus The Keep was born!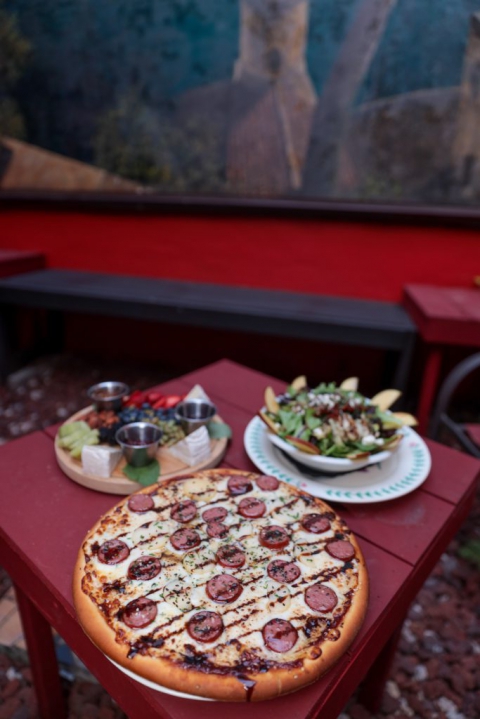 Drawing inspiration from their travels as well as their common love for the Medieval era, fantasy, and Vikings, Mark and Megan have made The Keep an extension of themselves and their home.The goal was to bring an alternative place to the area. They wanted to give Ocala the best of their journeys to some of the finest pubs and speakeasies in New Orleans, New York City, and all of Florida, and that is exactly what they have done. The physical location is small but it has a very big attitude. As you enter, don't be surprised to come face to face with 80s music videos. There is a full wall of wines to choose from as soon as you walk in, leading back to the whimsically lit patio area which is cozy and adorned by a beautiful hand painted mural that stretches the whole back wall. Upstairs you will find the "Red Carpet Lounge", a quaint bistro-style room where the low lights set the mood and you are bound to find some live talent performing. The basement-bar-feels are accompanied by great wine and mead, tapas, and a personalized service fit for a king.
The menu at The Keep stays true to the fantastical nature of the Viking theme while highlighting simple ingredients and classical pairings to a good glass of wine. Indulge in some authentic pizza topped with corned beef, Guinness BBQ, potatoes and mozzarella, or keep it light with a delicious house salad made with fresh sweet apples, genoa salami, olives, feta cheese and artichoke hearts served on a crispy bed of romaine lettuce and drizzled with tangy house dressing. If you're feeling a bit more classic, you could order a shareable gourmet cheese platter for the table or just for yourself. They are regularly looking for ways to improve so they have added extra kegs for a more diverse draft menu, bringing additional unique choices to Ocala's Downtown. In addition to their draft menu, they offer some delicious and exclusive wine and mead choices, with six to 12 honey wines in stock at a time, depending on the season, and demand. "Wine is a little intimidating but I'm a laid back guy and I present it in such a way that makes it approachable for people," shared Mark. "I help people get into wine and find wines they like and that's fun for me, so if I can do it for a living that's doubly fun." In addition to Trivia nights, goth nights, and open mic jam sessions, they also host events like wine tastings and Viking nights to promote their patrons to step out of their comfort zone and try new spirits. They also offer networking events, space rental, and catering options.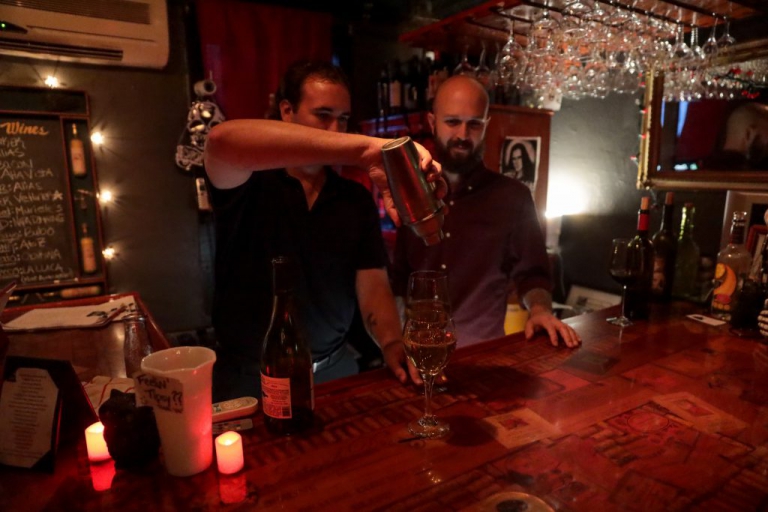 The dynamic duo have literally put their heart into this boutique pub. Their enthusiasm for this business is difficult to ignore and the power couple seems to have found the perfect balance between business and personality at The Keep. "I am extremely lucky to have a business partner who is very passionate about the product", shared Megan in regards to Mark. This passion translates to the quality of service you will receive when you're here.  As someone who is not versed in wine, I relied on his palate to recommend some choices based on my tastes and his Sommelier skills are sharp as a tack. He suggested wines I would've otherwise never tried, pushing my boundaries and compelling me to expand my palate as well—although I found my new favorite wine in his second suggestion and turns out it is an exclusive of The Keep! I asked them both what kind of advice they had for others pursuing the restaurateur or entrepreneur path and the information they shared was refreshing. Mark recommends that you do what you enjoy most. If you're passionate about it, people will see it. Megan suggests that clarity is key. "You have to get really clear on your plan," she says, "you shouldn't wait for every detail to be planned to go for it, but be as clear as you can be."
Megan and Mark's clear vision of what they want to contribute definitely brings a unique experience to the Downtown Ocala area. The atmosphere they have created depicts a modern day version of a castle's keep, where all the most important and valuable goods were stored. The keep would serve as the center of castle life, often also as the lord's residence, and, in our case, a safe haven for friends, food, and fun with a twist.