By Ron Wetherington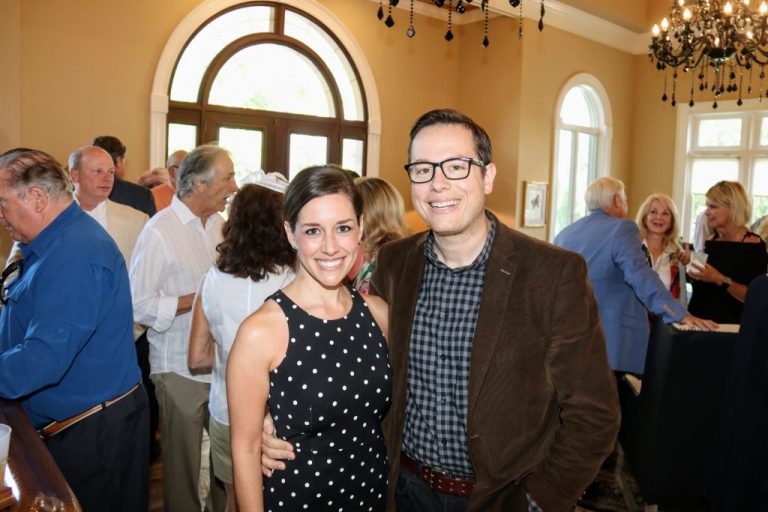 Derby Day at Stonecliff Farm
One of the biggest days in American sports was all systems go for the 145th running of Saturday's Kentucky Derby. The well-heeled guests at Bill and Cindy Nassal's Stonecliff Farm had winning connections to the thoroughbreds, some of whom were trained in our very own Marion County. The sun was not shining on "My Old Kentucky Home," as rain drops made for a sloppy track for the 19 horses and jockeys. At the conclusion of the Kentucky Derby, there were surreal scenes at Churchill Downs as the world waited for the five stewards' decision after an objection was filed against front runner Maximum Security. Horse lovers will be talking about the awarding of the garland of roses to Country House for years.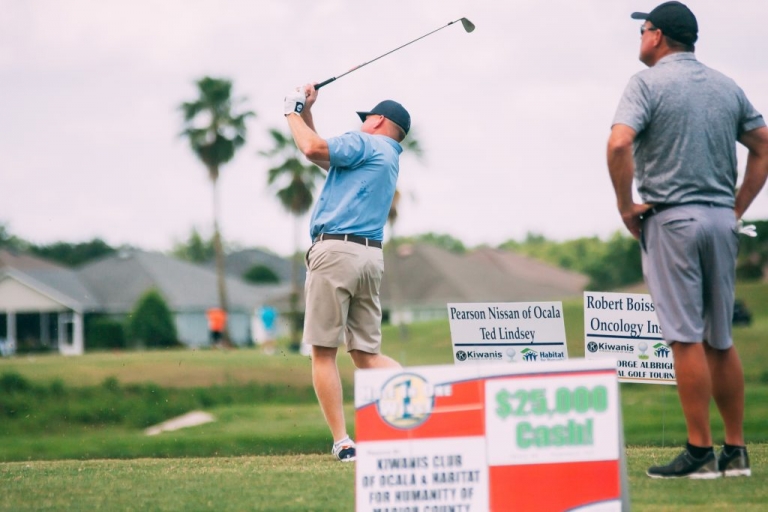 Golfers Take Flight
Ocala residents gathered for a day of sunshine and refreshments at the annual George Albright Jr. Memorial Golf Tournament. Hosted by the Del Webb Eagle Ridge Club here in Marion County. The flighted event based on aggregate team handicap was a huge success with participants driving their way to the 18th hole. With proceeds benefiting the Kiwanis Club and Habitat For Humanity, the tournament opened with a shotgun start as golfers did their best to keep their eyes on the prize. While the tournament may be over, you can still make tax deductible donations to the Save Camp Kiwanis and Habitat For Humanity by calling 352-867-7162.
For more information on the Kiwanis Summer Camp Program for kids please visit www.marionschools.net/Page/50753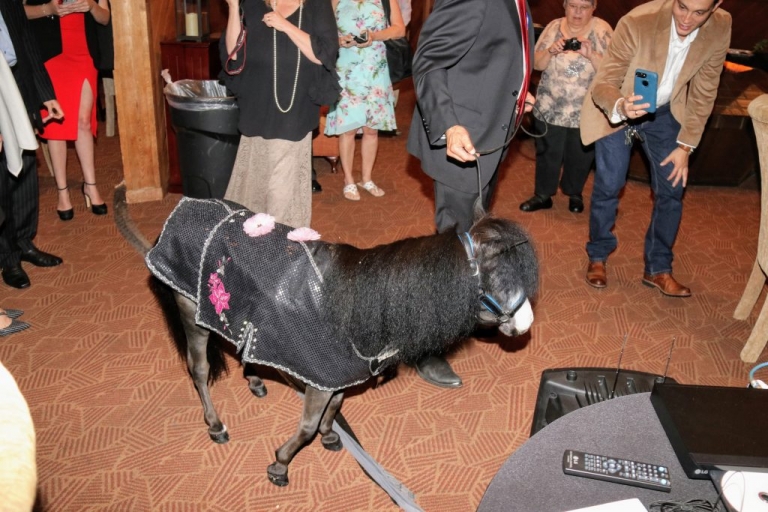 Nothing A Little Magic Can't Fix
The 2019 Gentle Carousel Miniature Therapy Horses magical gala was held recently at the Ocala Jockey Club. Louisa Barton was the master of ceremonies for a fabulous evening of fun, food and even magicians. Gentle Carousel Miniature Therapy is an award winning, all volunteer charity celebrating more than 20 years of service. The teams of therapy horses bring love to over 25,000 adults and children each year inside hospitals, hospice programs, assisted living programs and with families who have experienced traumatic events.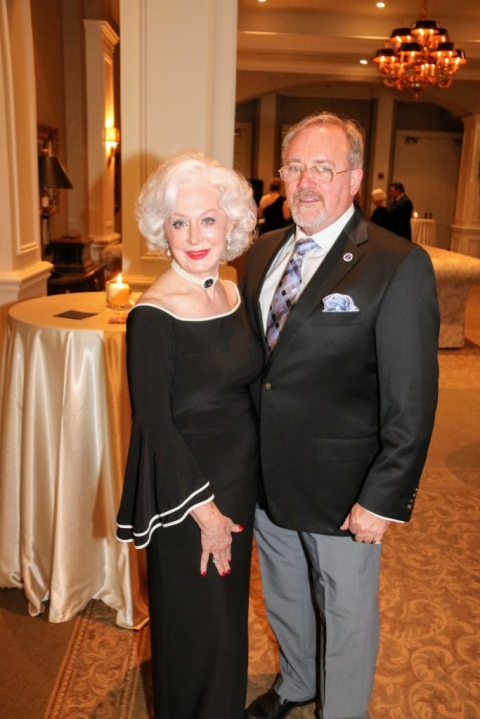 Symphony Orchestra Gala
On a perfect southern spring evening, local social denizens were all dressed up with someplace to go. That place was the Golden Ocala Golf and Equestrian Club for the 2019 Symphony Gala benefiting both the orchestra and the Reilly Arts Center. Over $117,000 was raised in this single evening. The theme for the evening was "It's More Than You Think," signifying the Ocala Symphony Orchestra's and Reilly Arts Center's important ways of impacting our unique community through the arts.
Guests arrived early for cocktails and a silent auction and stayed late for dessert and dancing. The silent auction featured art work from the Reilly's first couch sessions artists Mel Fiorentino and Jordan Shapot. Dinner was top drawer, with entertainment provided by vivacious Becky Sinn and Swing Theory. Performers from the Phantasmagoria danced through the crowd as they interacted with guests. It was fun to gather with friends and celebrate good music as money was raised for this most worthy of causes. The outreach and impact of the OSO/RAC is much more than what the audience sees onstage. Consider, though, that in 2018 alone, the Reilly hosted 166 events and 66,080 guests. Those are stellar accomplishments.
Sponsors of the evening included Stan and Martha Hanson, Bill and Cindy Nassal, Jim and Melodee Schneider, Neighborhood Storage, Gulf Mechanical Contractors LLC, Community Bank and Trust of Florida, The David and Lisa Midgett Foundation, HDG Hotels and Boyd Real Estate Group.
"Our mission is to impact everyone," said Matthew Wardell, CEO and Artistic Director for the Reilly Arts Center. "This includes students, seniors, affluent, less fortunate, country music lovers, symphony enthusiasts, hippies, rockers, and everyone in between—even those who don't think they like the arts. That's who we want to impact."
Some of the outreach programming highlighted during the evening included the Symphony for the Schools program, which sends OSO musicians into Marion County's elementary schools for a music lesson where they receive a curated music presentation. Through SFS, students learn about the orchestra, enjoy instrument demonstrations and hear about music from our professional OSO musicians. The Open Rehearsals program invites students and families to the Reilly Arts Center for free pizza, soda and an exciting behind-the-scenes experience as they join the OSO and Maestro Matt Wardell during their final rehearsal before a weekend of concerts.
The Reilly's current Veteran Outreach includes a partnership with Vet Tix and Vets Helping Vets to provide complimentary tickets for Marion County veterans for performances that include rock, jazz, theater, orchestra and more. Each July, veterans are honored during Red, White and OSO Blue: A Salute to Independence concert. Through the Community Ticket Program, the Reilly gives tickets to local non-profits so they can share the power of music with their clients and staff. The annual Young Artist Competition invites promising young musicians from across the country to compete for the title of Young Artist Winner. Winners from the junior and senior categories go on to perform their concerto with the OSO at a Spring Subscription performance and receive a $1,000 cash prize.
Guests were ushered through the evening by the Reilly's dedicated associate board of directors. This volunteer board is dedicated to growing the next generation of arts supporters and building meaningful relationships with other arts organizations. Since the board's creation in 2017, they have connected ballets with shoe driving, driven arts engagement to our 21-45 year old community and taken an active role in sharing the mission of the Reilly with Ocala's families.
Those interested in being a part of the Reilly's impact on our community should consider becoming a member. Various membership levels include concert tickets, recognition and VIP perks.
To learn more visit ReillyArtsCenter.com/donation-option or contact Pamela Calero Wardell at 352-351-1606, ext. 102.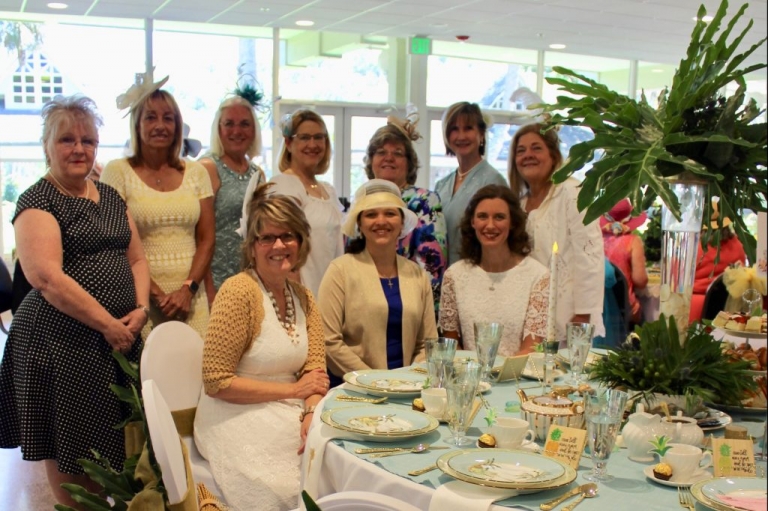 Tea Time At Interfaith
On Saturday, April 27th, over 150 ladies came together for High Tea in the beautiful Silver Springs State Park.  Hosted by Interfaith Emergency Services, 17 ladies set elaborate tables for their guests and enjoyed and authentic tea party.  Guests heard inspirational testimonies of women who were formerly homeless and found hope through the shelter ministry of Interfaith.  Through this annual event, over $15,000 was raised to continue this important mission of ending homelessness for women, children and families.