By Tricia Hiatt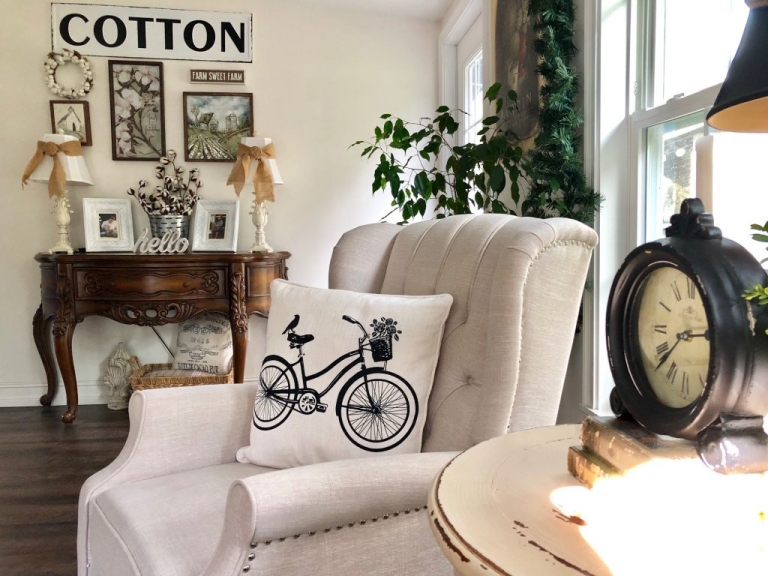 When it comes to interior design, there are countless styles to explore. Choosing the right one for your home can be somewhat daunting, but can also be a wonderfully gratifying process. There are the purists who prefer to stick to one distinct theme. And then there's those who decorate their home using a mix of styles. From traditional to modern, farmhouse to Boho, trends in home décor are always changing—but your home is a personal reflection of who you are and how you express yourself.
For me, French Country décor is the perfect fit and allows me to keep evolving my home and swap in and out fun elements that reflect each new season. There's something about its timeless charm that gives a home a feeling of warmth and comfort. The fundamental elements that characterize  this versatile style of decorating include stylish color combinations, decorative accents, architectural elements, and vintage furnishings.
The Palette
The breathtaking French countryside is filled with vibrant colors and for centuries people have been bringing the vivid colors found outside into their homes to curate beautiful, welcoming spaces. The color palette of French Country design can consist of warm, cool, or even neutral tones, allowing ample room for creativity. The fusion of the sea and the sun—azure blues and buttercup yellows—can make any space inviting. Warm red, kelly green, and lavender boast a strong presence in this old-world style.
A neutral palette, employing hues such as white, linen, vanilla, and soft gray, have been extremely popular for the past few years, because the tones blend so well together. When thinking of neutrals in French Country interiors, it's reminiscent of a time past when dyes weren't readily available and bright colors traditionally were not used in the home's décor, unless it was brought in from the garden or countryside.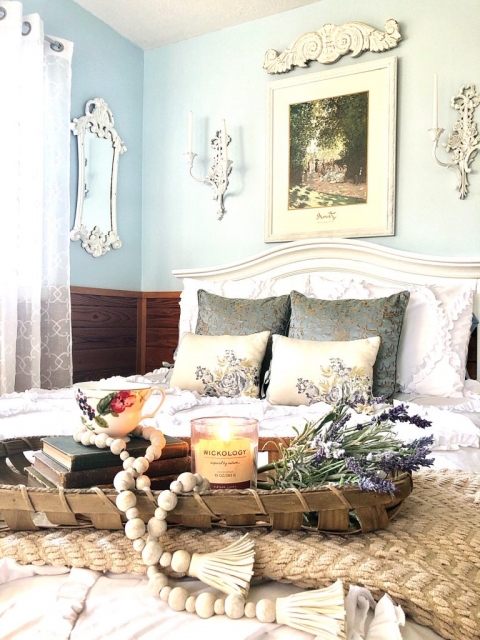 Decorative Accents
Objects with a sense of  history, whether true vintage pieces or artful new incarnations made to look like treasured heirlooms,  are essential elements in French Country design. For years and years, in French tradition, objects were used and later repurposed for use in country homes. Back then, people had to think creatively by reimagining old for new because big box stores weren't right at your fingertips. When selectng decorative accents to depict the perfect French Country look think about a blend of old and new items. Such as vintage finds and almost anything weathered and worn from years of use in a garden, old home, or barn. Additionally, integrate salvaged architectural pieces to add a rustic flair.
In the Kitchen
Seek out items that one might find in a centuries-old cottage kitchen, such as pitchers, ironstone, transferware, balances, dried herbs, wooden utensils, baskets, and clay pots to incorporate into your kitchen. Candles, flowers, plants, and scrolled wrought iron pieces are also staples. Boxwood, magnolia, lemon, or grapevine wreaths with natural foliage look amazing on a range hood or curtain rod.
In the Living Areas
Brass candlesticks  look gorgeous on a mantle, buffet, hutch, bookcase, or even intertwined in a tablescape. Arrange vignettes using antique books, chippy wood corbels, flowers, and greenery for pretty decorative accents in the main living areas. Large, round wall clocks, gold mirrors, botanical prints, and vintage commercial or industrial wood and metal signs make beautiful statement pieces for the walls. Chandeliers and light fixtures can be either ornate and feminine or decidedly rustic. Carriage house chandeliers, wooden beaded chandeliers with larger u-shaped metal or iron arms, and wine barrel chandeliers are all excellent choices.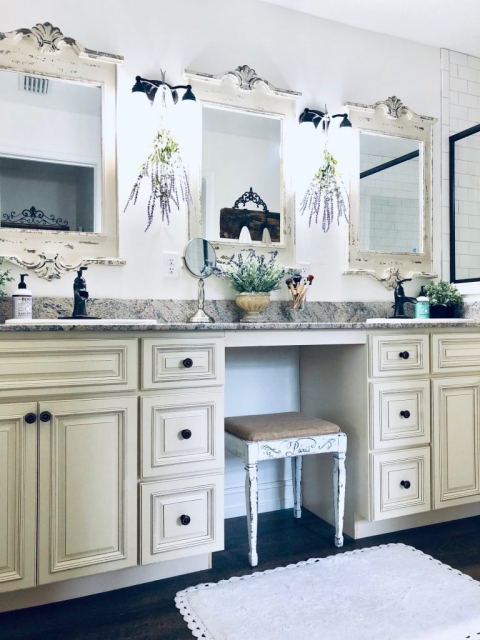 In the Bedrooms
Peaceful soft hues used in bedrooms create a serene atmosphere. White or off-white comforters or a quilt paired with a white bedskirt is a look that just can't go wrong. An attractive headboard will make a big impact. When it comes to the decorative accents in French Country bedrooms, think lots of luxurious pillows and blankets. Vases filled with fresh roses or lavender create an air of romance.
Architectural Components
Design elements such as dark wood ceiling beams, stone, brick, uneven stucco walls, and natural planked floors remain true to the traditional roots of French Country and infuse rooms with a relaxed sophistication. Everything is perfectly imperfect, creating a cozy, lived-in feel.
French Antique Furnishings
When it comes to choosing furniture embrace all things distressed, whitewashed, rustic, and weathered. Again, this style made up of a mix of historical periods, dating  back to the Louis XV time period (1715-1774), when furniture was curvy and used inlays of varying woods. Some of it was quite ornate, but furnishings don't have to be to suit theFrench country style. This versatility  is what is so nice about it.
Making it Cohesive
Combining these essential elements into your design cohesively can take years and years of practice, research, trial and error. Although that's also what makes it so fun and ultimately very satisfying.
One of the best things you can do if you are either new to decorating or looking to improve your eye for design is to take notes. When you are looking at magazines or HGTV or Instagram for design inspiration, really study the photos that you love and ask yourself what it is you love about them. Take note of the colors, textures, placement of pieces, and height variations. Take into account the number of objects in a space and how they are arranged and then start applying what you've learned in your own space. Practice creating vignettes, arranging furniture, create a tablescape, and most importantly: have fun with it. You be you and enjoy expressing yourself through the canvas that is your home.
If you'd like inspiration in the style of French Country or French Farmhouse, you can follow yours truly on Instagram @frenchflairfarmhouse.