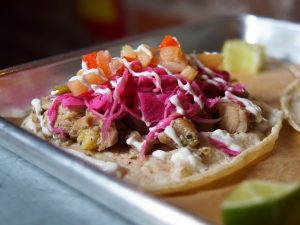 By: R. Jill Fink      Photos by Kevin Bischof
Remotely tucked away on sunny Mexico's West Coast is a small village called Sayulita, where quiet beaches shimmer as surfers ride the powerful waves of the Pacific Ocean. It is a scene of spontaneous excitement and powerful serenity. About 3,300 miles away, Sayulita Taqueria mirrors this interesting dichotomy by serving up some intensely tasty tacos and other gourmet eats in a fun, laid back atmosphere.
I could instantly tell that the creative menu is a source of pride for Bill Harmening, the owner and one of the brains behind the profusion of unique items Sayulita offers. Under beige canopies and strings of market lights, Bill and I sat outside in the peaceful courtyard to discuss how one of Ocala's newest eateries came to fruition. His entire face lights up when he tells the story of how some of their options were created. Just as much passion was put into the rest of the concept, which doesn't make a claim as an "authentic" Taqueria. He stated that their focus was "for every item on the menu to be special and really good." I can wholeheartedly attest that the dishes are ridiculously good and truly special.
Harmening has been in the restaurant business for over 35 years. He visited upwards of 40 different taco places before opening Sayulita and developed an acutely discerning palate when it came to flavor combinations and what he thought would become favorites on his upcoming menu. The choice is up to the customer as to whether they want one or more tacos, as everything is offered a la carte. This makes it cost-effective for customers and is also a great way to "eat your way through the menu," choosing different things to try each time you visit.
We started with a huge tray of steak nachos, which came piled high, starting with a base of thin, delicious yellow corn tortilla chips, which were made on the premises. They were topped  with generous portions of hot queso, black beans, crema, homemade salsa, pickled jalapenos and a sprinkle of shredded cheese. Next up was an enticing appetizer called the Tres Amigos; which included Sayulita's homemade salsa, freshly-made guacamole and hot queso dip, served with chips.
But the taco is the thing: A humble tortilla of either corn or wheat flour that can be filled with ingredients only limited by one's imagination. On the menu, The 101 is a great choice,  if this is your first visit to Sayulita. It is pretty much a "beginner" taco with your choice of either seasoned ground beef or chicken, lettuce, cheese, crema and salsa. The meat is seasoned to perfection and the house-made salsa really amps up the flavor. They prepare five gallons a day from scratch.
We tried the Al Pastor next, which had big chunks of tangy, yet sweet and savory, chicken and pink pickled cabbage. Not only was it visually stunning, it was really delicious.
The Malibu Taco was a surprise and a delight. I almost don't want to write about it so you can have the same experience without any preconceived notion about this tasty concoction. It's a vegetarian taco complete with zucchini, squash, mushrooms, red onion, cheese, and cilantro crema. The not-so-secret ingredient that will blow your mind? Plantain. The veggies are seasoned and grilled to perfection and they add in pieces of plantain, that really brings the whole dish together. We also tried the Shrimp Taco, topped with "boom boom" sauce, pickled cabbage, lime and cilantro. The sweet shrimp had a crunchy coating and was perfectly cooked.
Most fun menu items? The Dirty Dog Taco, which has a Nathan's hotdog, sliced, grilled, and topped with meat, lettuce, crema, salsa and queso. We also tried The Mexican Ashtray (don't let the name deter you from ordering this Mexican beer in a can, topped with hot sauce, salt & pepper, and lime.
Their sides, including rice and beans, grilled veggies, or sweet plantains, are a welcome addition to those epic tacos or any dish on the menu. There are lots of other choices for those who don't want to go the taco route, including quesadillas, salads, and burrito bowls. Save room for their sweet and crunchy churros, which come with one of the most delicious dipping sauces I've ever had. This Burnt Vanilla Crema, as they called it, is unlike the heavy  caramel that usually accompanies churros. Instead it is silky-smooth and quite light.
Sayulita offers a full bar and a very comfortable atmosphere for dining.  It's the perfect place for a romantic night out, a fun lunch or dinner or even a business meeting. All you really need to have a great time is a curiosity about innovative food.
Sayulita Taqueria is located at 10 Northeast 1st Street or check them out online at saytaco.com.