Conversation with country music singer, T Graham Brown
By: John Sotomayor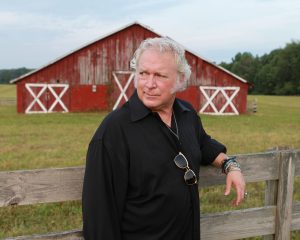 Few have had the diverse musical career of T Graham Brown. His range has been described from "R&B version of George Jones" to "Country Otis Redding." Regardless of how his music touches one's ear, everyone who hears his music agrees – they are listening to someone with a special gift.
With 15 studio albums throughout his career, Brown chartered over 35 singles on the Billboard, Cash Box, and Gospel charts since 1986. His hits include "Darlene," Don't Go To Strangers," Hell and High Water," I Tell It Like It Used To Be," and "Wine Into Water."
In 2014, Brown's album "Forever Changed" was nominated for a GRAMMY for Best Roots Gospel. His song "Wine Into Water" was recorded by Loretta Lynn on her critically acclaimed album "Full Circle," released in 2016.
Brown appeared on Country Music's biggest stage – the Grand Ole Opry – nearly 300 times since his debut there in 1986. On April 5, Brown will perform some of his greatest hits at the Orange Blossom Opry in Weirsdale, Marion County. In this exclusive interview, Brown gives us his reflections on his career, an inside look at his 2019 tour, and insights on what his fans can expect from attending his concert.
Q: You began your musical career in 1973 while attending the University of Georgia in your hometown of Athens. What was your early career like?
Well, it was a learning experience – I had no idea what I was doing. My buddy and I were trying to figure out the music business. We were singing together … we just kind of learned as we went. It was really fun. We would sing at night – every night – five days a week then get up in the morning and go to class at the University of Georgia. Just college kids having a great time.
Q: Almost 10 years later, you moved to Nashville in 1982 and signed with EMI publishing company where you honed your skills as a songwriter that led to a stellar award-winning career that includes a Grammy nomination, Country Music Award, ASCAP Award, multiple Christian Music Awards, Diamond Addy Award for excellence in advertising, and back-to-back Prism awards. How did that happen?
Just staying busy, man! Doing everything I can do. Taking advantage of all the fun things. It's been a great career. I've had a lot of fun. [The variety] was all mixed together from the beginning. [When] I started singing in Athens, GA, I was doing soul music. Then I put together like a country-rock kind of wild band, and then I moved to Nashville. I did a little bit of everything. I sang in the church growing up. Then it kind of got all mixed together, man! I never was just one thing. I don't like doing just one thing – I get bored … To me it just keeps things more interesting.
Q: Your variety does make an interesting career. Early on, you established a recording relationship with Sony Red and a retail partnership with Cracker Barrel Old Country Stores, simultaneously starting a long and successful career singing advertising jingles, becoming the "face and voice" of Taco Bell's wildly successful "run for the border" TV campaign for four years. How was that experience?
Yeah, I think those advertising things I started doing in 1983, something like that. I continued to do those but I got sidetracked in the '90s. I had an alcohol problem and, through the grace of God, and the love of my life – Sheila, I am sober now but I went through a really dark period in the '90s. Thank God I am still alive, because I could just as easily be dead. … God was not finished with me yet.
Q: You recorded for Warner Brothers and Sony. What happened to those songs?
You know man, I did an album for Warner Brothers that never got released. This would have been in the '90s. Then I got signed to Sony, and I cut some stuff for them that never got released. I kind of went through a couple of major label deals there but never had anything come out. So a lot of the '90s I didn't have any product out there. It was kind of like I dropped off the edge of the earth. As far as the public was concerned, they didn't know what happened to me. …I finally in 1998 signed with an independent label and we put out an album called, "Wine Into Water" … I don't know how many of those we sold, but we sold a pretty good bit of them – I mean, hundreds of thousands of them. …It was a pretty decent comeback.
Q: It was quite a comeback actually, because, "Wine Into Water" is a multiple award winner, and recorded more than 100 times by artists world-wide, most recently by country super star, Loretta Lynn, on her critically acclaimed album, "Full Circle." How did that song come to be?
Well, I was writing with a couple of friends of mine, and when we wrote that song, I don't think we were planning on it being what it turned out to be. It really turned out to be about me. I was talking with one of the writers the other day, and he said, "you know, I don't even remember writing that song, it's just like I looked down, and there it was on the paper." It was kind of a weird deal like that. As strange as some people will think this sounds, I think that song is anointed by God because its been used by so many people to get straightened out. It's just amazing. We are working on a book right now with a lot of 'Wine Into Water' stories. We'd get emails all the time, or people would come up to us after shows and tell us how the song has changed their lives…. A couple of days ago I got a message from a guy, it said two years ago his mother had died, and he was really low. He said, "I came up to a red light, and I was going to take a left and go to the bar… But I turned on the radio and 'Wine Into Water' came on right that second." He had never heard it before, so he said 'instead of turning left to go to the bar, I turned right and went home to my kids. It's been two years and I haven't had a drop since.' That's the way "Wine Into Water" has been working. Stories like that – it is just amazing… We have script writers …and we are hoping to make a Broadway musical out of it, is what we really want to do… We are kind of letting it do its thing. God is doing some [miraculous] things with that song. It's amazing.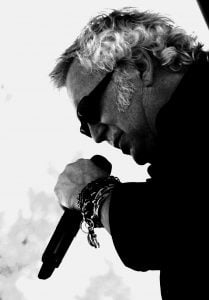 Q: Your career "forever changed" by hitting the Billboard, Cash Box, and Christian music charts 35 times with hits like "I Tell It Like It Used To Be," the self-penned "Hell and High Water," and "Darlene." What was your personal greatest moment?
That is a good question. I don't know – I had so many good moments. When I first went out on the road, when "I Tell It Like It Used To Be" came out, I was out with Kenny Rogers when he was really hitting big – I mean, you know, he was like the biggest star in the world, at that time. I did probably, close to 300 shows with him. I got to tour everywhere. We played every major arena in North America. It was really, you know, just a heady time. We were playing the big crowds every day. You know, like 20 – 25,000 seat arenas. It was really cool. And I got to work with a lot of people. One of the things that have been the best for me, and the most fun for me, is I've gotten to work with all my heroes … like George, Kenny, Conway, Willie, Waylon, Meryl, Loretta, and all those people [the pubic] knew by their first name. It's been a wonderful trip, man. A wonderful trip.
Q: You have had duets with some of the greatest artists of all time, including Grammy winners The Beach Boys, Tanya Tucker, Vince Gill, George Jones, Delbert McClinton, Jason Crabb, Brad Davis, The Oak Ridge Boys, and Rock & Roll Hall of Fame members Michael McDonald, Steve Cropper, and Leon Russell. What is your fondest memory of these duets?
Gosh, they were all just awesome. Working with those people is just a mind-blowing thing. I am really, really glad that I was able to get some stuff on MY records with Leon Russell. I have sung on some of Leon's albums in the past, but I have never gotten Leon to sing on anything of mine until we got him on that "Forever Changed" album. That was the last thing he did before he passed away. That is really special. Leon, in many ways, was my best friend. His wife told me one time, that Leon considered me his best friend… Leon was a very sweet, gentle man, and so talented. You could not have asked to know a nicer guy.
Q: Your first Gospel album, "Forever Changed" received the 2014 Grammy nomination. How has that forever changed your life?
Well, I mean, gosh – I had never had gotten a Grammy nomination [before that one]. A friend of mine, Max Harris, was in the same category and he won. (laughs) He had a great record. (laughs again) And I told him he was going to win. We were out in L.A. [when the nominations were announced], that was not even on our radar, but when that came down, it was like, totally out of left field. We weren't expecting anything like that. And it was really cool, man. I got a lot of compliments from it. It is pretty cool getting a Grammy nomination because, we were in a category with five other albums … and when you narrow it all down, it is pretty cool to be in the top five. …I mean – it's the Grammys – so that's really cool!
Q: You have performed on the iconic stage of the Grand Ole Opry hundreds of times, and maintain a busy tour schedule all over the U.S. and Europe. What is your 2019 tour like and how does it differ from others in the past?
Well, we had a meeting yesterday about the tour starting this fall, and they told me not to say anything. But its going to be really cool. Its going to be one of the coolest things I have ever been on. It's probably going to be a pretty big deal, in a lot of different ways. I'll be a minor player in the big thing, but I'll be getting my two cents in. [Also,] I think we are going to do another gospel album this year, and we are working on putting together a solo record. I've got this thing we've been working on called, "From Memphis to Muscle Shoals," which will be some songs, stacks, cut in Memphis, and some songs that they cut in Muscle Shoals that were hits… I'm looking forward to that.
Q: What can your fans expect from attending your concert at the Orange Blossom Opry in Weirsdale on April 5th?
Well, we've got a great band. I am really proud to be working with these guys. They are all wonderful musicians. I've always been lucky. I've always had a great band. We will come down there rompin' and stompin' and do most of the hits people expect, throw in a couple of surprises, … and we make it fun for everyone.
Q: After this tour is over, what's next?
Probably take a break for Christmas and then a couple of nights in the winter, then hit the road again. One thing I have to do in January next year is go on this cruise called the Country Music Cruise. I've done it a few times. This year, I think Randy Owen from Alabama is on it… Delridge Boys, Larry Gatlin, Pam Tillis, Tracy Lawrence, Moe Bandy, Johnny Lee, David Frizzell, Larry the Cable Guy, Linda Davis … its always a good cruise because there is so much music going on. As soon as you wake up in the morning until 3 AM, there is always solid music going on the ship somewhere. That is a lot of fun. I never know what is coming up. I did a couple of movies in 2018 that will be coming out this year.
Q: What are those movies?
One is called "A Ticket to Nashville" and the other is called "Second Samuel." They are both pretty cool little movies. And I got to be in the play "To Kill a Mockingbird." I get to play the bad guy. There is a musical we did called "Scattered, Smothered, and Covered – a Waffle House musical," believe it or not. It is about these people that get stranded in a Waffle House on Christmas Eve. It is really a fun thing, and I get to sing "Wine Into Water" in it. So, I am doing all kinds of stuff. There is a TV series that I'm going to do like next month, I think … a few weeks into the future. I'm doing all kinds of fun stuff, man.
Q: What do want your fans to take away most from experiencing your concert?
Oh, just a positive vibe, man. We just try to do what we think God wants us to do. We leave people in a positive place. I've had more fun now than I ever had… Everything is beautiful in my world. I've got the best job in the world – I get to make people happy for a living.