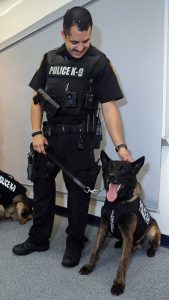 A year in the life of a member of the Ocala Police Department (OPD) is as eventful as you can imagine, and much of the activity goes unseen by the public. Each of us living and working in Ocala have a quality of life that is directly impacted by the actions of OPD's integrated team of professionals. However, rarely are we aware of the results being produced by our local law enforcement officials on our behalf. In 2018, their impact was profound. The following accomplishments and highlights provide a brief look into what takes place over 365 days at OPD.
Provided by the City of Ocala
The Community Policing Bureau
Saved 46 lives by administering Narcan to individuals who were overdosing.
Had two cases highlighted on A&E's national television show PD Cam. The officers were interviewed about these two cases.
■ Executed a five-hour standoff with an armed and dangerous suspect, resulting in an arrest with no injuries. OPD safely removed five children and their mother, a domestic violence victim, from the residence.
■ Negotiated with a suicidal man hanging from the I-75 overpass, convincing him to climb back over the fence and enter the safety of a patrol vehicle, to be transported for mental health treatment.
Deployed 43 employees to Blountstown in the Florida Panhandle for nearly four weeks, to provide hurricane relief following Hurricane Michael.
Confiscated 313 firearms from convicted felons and those engaged in criminal activity.
Unified Drug Enforcement Strike Team
Disrupted/dismantled nine Drug Trafficking Organizations.
Seized $6,822,573 worth of drugs from our community.
Made 424 arrests.
Seized 70 firearms.
Eight drug dealers referred  for homicide prosecution.
Seized the following substances: 16.4 kg of heroin, 11.9 kg of cocaine, .12 kg of crack cocaine, 508.4 kg of marijuana, 29.4 kg of methamphetamine (including MDMA and Ice), and 1,726 prescription pills.
Investigations Bureau
Obtained the first murder indictment (in the history of Florida) on a drug dealer for the overdose death of a 28-year-old female.
Closed two homicide cases, by arrest, the same day they occurred.
Dismantled a statewide theft ring responsible for $500,00 in losses, recovering more than $100,000 in tools stolen from Ocala.
Detective Sean Young received the Vance Ferguson Award for his exceptional performance as a property crimes detective. His overall clearance rate was 82%, which is three times the national average.
Victim/Witness Advocacy
Assisted 923 victims.
Handled 293 emergency call-outs, 863 domestic violence cases and 71 dating violence cases.
Crystal Blanton named Advocate of the Year by the Family Violence Prevention Workgroup of the Marion County Children's Alliance.
Conducted a human trafficking awareness presentation for Marion County School Administrators
Seniors vs. Crime recovered $218,180 for victims, from 77 total cases.
Youth Development
Added 12 School Resource Officers (SRO), bringing the total amount of SRO's protecting Ocala schools to 20.
Combined SRO Unit with Marion County Sheriff's Office to form unified Juvenile Division.
Hosted the Red Ribbon Week kick-off event at OPD, in partnership with the Community Council Against Substance Abuse.
Provided Police and Children Connecting (PACC) summer camp for more than 200 children ages 6 to 12.
Training
Conducted four training orientations for 30 new police officers.
Sponsored 14 police officer recruits through the College of Central Florida Criminal Justice Institute Police Academy.
Conducted eight Narcan training classes.
Introduced the DART virtual shooting range and added less-lethal impact munitions to equipment.
Traffic/Motors Unit
Completed nine traffic fatality investigations, including two involving impaired drivers. Those investigations resulted in plea deals with the SAO totaling 41 and 12 year sentences.
Wrote 61% of 4,597 citations. Reduced traffic crashes by 13.5%.
Brought home the first-place prize in statewide motorcycle competition.
Trained in Presidential and Dignitary Protection Escorts and served as protection escorts for the President and Vice President of the United States during their recent trips to the area.
K-9 Unit
Assisted in locating 189 illegal drugs, which is a 54% increase from 2017.
Increased total arrests, by the K-9 unit, by 56%.
Located 12 firearms that were used in felony drug cases and violent crimes.
Located more than 20 articles used in various crimes, tracked more than 50 suspects and located subjects wanted in burglaries, robberies, and homicides.
Welcomed new K-9 Handler, Alex Roos, and two new dogs named Jaeger and Cheney.
Officer Gerard King and his K-9 partner, Zorba, became certified in Human Remains Detection. In March, Officer King and Zorba assisted the Lake County Sheriff's Office with an investigation. Zorba alerted King to a specific area in a backyard. A search of the area yielded two charred bones.
Community Services Division
Handled 1,588 traffic crashes.
Provided and installed 114 car seats.
Sponsored and participated in five CarFit events for aging drivers.
Sponsored four community events for Occupant Protection/Car Safety.
SWAT
Provided security for large community events, including Light Up Ocala.
Conducted multiple callouts for armed/barricaded subjects, bringing all cases to a peaceful resolution.
Executed 15 search warrants for the Unified Drug Enforcement Strike Team.
Responded to the Forest High School shooting, aiding in building clearance and evacuation of students.
Communication Center/911 Dispatch
Improved 10-second answer rate from 66% to 75%, with an August to December rate of 80% or better.
Implemented Quality Assurance Program and completed more than 3,000 proactive quality call evaluations in six months.
Added a Communication Center Training Supervisor responsible for initial eight-week training for new dispatchers, and ongoing re-certifications and education.
Thank you to all of the men and women who serve the City of Ocala with courage, integrity, and character on a daily basis. Our community is a great place to live, in large part, because of your dedication.
To learn more about OPD, visit ocalapd.com or connect with us on social media.
Facebook – Ocala Police Department
Twitter – @ocalapd
Instagram – @ocala_police_department