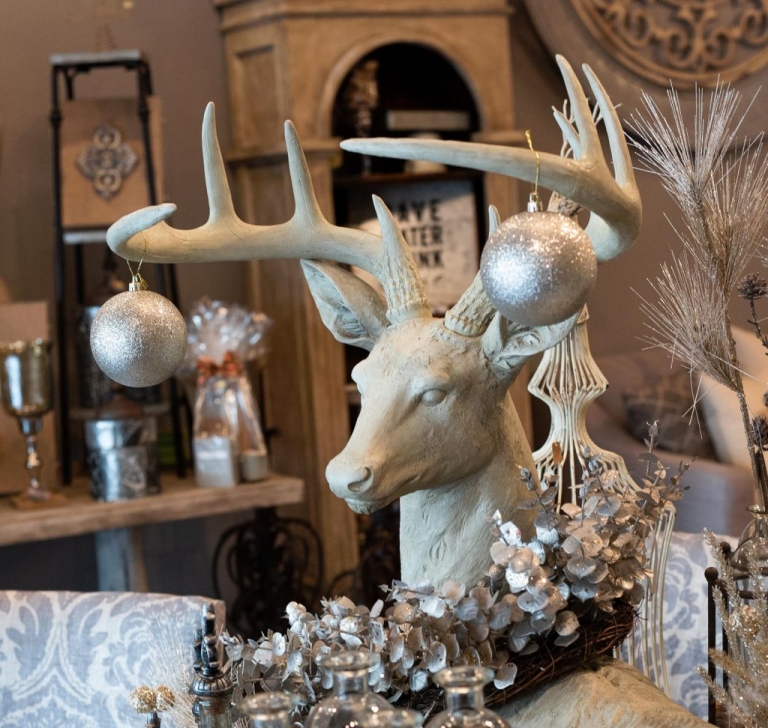 MAKING GIFT GIVING GREAT AGAIN
By Rose Derkay
Spreading the magic of the holiday season and watching a friend's excitement when they open a gift especially from you can truly make you giddy. Gift giving absolutely enhances the spirit of Christmas. Yes, it can be stressful, but we're here to help you avoid the pitfalls of wearing out your winter heals and soothe those bleary search engine exhausted eyes so you can focus on the true meaning of holiday — family, friends and feasting! So goodbye Google. We'll be your navigational tool towards wrapping up gift giving success, leaving you plenty of time to focus on all that's merry and bright.
"CHRISTMAS IS THE SPIRIT OF GIVING WITHOUT A THOUGHT OF GETTING. IT IS HAPPINESS BECAUSE WE SEE JOY IN PEOPLE. IT IS FORGETTING SELF AND FINDING TIME FOR OTHERS. IT IS DISCARDING THE MEANINGLESS AND STRESSING THE TRUE VALUES."
– THOMAS S. MONSON
From hand poured European chocolates, to wines paired perfectly for presents or holiday platters, unique decor for the home enthusiast or memberships to our exclusive art museum, we've found something for all those grown up girls and boys that make up your nice list this year.
MORE THAN A MEMBERSHIP
We've all covered the Magic Kingdom and the Universal experience, but when thinking of a season's pass there's two nearby places that offer both exceptional value and extreme affordability. These don't-have-to-drive-too-far alternatives to the wonderful world of Disney are a daily reminder of your Christmas kindness.
The Appleton Museum of Art.  With revolving fine art exhibits both contemporary and classic, and nearly every day access to an incomparable collection of 18,000 European, American, Asian, African, Contemporary and pre-Columbian art and artifacts, a membership to the Appleton Museum of Art tops our gift giving list. Get a membership in your favorite person's name for $35 ($30 for seniors, $60 for dual or family). Remember a one-day visit to the museum is $10 per adult.
Victoria Billig, Appleton Assistant Director says, "Memberships to the Appleton, are unique gifts that grant access to a world of art – for all ages! Give your family member, friend or business associate 12 months of free admission, special events, discounts on art classes and education programs, and the satisfaction that comes with supporting one of our community's most important cultural assets. These are just a few of many benefits enjoyed by Appleton members."
Kanapaha Botanical Gardens.  In today's age of high technology, research shows that our hunger for the natural world still endures. In fact, our connections with nature could just be the best medicine for people of all ages—improving our health, happiness, and well-being (Psychology Today). That's exactly why Kanapaha Botanical Gardens makes our list this year.
With 24 major collections, and a mile-and-a-half walkway, there's something spectacular to see on every visit. Gardens of Chinese royal bamboo, roses, herbs, and palm trees are only a few of the cultivated gardens which also include a children's garden. There are water features with giant Victoria water lilies and Asian snake arums exciting not only human guests, but butterflies, dragonflies and hummingbirds too. So, give the gift of good mental health and pick up a membership for a friend on your list for $35. Family memberships start at $45 for one adult and up to 3 kids.
CHOCOLATEY CHRISTMAS CREATIONS
Why do we all love chocolate so? It's a matter of science! Eating chocolate really makes us feel good. Those sumptuous, sweet morsels contain tryptophan that releases serotonin into the brain making us literally feel good. Not to mention it's one of the best tasting items on this earth. Given our bodies real and visceral reaction to this cacao creation, it makes perfect sense to gift several of your list mates dark, milk or white chocolate creations this year.
Ocala Chocolates & Confections. Sourcing quality European cacao and expertly converting it to chocolate, then hand pouring it into custom molds is both a passion and career for chocolatiers Kerry Anne and Norman Terrelonge. Their custom melt-in-your-mouth candies come in a variety of shapes and flavors including boxes of maple or mint fudge, baskets of truffle varieties, and specialty holiday items for Hanukkah and Christmas with several sizes of Santa and Christmas trees available. Choose your own selections, or have Kerry Anne and Norman guide you through your custom order at 104 East Fort King Street. You'll be the sweetest gift giver alive.
BUY THE BOOK
Whether it's a true look back over Silver Spring's segregated Paradise Park, a stroll through hundreds of native wildflowers, a whimsical peek into a local real life or a sweeping view of Marion County history, you'll find page turners from Amazon Prime penned by local authors that easily fit into your gift giving perimeters.
Remembering Paradise Park.  Both author and photographer, Cynthia Wilson-Graham highlights the segregation of Silver Spring State Park in this bittersweet book that continues to gain momentum. It includes interviews, photographs and vintage ads from the park during its heyday; 1949 to 1969. Described as "an invaluable time capsule, this book vividly describes the joys of Paradise Park, while acceptance and endurance of racist practices are also remembered and voiced," says Marsha Dean Phelts, author of An American Beach for African Americans.
Central Florida Wildflowers: A Field Guide to Wildflowers of the Lake Wales Ridge, Ocala National Forest, Disney Wilderness Preserve. From Wildflowers in the National Park Series, the pages within highlight in picture and word more than 300 common wildflowers found underfoot in the Ocala National Forest and other nearby places. A coffee table contribution, perfect for your flower loving friends.
The Way it Was. A Trek through Marion County's Past.  Released in early December by esteemed Marion County historian and journalist David Cook, it chronicles the people and events that have shaped our community. At nearly 90, Cook names his book after his Ocala Star Banner weekly editorial of the same title. Cook spent seven decades as a reporter, sports and city editor and editor-in-chief of our local paper. Proceeds from the $25 book will benefit HOPS – Historic Ocala Preservation Society.
This Side Up: A Road to a Renovated Life. This memoir by local writer, editor and marketing guru Amy Mangan equally impresses as a new release. Faced with many of life's challenges, this Ocalan — whose work has been published in Southern Living, Southern Accents and can be seen often in her column in the Ocala Star Banner – shares her journey through humor, coping, hope and rebuilding which eventually leads to finding a new way home to a stronger way of life.
GIRLY GIFTS GALORE
Home and accessory aficionado Paulette Millhorn, who owns Ivy on the Square Boutique alongside creative sisters Evelyn Nussel and Waica Micheletti, says of her shoppe "It's an eclectic blend with a lot of girly." It's that and much more. With unique statement pieces, including iron throne chairs, distinct wall art, lamps, home accessories and gifts for the gardener, handcrafted art, clothing and specialty jewelry, it's the place to visit often for stocking stuffers or signature pieces. Ivy on the Square carries Joanna Gaines Magnolia Home boutique candle line which includes diffusers (starting at $9), soft PJ Harlow satin blend sleepwear, Shark Tank success story Sugar Fins infused chocolates and glass, copper and wood Houston Lew collectible art pieces for every life occasion. Gifts from the Ivy will make sure you're affectionately remembered.
GIVE ARTFULLY
Original artwork by local artists Jaycee Oliver, Julie Shealy, Laurie Kopec, Sandy Sanderson, Margaret Watts, Jan Williams and Meagan Gumpfert will be available in a holiday pop up shop — next to Greiner's on Silver Springs Boulevard — for two hours and one day only, Thursday, Dec 13th from 6-8 pm. Give something that becomes part of a permanent collection.
THE WONDER OF WINE
Agapanthus has taken root in downtown Ocala. Sandwiched between The Corkscrew and Stella's, this store's blooming with a unique selection of gift items, home accessories and name brands like Pandora, Longchamp and Vietri, plus an equally impressive selection of wines. They've taken the guesswork out of wine pairing for both your holiday parties and special friends by offering varietals specifically selected and served at the Ocala Culinary Festival. Choose from toxin and pesticide-free Chardonnay, Pinot Grigio, Cabernet, Champagne and more with price points starting at $17.99.
GOURMET TREATS
In the mood to get a little creative? Put together a collection of Ocala-made culinary products. All-natural olive salad and tapenade — plus homemade garlic pasta — from Joy's Gourmet are always available at Saturday's Farmers Market. The BarbaCuban – Live with Kelly & Ryan's grilling champ — helps make meats mouthwatering. Celebrate with his All Purpose or Mojo 455 Sauce, easily accessible at Publix. You'll also find K-N Candied Jalapeños created by Al Simmons of Ocala at Earth Fare and The Olive Obsession. Bobbie Sue's Country Market on Highway 326 offers homemade jams by Bobbie Sue herself. Round out your appetizing offerings with superior quality fused and infused extra virgin olive oils, balsamic vinegars, herbs and rubs from The Olive Oil Market next to Shannon Roth downtown.
 
Still stumped? Take the family on an unforgettable adventure as you spend the evening walking the glimmering downtown Ocala streets, accentuating the night with a Christmas classic! Nothing is more satisfying then watching the little one's faces light up while the Marion Ballet performs The Nutcracker at the Ocala Civic Theatre (on stage December 7th through the 16th). Or, watch an international array of dancers from Dance Alive National Ballet perform The Nutcracker the Reilly Arts Center on December 11th. Do you have more of a movie-going group? See The Nutcracker and the Four Realms starring Keira Knightley at the Regal Hollywood Stadium 16 Ocala.
 
We've left you just enough time to snuggle up with Santa, relax and sip some eggnog with friends, and enjoy the giddiness of giving gifts while reflecting on what makes Christmas most important to you. Om