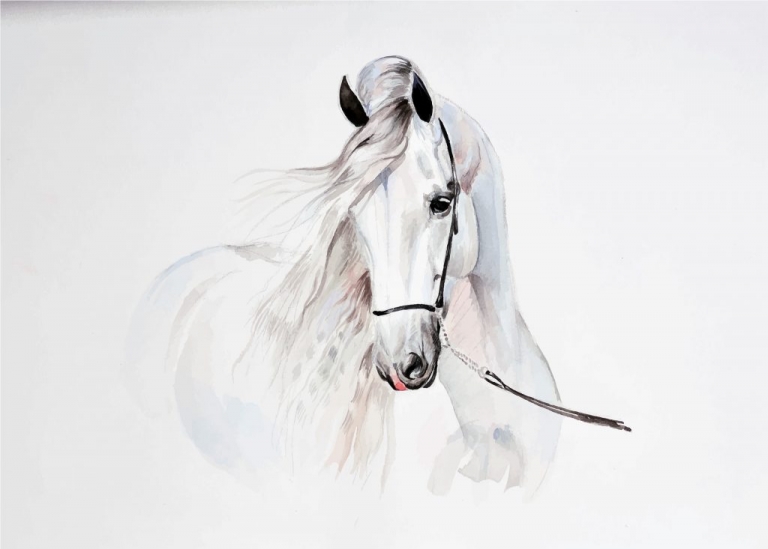 The Horse Healers
The dream facility of Dr. Alberto Rullan and his brother Willie Rullan, Equine Performance Center offers the best in horse care treatment all in one location, in the heart of horse country.
By: John Sotomayor
The dream of establishing a world class equine treatment center began years ago with the love of a family horse, and a tragic accident.  Brothers Alberto and Willie Rullan were raised on a coffee farm surrounded by livestock in Adjuntas, Puerto Rico, a small mountainside municipality located central midwest of the island. As most young children raised on a farm, they developed an interest for the animals. Without a vet in town, their father performed all treatments for the animals, developing a skill he passed to his sons.
One day in 1988, their father rode their best horse, Tauri, a brown horse with a white stripe, beloved by the entire family, out to town. A car on the road hit Tauri from behind, knocking both rider and horse to the ground, breaking their father's back and Tauri's leg.
"There was no vet in town, so no one trained to help the horse," said Alberto. "So, they had to put the horse down."
Their father spent a year in bed, recovering from his back injury. Alberto was 8. Willie was 4. The boys were distraught by their father's plight, and devastated over the loss of Tauri. They used to ride him every day, and won prizes for show competitions.
"Tauri was very loving too, very affectionate," said Alberto.
After the incident with Tauri, Alberto knew he wanted to become a veterinarian specializing in horses. As he grew older, he knew the area he wanted to specialize in was in equine orthopedics and rehab.
In 1998, Alberto attended Penn State University, then specialized in veterinary science at the University of Pennsylvania. Dr. Alberto Rullan then took a surgical and medical internship to further specialize at Louisiana State University. Dr. Rullan then worked as a veterinarian in Ocala for other practices before starting his own clinic, with his brother Willie's help.
Together they founded Performance Equine Veterinary Services, located in Summerfield, in 2009, of which Willie Rullan is the executive director. Equine Performance Center was established 18 months ago, after the brothers acquired the Sanctuary. It was open for business 6 months ago.
Horse Haven
A tour across the Equine Performance Center facility reveals a state-of-the-art, one-stop spa for horses that offers every service imaginable all in one location.
"This is a treadmill, just like one for people," said Dr. Rullan. With one major difference — the treadmill in enclosed in a tub-like apparatus filled with water. "The water increases resistance or decrease the weight of the horse." The horse floats, placing less weight on the injured leg.
During the tour, a quarter horse was receiving treatment for severe arthritis. The goal is to bring him back to work as a trail riding facility. It will take him 7 months to recover.
The second stop was at the salt water spa, were a Paso Fino show horse was in rehab for a bad injury, that would take him a year to recover.
"The water reaches 44 degrees, and the salt and minerals, which cleans and disinfects, and decreases inflammation," said Dr. Rullan.
The third stop was a hyperbolic oxygen chamber, which gives the horse extra oxygen during treatment. It serves multiple purposes. The chamber treats wound and fracture repair; bone, joint and other infections, bacterial diseases like clostridium, and post-surgery care, so the horse heals faster.
After a horse races, and needs to recovery quickly for the next race, they use the hyperbolic chamber to recover faster to be ready.
"These are very unique treatments," said Dr. Rullan. "They are growing in popularity, so in time, there will be more rehab centers in the US and around the world, but right now, there are not many with this caliber of equipment."
Equine Performance Center is the only rehab in the area with a hyperbolic chamber, and the only facility that with all of the aforementioned treatments together for an integrative approach.
The horse begins with the hyperbolic chamber, then the salt water spa, then the vibration plate. If that were not enough, the facility also has an enormous aquatic pool for the horses to swim laps for muscle conditioning.
Equine Performance Center also offers boarding. If the owner has to travel, and the horses require special care, EPC takes care of them. Even if horses do not require special care, but the owners wish to provide them with Very Important Horse care, they are welcomed.
Horse Sense
The Rullan brothers were ahead of the equine care game. They offered services the equine community did not yet know they needed.
"We knew what we could do for the horses," said Dr. Rullan. "We have seen many cases where people give up on a horse that could have been saved. We knew we could save them, all they needed was a chance."
Equine Performance Center serves as the best, and often last resort, a hardship case would get a second chance, when others around the world diagnose termination.
"If a horse owner is told by another veterinarian that their horse doesn't have a chance, then they know they can come to us and we give them that chance," said Willie Rullan. "We always have solutions."
"When a horse, and a horse owner, has the will to get better, the horse will get better," said Dr. Rullan.
One day while working at EPC, Dr. Rullan received a photo from a family friend. It was a photo taken of him with Tauri at a competition. It was discovered by the family friend years ago and shared with Dr. Rullan, when the family friend figured out how to find him.
"I never saw this picture until it was sent to me," said Dr. Rullan. "Delivered to me by my uncle."
Dr. Rullan keeps the rediscovered lost photo of himself and Tauri as his laptop screensaver.
"It reminds me why I am here," he said. Dr. Rullan sees Tauri in the face of every healthy horse they heal, and he feels Tauri's presence in the happiness their owners radiate. Om